Nestled amidst the breathtaking natural beauty of the Bavarian Alps, the Kempinski Hotel Berchtesgaden stands as a testament to elegance and luxury. Situated in the picturesque town of Berchtesgaden in Germany, this magnificent hotel offers an unforgettable experience to discerning travelers seeking both tranquility and indulgence. As you arrive at the hotel, you are immediately captivated by its stunning architecture, seamlessly blending with the surrounding alpine landscape. The design pays homage to traditional Bavarian style, incorporating timber elements, expansive windows, and a warm color palette that complements the natural beauty of the region. This harmonious blend of modern sophistication and alpine charm creates an inviting and welcoming atmosphere for guests.
Upon entering the hotel, you are greeted by the friendly and attentive staff, known for their exceptional service and attention to detail. The Kempinski brand is synonymous with luxury, and the Berchtesgaden property upholds this reputation with its commitment to providing a personalized and memorable experience to each guest.
Location
The Berchtesgaden region has held a special place in the hearts of travelers since the late 18th century, earning its reputation as a well-kept secret among those in the know. Summer visitors, in particular, were drawn to the region for its abundant biodiversity, unpolluted air, and breathtaking natural beauty. Over time, an increasing number of farming families began welcoming holidaymakers from all over Europe to their farms, and to this day, visitors continue to cherish the tranquility and secluded location nestled amidst pristine nature. Berchtesgaden has been a part of Bavaria since 1810, adding a rich historical background to the region. It has also served as a royal hunting and summer residence, with King Ludwig II himself spending part of his youth in this captivating location.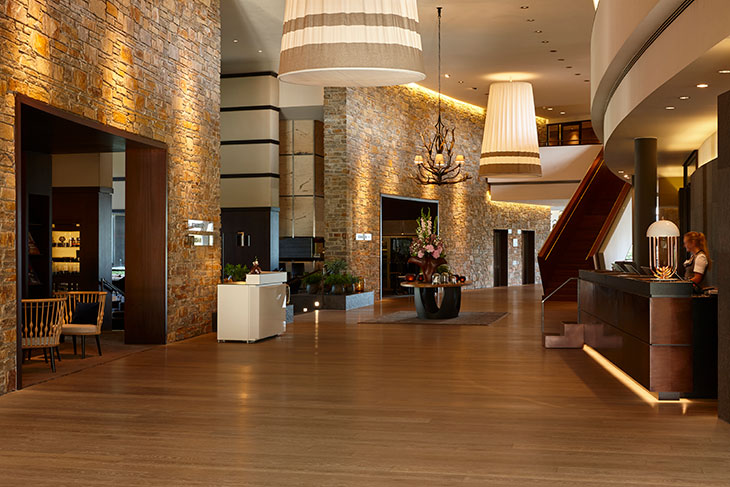 Design
Embodying the essence of the hotel's "Pure Alpine Lifestyle" philosophy, the interior reflect a deep reverence for the existing structure and the natural environment. The architects meticulously curated a fresh and inviting look for the interiors, incorporating a selection of materials that embrace both luxury and the rustic beauty of the region. From supple leather to crisp linen, from cozy wool to warm wood, and featuring distinctive gneiss stone sourced from Stainz in Austria, every element exudes a harmonious blend of nature-inspired aesthetics.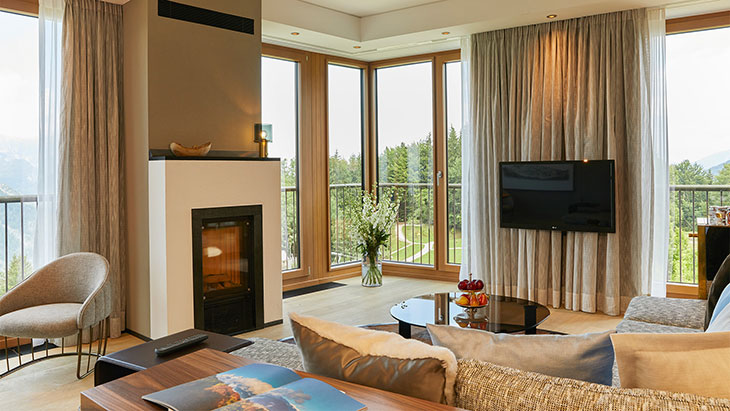 Rooms
The rooms perfectly complement the breathtaking alpine setting, boasting a blend of contemporary design, alpine charm, and personalized touches. With a total of 138 rooms and 12 suites, each accommodation offers a stunning and uninterrupted panoramic view of the surrounding majestic mountainscape. The thoughtful combination of natural materials not only creates a sense of warmth and comfort but also enhances the connection to the surrounding landscape. Guests can immerse themselves in the beauty of nature while enjoying the modern comforts and amenities provided. The hotel embraces natural materials, personalized details, and unparalleled mountain views to provide a truly exceptional and memorable experience for every guest.
Spa
For those seeking relaxation and rejuvenation, the Kempinski Hotel Berchtesgaden is home to a world-class spa and wellness center. Guests can indulge in a wide array of treatments and therapies designed to restore balance and promote well-being. From soothing massages to invigorating facials, the spa offers a holistic approach to wellness, complemented by state-of-the-art facilities, including saunas, steam rooms, an indoor pool and the heated outdoor pool. Utilizing precious natural oils, locally sourced alpine herbs, salt from the surrounding area, and fresh mountain water, the spa treatments are carefully crafted to align with the changing seasons. Whether seeking tranquility or invigoration, guests can immerse themselves in the carefully curated treatments and emerge feeling refreshed, renewed, and deeply connected to nature.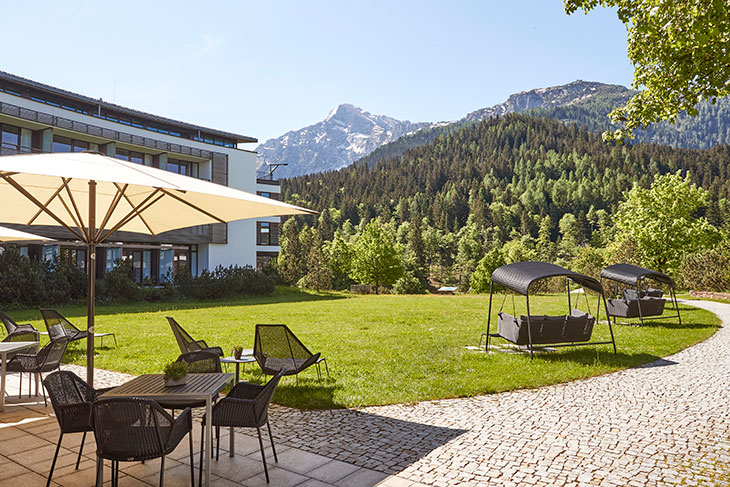 Activities
The surrounding area of Berchtesgaden offers a plethora of outdoor activities for nature enthusiasts. The hotel's activity concierge can assist in organizing hiking expeditions, mountain biking adventures, or even guided tours to explore the nearby Berchtesgaden National Park. In winter, the region transforms into a winter wonderland, attracting skiers and snowboarders to its pristine slopes. For golf enthusiasts, the adjacent 9-hole course of the Golf Club Berchtesgaden beckons, boasting its reputation as one of the highest courses in Germany. After a day of outdoor exploration, guests can unwind in the hotel's cozy lounge or enjoy a nightcap at the sophisticated bar, soaking in the serene atmosphere.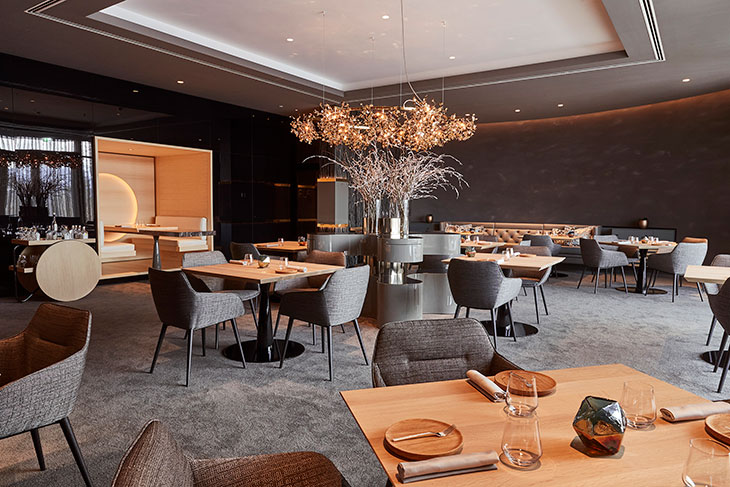 Food & Beverage
Culinary enthusiasts will be delighted by the diverse dining options available at the hotel. The Kempinski Hotel Berchtesgaden boasts several restaurants, each offering a unique gastronomic experience. From traditional Bavarian cuisine to international flavors, the hotel's talented chefs craft culinary masterpieces using the finest local ingredients. You can enjoy culinary creations made from regional products, as well as the unique view of the Berchtesgaden mountains at Johann Grill restaurant managed by Hendrik Franz, or indulge in an exceptional gourmet experience at Executive Chef's Ulrich Heimann 1-star MICHELIN Gourmet Restaurant PUR. Depending on the season, the restaurant Bergstüberl offers a hot stone dinner or traditional fondue in a rustic setting. At Kaminbar, guests can embark on a delightful journey of spirits with a selection of over 53 gin varieties and 127 whisky options. For a standout recommendation, the Berchtesgadener Mule is a must-try cocktail.
The Kempinski Hotel Berchtesgaden is a luxurious alpine retreat that combines breathtaking natural surroundings with refined elegance. From its stylish accommodations and exquisite dining options to its world-class spa and array of outdoor activities, the hotel offers an unforgettable experience for those seeking a harmonious blend of relaxation, adventure, and indulgence.
Kempinski Hotel Berchtesgaden
Hintereck 1, 83471 Berchtesgaden, Germany
+49 8652 9755 0
info.berchtesgaden@kempinski.com
kempinski.com/berchtesgaden
Keep up with Kempinski Hotel Berchtesgaden on Instagram – @kempinski.berchtesgaden