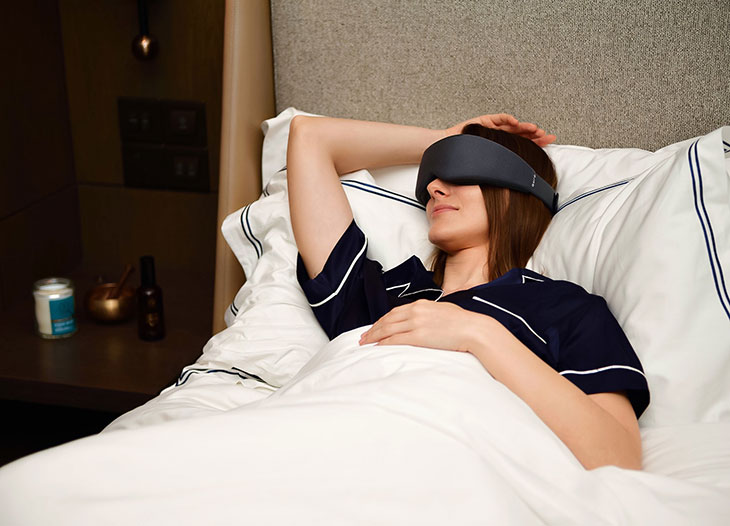 In the fast-paced world we live in, sleep often takes a backseat, yet it remains an essential pillar of overall health and well-being. Recognizing the importance of quality rest, Andy Chow, the visionary founder of Aura, embarked on a mission to revolutionize sleep experiences for people struggling with sleep problems. Through his visionary approach and dedication to better sleep, Chow and the Aura Circle team are redefining the way we view rest and well-being. The Aura Wireless Sleep Mask and the Aura Dreamscape app are revolutionizing sleep experiences, offering an oasis of tranquility in the midst of the modern world's hustle and bustle. With Aura, the future of sleep is brighter than ever.
In a candid conversation with DSCENE Magazine Editor Zarko Davinic, Andy shares his personal journey with sleep issues and how it inspired him to create the Aura Wireless Sleep Mask, a cutting-edge solution designed to transform sleep patterns and enhance relaxation.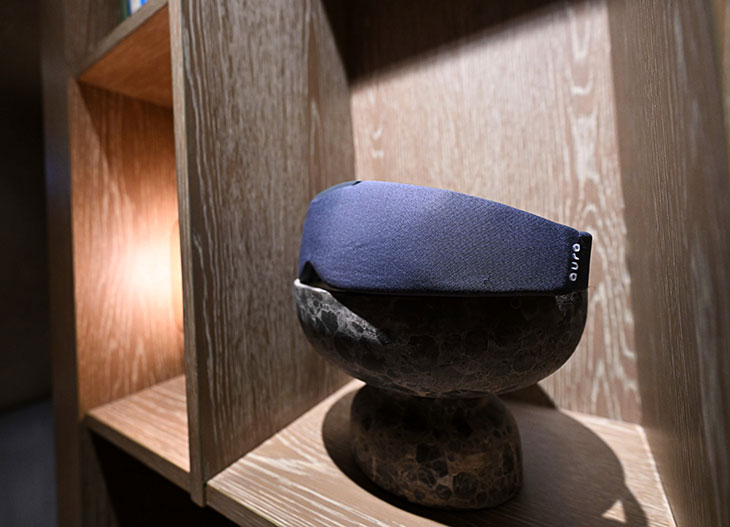 What inspired you to create the Aura Wireless Sleep Mask? – At Aura, we believe wellness and harmony are essential for a better life and a better world. We spend one-third of our lives sleeping yet sleep is often taken for granted. Sleep is a basic necessity that is essential for everyone to be re-energized, refreshed, and be ready for the next day.
How did your personal struggles with sleep problems influence the development of the sleep mask? – Getting enough sleep is crucial but what matters more is the sleep quality. I have been suffering from insomnia and teeth grinding for years and have tried numerous sleep products but to no avail. The stress of not getting enough sleep and sleep deprivation negatively affects work productivity, and the vicious cycle continues for many restless nights. Since sleep debts accumulate, going to bed even 30 minutes later than usual for a few days quickly adds up, which then requires tremendous efforts in lifestyle adjustments to catch up on sleep. That's why we made our first Aura. Our mission is to deliver a seamless sleeping experience to our users with superior comfort and ease of use.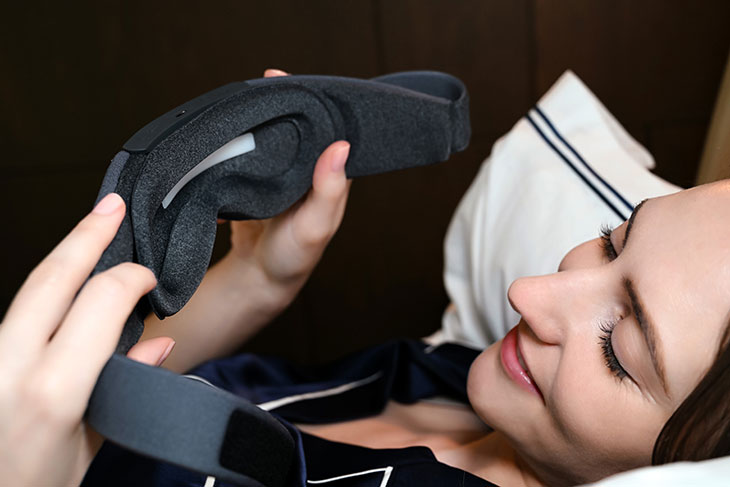 Could you explain the tailored features of the Aura Wireless Sleep Mask that make it stand out from other sleep masks? – In terms of product design and features, the first thing you are going to notice is that it is very lightweight and is made with breathable materials. The built-in audio is seamlessly nestled within the eye mask that does not cover your ears for better comfort and it is optimized for side-sleepers. We also offer our Aura app to access exclusive Dreamscapes audio content. In terms of product innovation, Aura's Glow, Audio Balance, and Smart Duration are exclusive features that are not available elsewhere in the market. Aura is designed to give our users the ultimate sleep experience they deserve.
One of Aura sleep mask's signature features is Glow – a light beam that sits comfortably within the mask. It serves 2 purposes:
1. The Glow feature syncs with our meditation content in order to deliver the ultimate experience to our users. Imagine doing a guided breathwork session, as you hear the yoga instructor's voice to "Breathe in, Hold and Breathe out", our Glow feature simultaneously "Glow; Hold and Dim", which can create an immersive experience for relaxation with minimal distraction.
2. Sunrise wake up – Imagine being in complete darkness for 7-8 hours, it is difficult for your eyes to adapt to the light in a room environment when you take off the mask. This is where our Sunrise wake-up feature becomes helpful. Our Glow beam will gradually light up with gentle hues for a few minutes before the alarm kicks in, easing your mind to welcome a brand new day, a brand new adventure.
A lot of feedback from our trial run users pointed out that this feature really improved their wake-up experience and from our data, over 85% of users who selected the Sunrise Wake-Up feature seldom snooze back.
What kind of research and testing went into the development of the sleep mask? – What we are doing is revolutionary by redefining Sleep and we put safety as our first priority.
We spent a lot of time on trial runs, and lab tests in order to meet industry standards. Aura is CE; FCC; IC and UKCA certified, so users can rest assured that Aura is safe to use.
Another consideration is the weight distribution. Given that Aura is a wearable product, we need to make sure it is lightweight (less than 130g) without causing any unnecessary burden on the face, making it comfortable to wear all night long.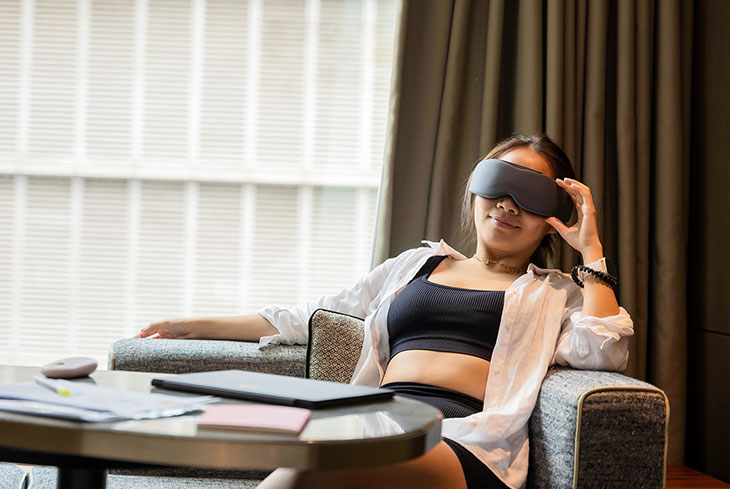 Can you elaborate on the 100% blackout feature of the sleep mask and its importance for developing a healthy sleep routine? – The 100% blackout feature of the eye mask prevents light from disrupting the creation of melatonin, allowing you to fall asleep faster and keep snoozing longer.
What makes the 3D Hug eye cushion unique and how does it contribute to a comfortable and leak-free seal? – As a Sleep mask frequent user, we are very concerned about Sleep hygiene, that's why from the very beginning we specifically requested our 3D hug cushion to be detachable and washable. We worked tirelessly with our French ID designer to guarantee 100% blackout even in broad daylight once our 3D memory foam eye cushion attaches magnetically onto the eye mask, creating a leak-free seal with plenty of room for your eyes and eyelashes.
Could you explain the Aura Dreamscape app and how it enhances the sleep experience with unique mind-calming experiences? – We have partnered with leading audio specialists to create a wide range of relaxing live nature sounds, ASMR, and guided meditation exercises for our users to select, all based on personal preferences.
With the Aura exclusive Glow feature, users can opt for optional light therapy in conjunction with the guided meditation exercises, which will definitely enhance the experience by creating a distraction-free environment for users to fully indulge in the moment.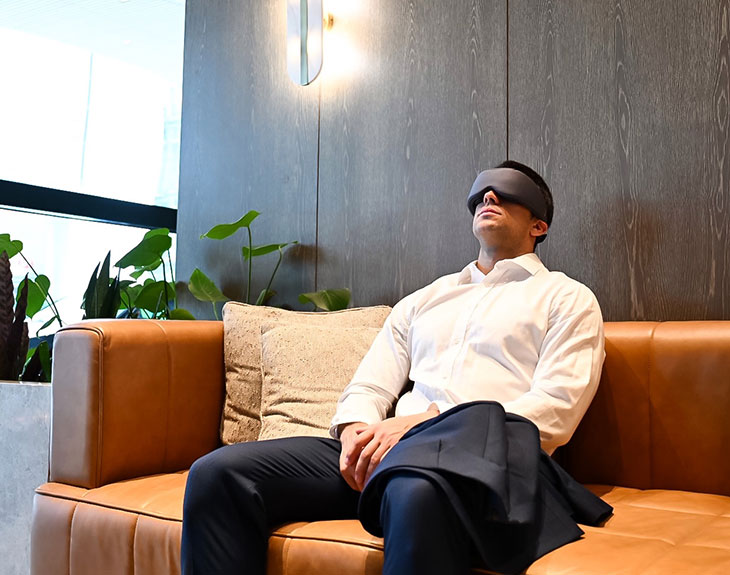 How does the app work in conjunction with the Aura Wireless Sleep Mask? How does the Aura Wireless Sleep Mask contribute to creating a personalized sleep environment that supports individual needs and preferences? – Our Aura Dreamscape App allows users to choose their favorite audio content and personalize a bedtime sequence that is tailored only for you.
The Aura app is available for free on both iOS and Android platforms.
Once you pair the app with the aura sleep mask via Bluetooth, you are able to unlock all the app features and audio content.
You can craft your own dreamscape sequence selected from our audio library, such as ASMR; Live Nature Sound, and Guided Meditation, then you can adjust the light therapy option; set your alarm clock, and even control the audio duration that fits your sleep routine.
It is very user-friendly and once the dreamscape has been set up, simply put on the mask and press the start button on the mask to begin your sleep journey.
Users can also drop their thoughts on the Aura app before bed and keep track of their emotions after waking up, helping users to become more aware of their inner thoughts and emotions.
What are your future plans for Aura Circle and the development of sleep-enhancing products? – We have a clear road map and a series of aura products worth waiting for. As a healthcare wellness startup, our next goal is to step up our sleep algorithm to measure accurate Sleep biometrics tracking. This will trigger real-time responses to enhance the sleep experience, including but not limited to deep sleep extension and potential health diagnosis.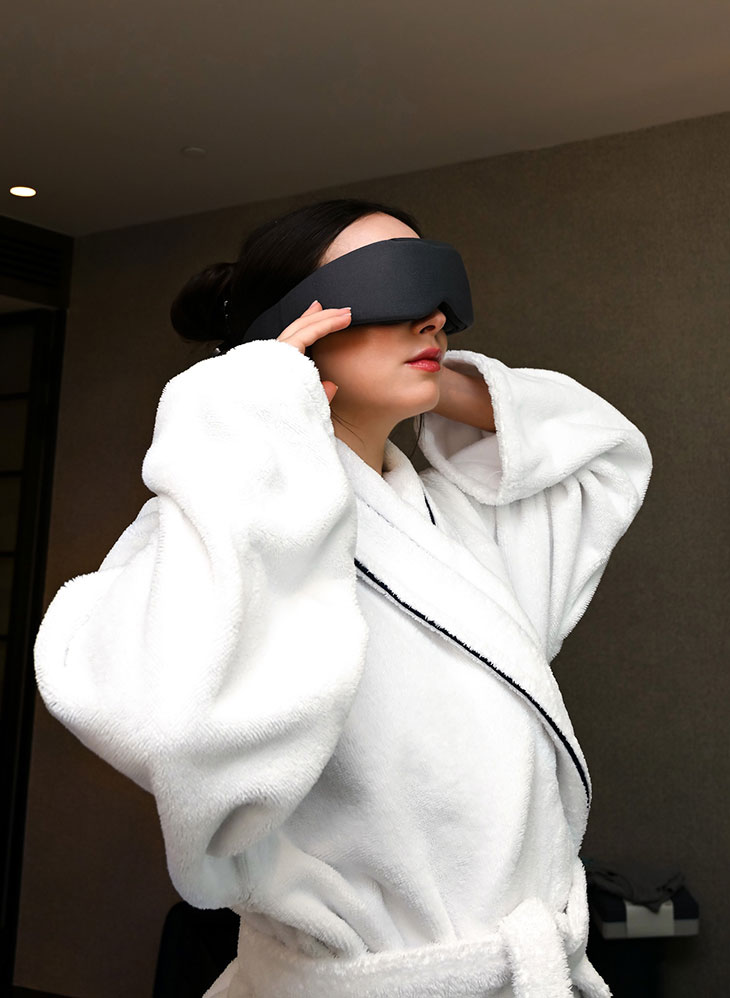 Photographer Adrian Wong – @adrianalism
Makeup Artist Sandy –@sandywong_makeup
Model Teodora Lazarova – @teila_teila David Hughes @hughes013
Videographer Aanchal Wadhwani @matryoshka_photo