Launching a bridal shop is an exhilarating venture that brings fashion and special occasions together. But without proper knowledge and preparation, navigating this complex process may become daunting and insurmountable.
If you've always envisioned helping brides-to-be find unique wedding dresses and creating unforgettable moments for them to treasure forever, then this post is designed for you.
We've gathered a comprehensive set of five essential tips to set you on the right path and help you turn your dream bridal boutique into a reality. Whether you're an established entrepreneur or a fashion enthusiast eager to open a business, our tips will equip you with all of the knowledge and confidence you need to open an amazing shop that stands out.
Understand the Bridal Industry
The global market for bridal wear is projected to reach a revised size of $83.5 billion by 2030. It is a flourishing sector that revolves around the magical world of weddings. Understanding the basics of bridal retail as a shop owner is critical for successfully navigating its complexities.
The bridal industry offers products and services designed to make weddings unforgettable. Bridal shops provide unique wedding and bridesmaid dresses, accessories, and tuxedos for grooms, as well as alterations, consultations, and fittings.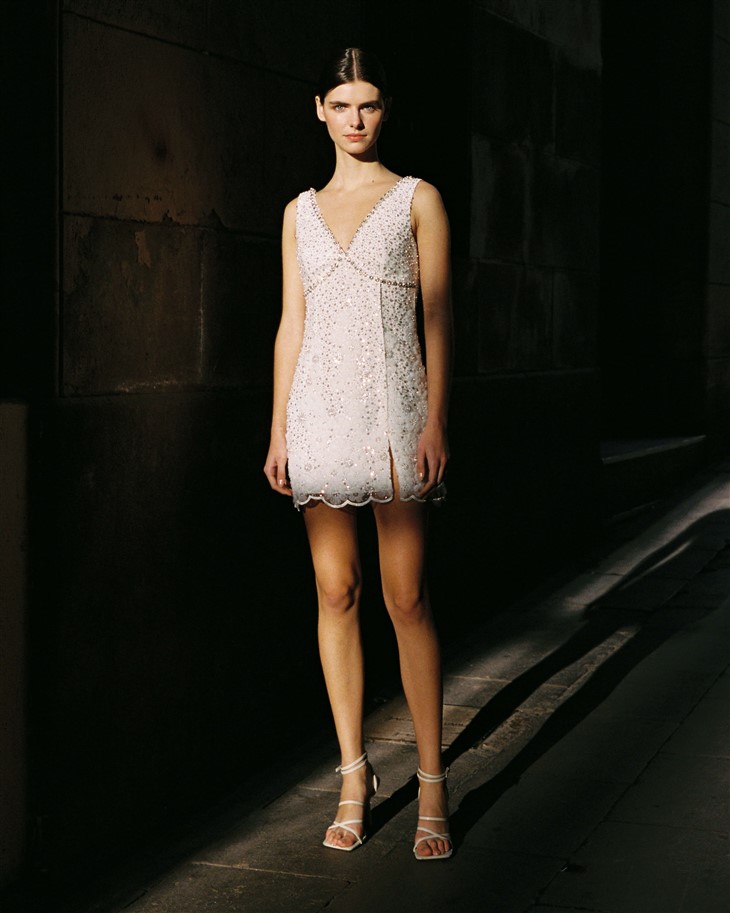 Use the Right Tools
Using the right tools is paramount when opening a bridal shop. These tools not only streamline operations but also enhance the overall customer experience, setting your boutique apart in a competitive market. One such essential tool is order fulfillment software, which can significantly simplify and optimize the entire order management process. From the moment a bride-to-be selects her dream gown to the final delivery at her doorstep, order fulfillment software ensures seamless coordination of inventory, sales, and shipping.
By implementing quality order fulfillment software, bridal shop owners can effortlessly track inventory levels, avoiding stockouts and ensuring a diverse and up-to-date collection. The software also facilitates efficient order processing by automating tasks like invoicing and payment processing, saving valuable time and reducing the chances of errors. Moreover, with real-time updates and order tracking, brides can be kept informed about their purchase status, fostering a sense of trust and confidence in your boutique's services.
Additionally, this tool helps manage multiple aspects of the business simultaneously, freeing up staff to focus on providing personalized customer service. As a result, brides receive the attention they deserve, guiding them through the selection process and creating a memorable shopping experience. In the end, utilizing the right tech tools, like order fulfillment software, not only simplifies operations but also empowers your bridal shop to deliver exceptional service, making every bride's journey to I Do even more special and memorable.
Select the Best Location
Selecting the perfect location for a bridal shop is a critical decision that can make or break the success of your business. The location sets the tone for the entire shopping experience and directly influences foot traffic and potential clientele.
A strategic and well-chosen location should cater to the target market, ideally situated in a bustling area with high visibility and accessibility. It should also complement the boutique's brand and ambiance, aligning with the aesthetic preferences of brides-to-be. Proximity to complementary businesses, such as wedding planners, florists, and event venues, can create a synergy that attracts more customers. Additionally, considering factors like parking facilities and public transportation accessibility is essential to ensuring convenience for customers.
By carefully selecting the perfect location, bridal shop owners can establish a strong presence in the market, attract a steady stream of potential customers, and create a lasting impression in the world of bridal fashion.
Organize Your Finances
Organizing your finances is a crucial step for any business to achieve financial stability and success. It involves creating a systematic approach to managing income, expenses, and investments. Start by setting up a budget that outlines your monthly income and categorizes all expenses, helping you identify areas where you can cut costs or allocate resources more effectively.
Create a separate account for business finances if you're opening a bridal shop to ensure that personal and business expenses remain distinct. Maintain a complete record of all financial transactions, such as purchases, sales, and tax-related documents. Utilize financial software or apps to streamline this process and gain insight into your overall financial health. Make adjustments as necessary so that your goals remain on track. By organizing your finances, you'll gain better control over your financial well-being and lay the foundation for long-term success.
Promote Your Shop
Promoting a bridal shop through social media is an effective way to reach new customers and broaden its reach. Social platforms such as Instagram, Facebook, and Pinterest allow businesses to post visually appealing content that showcases the shop's stunning collection, personalized services offered, and customer testimonials.
Engaging posts, contests, and behind-the-scenes glimpses create a sense of community and allure. Complementing social media efforts with targeted advertising through platforms like Google Ads enables the shop to reach specific demographics and geographic areas, maximizing the return on investment. By harnessing the immense potential of social media and advertising, the bridal shop can establish a strong online presence, boost brand awareness, and ultimately attract a steady flow of excited brides-to-be.
Final Words
Starting a bridal shop can be an exhilarating endeavor that combines your love of fashion with the thrill of making dreams come true. Following these essential tips will put you on your way toward success in this magical world of bridal fashion. Remember to conduct thorough market research and understand the bridal industry landscape to curate a captivating and diverse gown collection that caters to the unique tastes of brides-to-be.
Moreover, embracing the right tech tools, such as order fulfillment software, will streamline operations and enhance overall efficiency, ensuring that your boutique stands out amid the competition.
Images from SELF-PORTRAIT Introduces the 2023 Bridal Collection – See the full story here