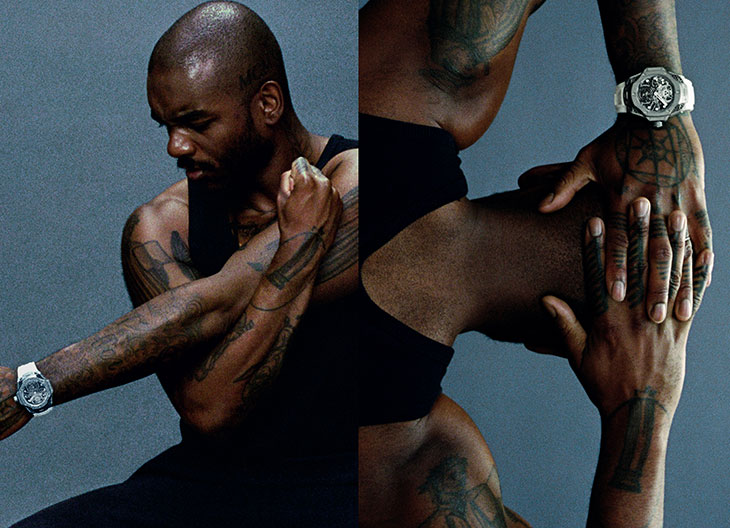 Art, creativity, and design converge in the remarkable collaboration between Dr. Samuel Ross, the generational artist, and Hublot. In a continuous cycle of renewal and innovation, Ross, an artist with a radically distinctive vision, breathes new life into his creations, much like organic and ever-evolving materials.
For his latest interpretation of the Big Bang Tourbillon SR_A by Samuel Ross, the artist has introduced subtle yet profound details, infusing precision, clarity, and choice into SR_A's signature industrial language. Hublot, with its decade-long commitment to the fusion of materials, aesthetics, and innovation, has been a champion of artistic expression. Their partnership with Ross, which began in 2020, has now given rise to an entirely new development.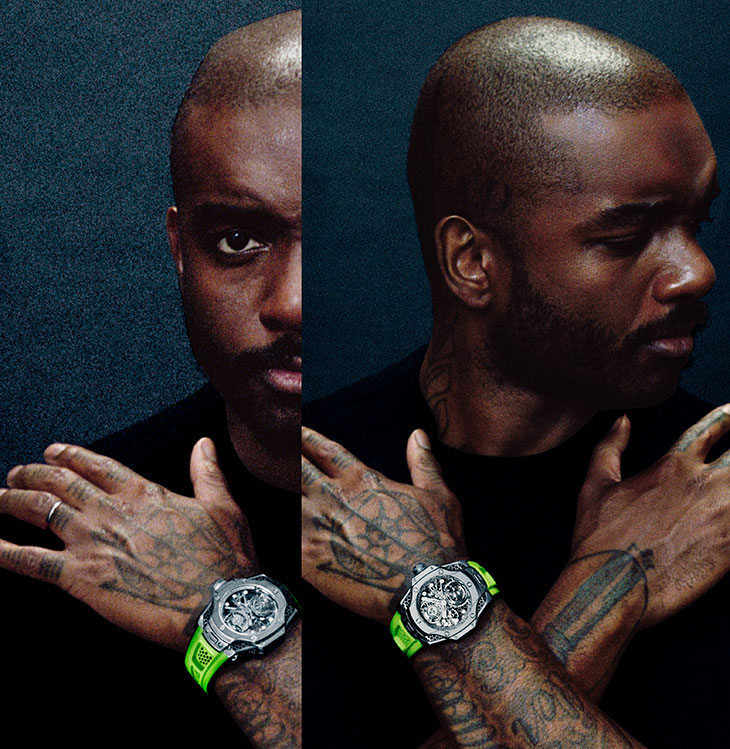 This new iteration, conceived as an extension of Ross's creative journey, exhibits an industrial look with all watch case components crafted from shiny micro-blasted titanium. Even the clasp features a rough laser engraving of the Hublot logo. To enhance the monochrome aesthetic, the crown is overmolded in gray rubber, and the tourbillon bridge adopts a neutral shade, harmonizing effortlessly with one of the three full rubber straps in black, white, or vibrant green.
We are focused on crafting refined, minimal and expressive timepieces. SR_A, looks to expand, re-define and establish timeless icons of design, reflecting a spirit of innovation, optimism and craft. I firmly believe we need all three properties to usher in the next chapter of luxury.
– Dr. SAMUEL ROSS, Artist and Designer
Translating Samuel Ross's artistic language into Hublot watchmaking has been a journey of merging aerodynamic, simple, and striking shapes with imprints of Nature's sacred geometry. Just as in his sculpture for Hublot in 2020, Ross plays with transparency in the Big Bang Tourbillon, incorporating holes in the structure and merging rubber with manufactured metal, highlighting the balance between the organic and industrial through innovation.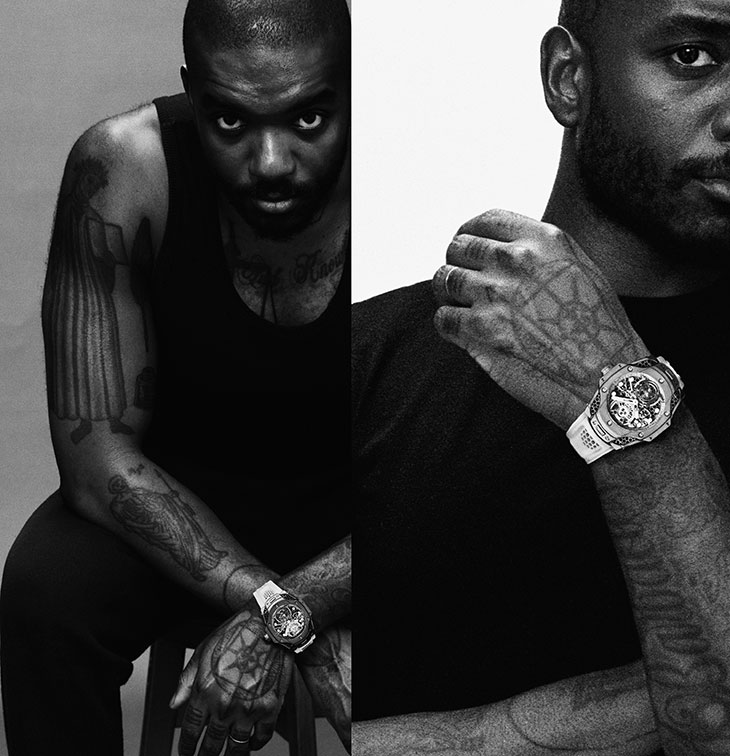 The success of this collaboration lies in the fusion of two worlds while respecting the core vision of both artist and brand. The Big Bang Tourbillon Samuel Ross, launched in 2022, exemplifies this synergy, showcasing Ross's aesthetic, functional, and purposeful approach while staying true to Hublot's identity.
Driven by the 282-component Manufacture HUB6035 caliber, beating at 3 Hz with a 72-hour power reserve, the Big Bang Tourbillon SR_A by Samuel Ross maintains its commitment to precision and technical excellence. Limited to just 50 pieces, this new iteration continues the story initiated by Ross.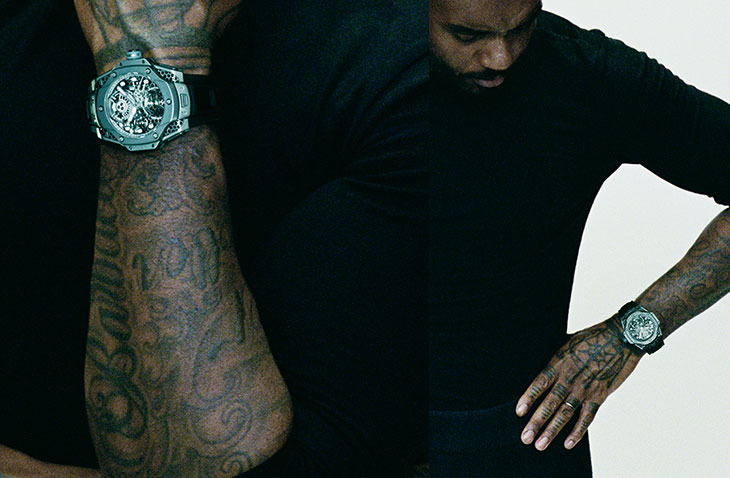 Samuel Ross, an artist and designer, has crafted a unique perspective through various artistic mediums, from painting and sculpture to furniture, industrial design, and fashion. Founding A-Cold-Wall* in 2015 and SR_A in 2019, he has pioneered a signature design language and engaged in immersive collaborations with prominent brands. His creative force has earned him recognition, including Forbes' "30 under 30 Europe" list and accolades from GQ Fashion Awards and British Fashion Awards. Ross's journey in luxury goods continues to evolve through his latest brand, SR_A, founded in the year he received the Hublot Design Prize.
RELATED: Dr. SAMUEL ROSS Talks for DSCENE "Fever Dreams" Art Issue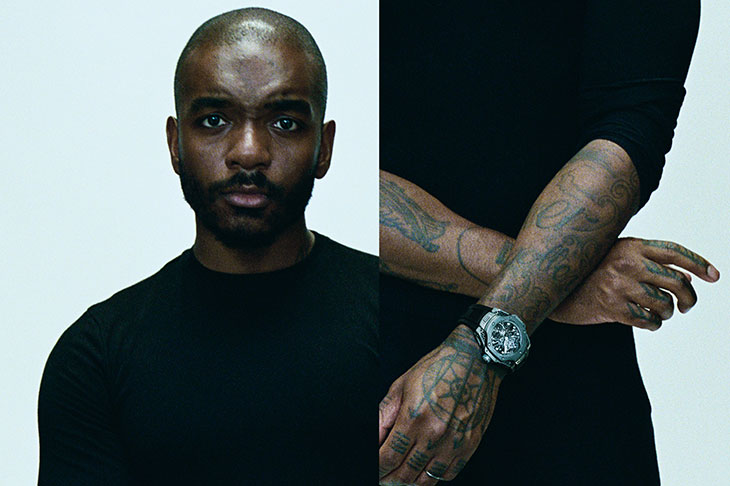 As an artist, Ross's work has been exhibited in prestigious museums and galleries worldwide, and his designs have adorned celebrities and influencers across the globe, making a profound impact in the world of art, fashion, and design.
The Big Bang Tourbillon SR_A by Samuel Ross is not just a timepiece; it's a manifestation of innovation and creativity, a fusion of art and engineering that transcends boundaries and redefines refinement.