American lingerie brand Victoria's Secret unveiled its Holiday 2023 campaign starring the one-and-only queen of the festive season and music icon Mariah Carey. In charge of photography was Ethan James Green, with styling from Gabriela Karefa-Johnson, and beauty by hair stylist Kristopher Buckle, and makeup artist Serge Normant. The Holiday 2023 collection features cozy PJs, seasonal mists, and glamorous lingerie, key pieces include very sexy gold sequined floral embroidery unlined demi bra, and garter, dream angels wicked bow embroidery unlined balconette bra, dream angels satin bow-tied corset top modal and lace mini slip lace inset robe.
Mariah Carey, often hailed as the "Queen of Christmas," has become synonymous with the holiday season. Every year, as the chill of winter begins to bite, the first iconic notes of "All I Want for Christmas Is You" seem to beckon the holiday spirit into homes around the globe, transforming environments with its cheerful, vibrant energy.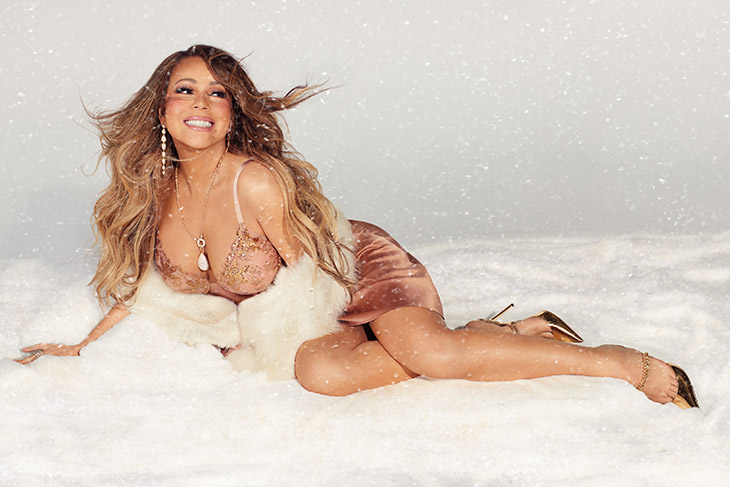 Since its release in 1994, Carey's Christmas anthem has climbed the charts repeatedly, turning into a perennial holiday favorite and a significant symbol of yuletide joy. The song captures the essence of Christmas warmth and the universal longing for love and togetherness during the holidays, making it a timeless classic that transcends generations.
Carey's love for the holiday season extends beyond her hit single. Her holiday albums, "Merry Christmas" and "Merry Christmas II You," feature festive tracks that range from soulful renditions of classic Christmas carols to original songs that have earned their own rightful place in the holiday music canon. Her voice, often characterized by its remarkable range and signature melismatic style, adds a layer of magic to the songs.
Her impact on the holiday season also extends to live performances and TV specials, where Carey often dazzles audiences with her glamorous ensembles and festive sets. Her annual performances and appearances are highly anticipated events, as they bring new renditions and medleys that add to the holiday cheer.
Beyond her musical contributions, Carey has also authored a children's book titled "All I Want for Christmas Is You," and starred in a movie of the same name, broadening her influence on holiday entertainment and storytelling. Her penchant for Christmas is evident in her personal life too, where she famously indulges in festive decorations and celebrations that are as grand and effusive as her personality.