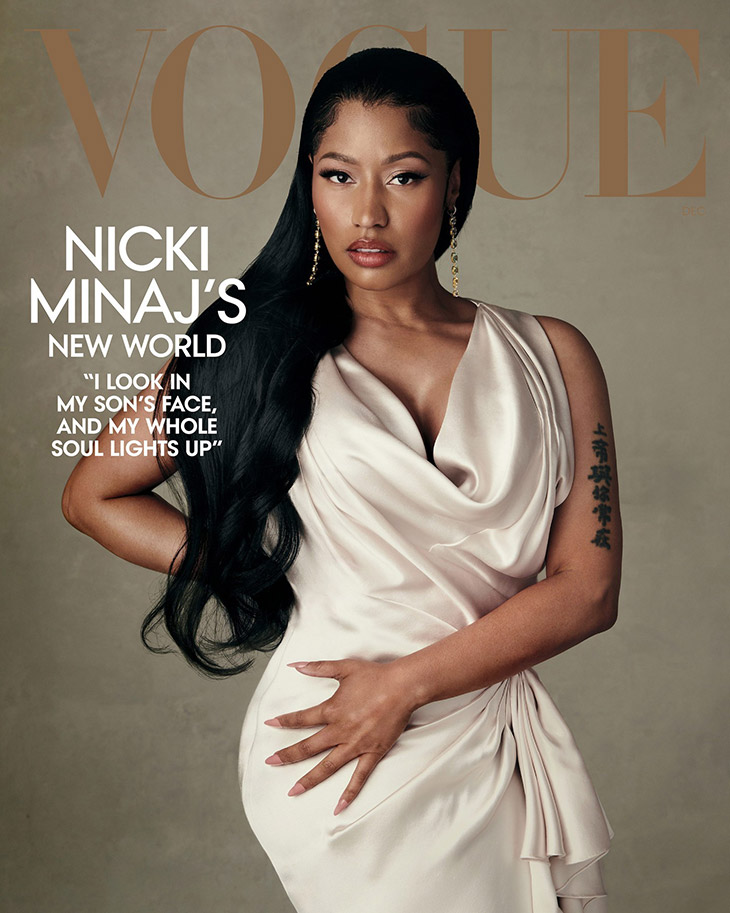 Music superstar Nicki Minaj takes the cover story of American Vogue Magazine's December 2023 edition captured by fashion photographer Norman Jean Roy. In charge of styling was Max Ortega, with set design from Viki Rutsch, and production by Boom Productions. Beauty is work of hair stylists Lacy Redway and Dionte Gray, and makeup artist Raoúl Alejandre. For the session Nicki Minaj is wearing selected pieces from Valentino Haute Couture, Irene Neuwirth, Marc Jacobs, Tory Burch, Ferragamo, Bottega Veneta, Albertus Swanepoel, Vetements, Dolce & Gabbana Alta Moda, Tiffany & Co, Alexander McQueen, and Vex.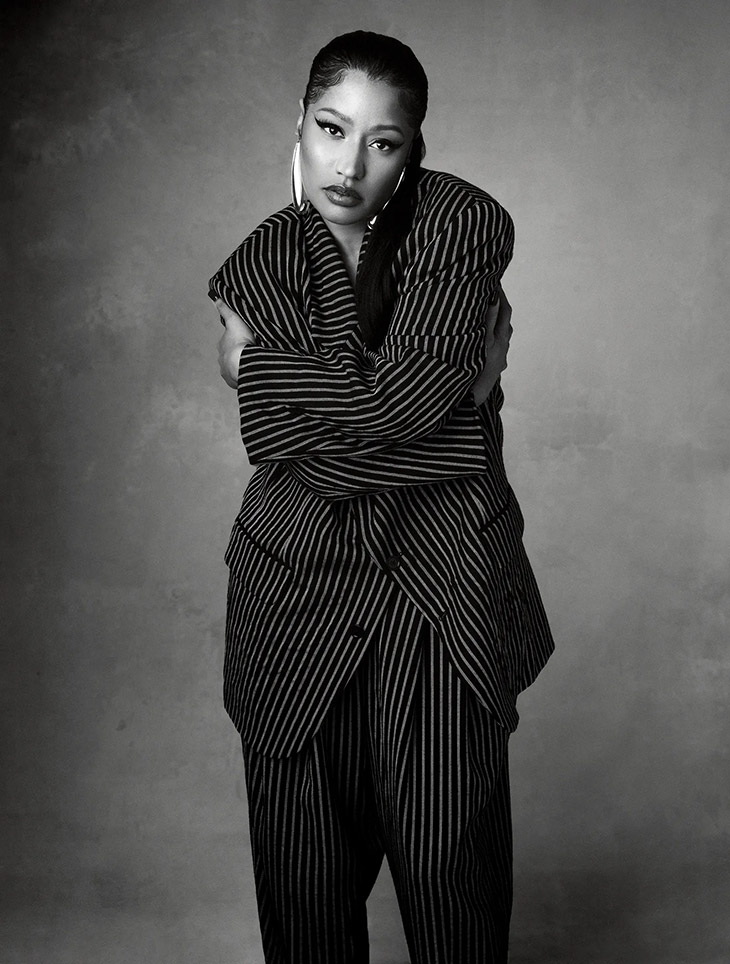 Nicki Minaj for American Vogue: It's a song (Last Time I Saw You) about guilt. And I don't think people make a lot of music about the experience of guilt. But if you talk to any human being on earth about it, they would know exactly what you mean. That 'I wish I had' feeling. Once I wrote the hook, I started to think of people that I love and see every day and still take for granted. You know what I'm saying? So I hope the song does a good thing. It's like, remember how you wish you could have? Well, you can't. You can't go back in time. So try to make sure you have different experiences with people that you love. All the grudges, even just being busy and caught up, like when you're chasing and working and being an adult. I'm not saying I want this to be a sad song. Actually I want people to feel happy when they hear it. Happy-sad. Then again, look at Adele. That woman has made me cry a million times, yet I want more.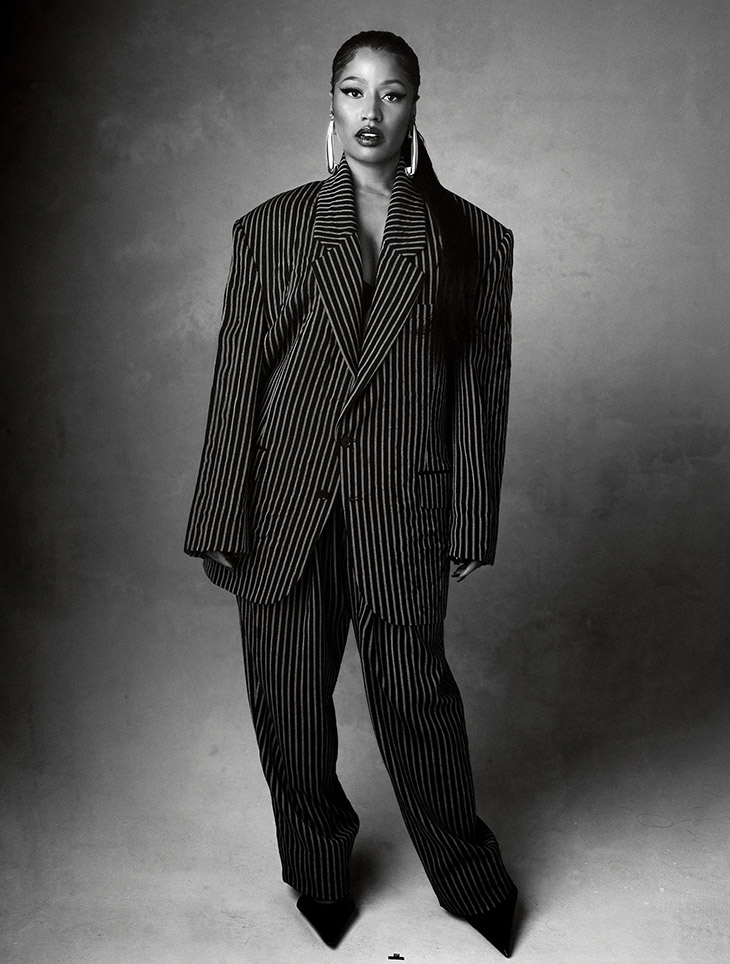 Minaj: I think a lot of creators will understand this, there's a freeness that you have around you when you're at your best, when you're doing your thing at your peak. There's like this lightness in the air. You're happy even if you're writing a sad song. But once you start knowing that you're being judged, there's no longer that free spirit. People who excel at something make it look easy, but they also deal with a lot of fear of letting people down and of letting themselves down. Once you make it, it's like anything you say can be used against you. It's like when you get arrested – that's literally what being famous feels like. You go from having this fun, curious nature, laughing and joking, to realizing not everyone gets your sense of humor, not everyone likes you. And they will figure out how to put a negative spin on anything you do. It hurts.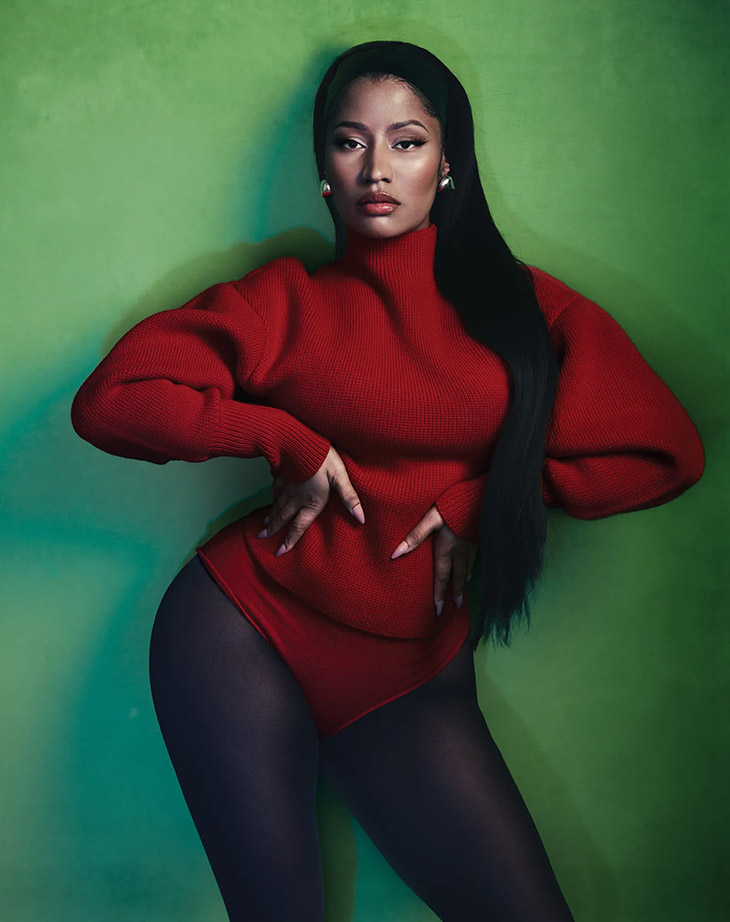 Minaj: I think that deep down inside, I believed that once I had a family, I would just lose the desire to make music. I would always tell people, 'Watch, when I have a child I'm going to cook every meal for him and bake cookies every day.' Maybe subconsciously I hoped my focus would just be on being a mother, and I looked forward to that idea. It felt like a relief. But what happens is that you find out you have to work.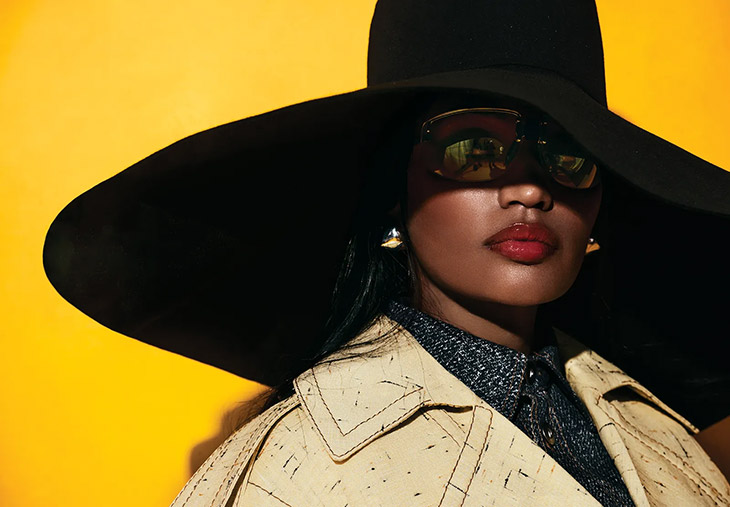 Minaj: You know that feeling when you unlock one of the secrets of life? For me the idea of accepting what you can't change – it just never clicked with me before. You want to have control over everything, but that's the easiest way to be unhappy. So now, if I find myself trying to control it all, I try to remember what's really important. I look in my son's face, and my whole soul lights up. He has no clue how nerve-racking it's been for me to be a mother and an artist.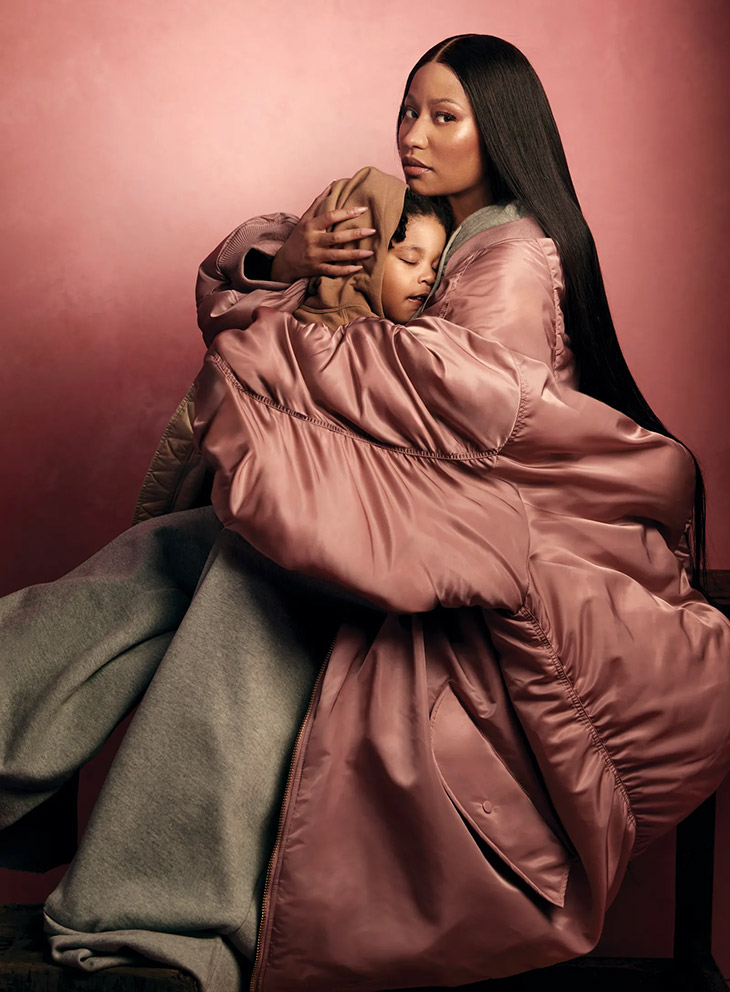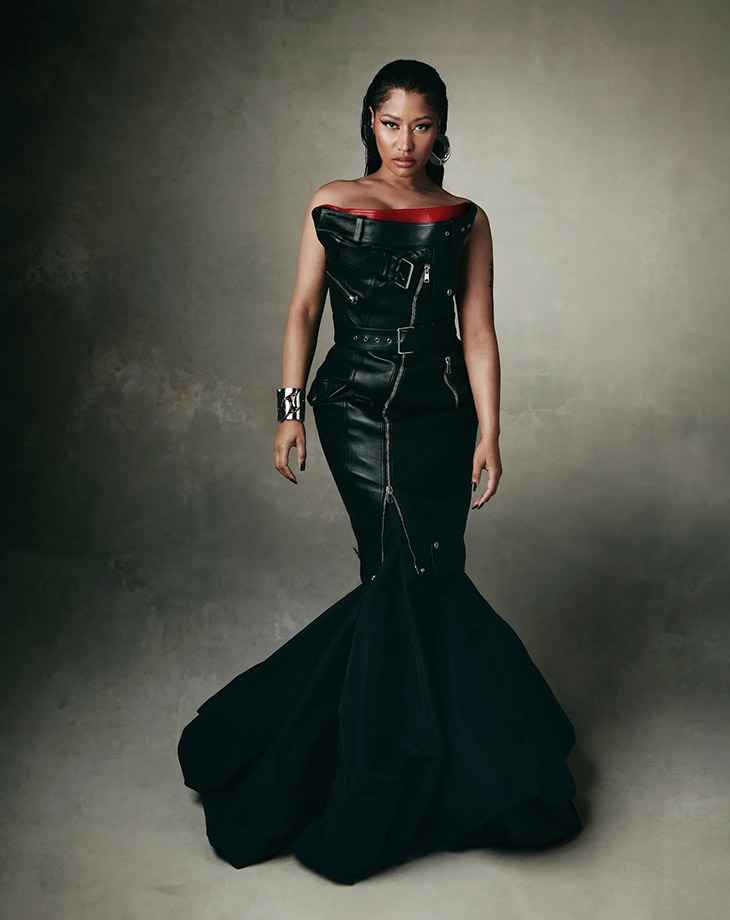 Minaj: Look at some of our biggest celebrities. They eventually either get laughed out of wanting to go outside anymore, like Michael Jackson, or criticized, like Whitney Houston, or they fight silent battles, like Prince. These are some of the greatest of all time. And one day they decided, 'You know what? I'd rather self-medicate and be in my own world.'Should you keep on doing interviews and pouring out your heart so people can laugh? No.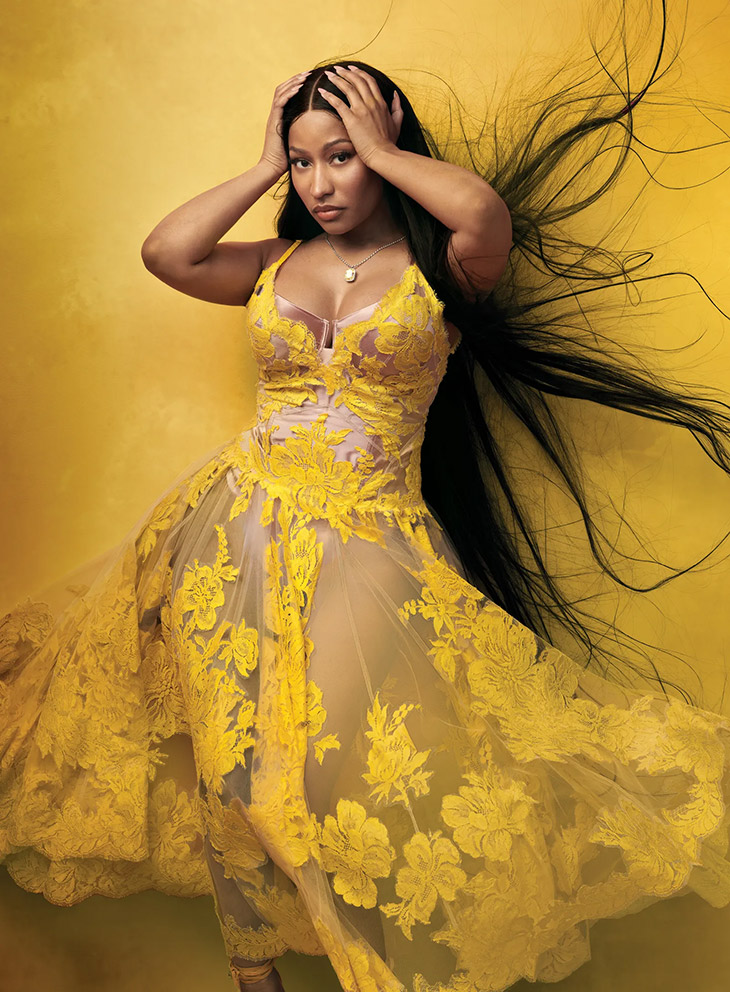 Photography © Norman Jean Roy for Vogue Magazine, read more at vogue.com