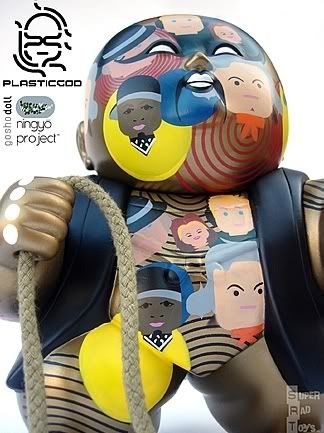 Designer: Plasticgod
Toy on the picture above: Ningyo

The internationally known Los Angeles resident Plasticgod took to drawing the minute he picked up a pencil at two years of age. He's sold works to an extensive list of 40 or more music and Academy Award winning movie celebrities including Jamie Foxx, Bruce Willis, Malcolm McDowell, Seth Green, and Japan's T.M.Revolution. PG has been exhibiting since 2001 and has shown extensively (over 100 shows) in galleries and art-related boutiques including a collaboration line with high-end jewelry company Minx. With press in international magazines such as Italian Vogue and Elle, as well as Entertainment Weekly, Sportswear, two covers for BPM and mentions in the New York and Los Angeles Times, it's no wonder he's been dubbed the "The 21st Century Warhol". His own twist on celebrity caricature comprises the popular "Heads" collection of over 700 pop and political icons. These icons are now taking form in the shape of 3-D toys with Super Rad Toys which notably in conjuction with Plasticgod supplied the exclusive Moonman toy for the 2007 MTV VMA's. Socially conscious, Plasticgod gives back! He's been involved in numerous charities raising money for Hurricane Katrina, tsunami relief, cancer research, animal rights, USC Special Olympics , human rights, children's fundraisers, and the list goes on. Plasticgod is definitely one to follow closely for years to come.
Official Website:
www.plasticgod.com
Myspace:
myspace.com/plastic
YouTube Channel:
youtube.com/plasticvideo