The first Juicy Coture store in the UK
Address: 26 Bruton Street, London W1
Luxury lifestyle brand Juicy Couture is opening a London flagship store this July 2009. The 18th Century townhouse will also contain the European offices, located at 26 Bruton Street, London W1, alongside some of London's most fashionable stores. Interior images and more info under the cut: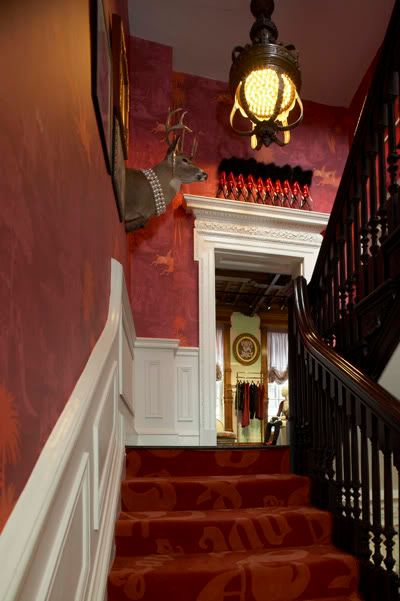 The Juicy Couture-Bruton Street love affair started with the discovery of the Hartnell building, Norman Hartnell's atelier, where he designed Queen Elizabeth II's clothing including her wedding gown. The building has housed Juicy Couture's showroom for the past five years and when the much admired townhouse next door became available, Gela Nash-Taylor & Pamela Skaist-Levy, co-founders and creative directors, seized the opportunity to acquire it for their London flagship.
Built in 1705 and recognized by the London Heritage Society, this 4,000 square foot Georgian house will be split into two retail floors, with the remaining floors dedicated to the company's showrooms and European offices. Originally built as a private home, it was important to maintain the store's residential feel while playing up Juicy's unique irreverence, style and wit. Juicy Couture has worked closely with the London Heritage Society to restore as many original details as possible, including eight fireplaces, molding, staircases and the black and white marble flooring in the entrance hall.
The design concept for the London store showcases the brand's creative identity while maintaining its status within the fashion world – giving a real sense of Hollywood fantasy, California freedom and eccentricity. "We couldn't be more excited to open in London's Mayfair district, especially Gela who is the quintessential anglophile," states Pamela Skaist-Levy.
Gela Nash-Taylor adds, "Since launching Juicy Couture, we have been excited by our expansion throughout the world. This store represents a special and significant milestone in that journey, partly due to its location in London's historical, stylish Mayfair district."
The Bruton Street Juicy Couture flagship will offer apparel for women and kids, sleepwear, and accessories – including handbags, jewelry, sunglasses and shoes. Also available will be Bird by Juicy Couture, the brand's latest collection, for the girl whose personality is evidenced through her cutting edge sense of style. In addition, G&P; have designed iconic British charms and other accessories to commemorate Juicy's new London home. – from Juicy Couture
*Courtesy of Juicy Couture