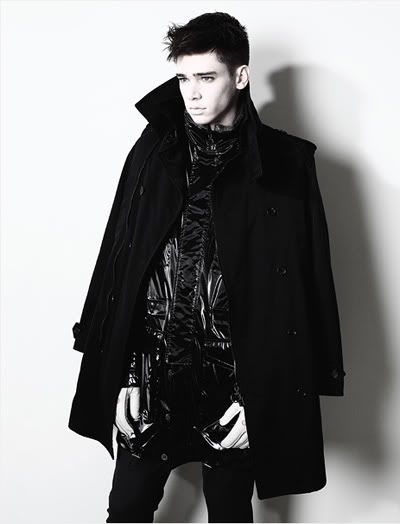 Magazine: CITY magazine
Published: September 2009.
Fashion Editor/Stylist: Julie Ragolia
Photography by Tim Zaragoza
"My inspiration to become a model was the fact that I was grabbed on the street and I was homeless and only an idiot would turn down the fantastic and magical world of fashion. You would have to brain dead not to want to be a cheap whore for money!" – Cole Mohr for the latest issue of City magazine. Read the rest in their September issue (already on your newsstands, view the previously featured cover over HERE), and check out more previews from Cole's cover story under the cut:
Cole is wearing Gucci |Nylon Trench Coat|, Spurr |Driving Gloves|, Thom Browne, Paul Smith, Louis Vuitton |Monogram Revelation Keepall|, Dolce & Gabbana |Quilted Satin Pants|, Ann Demeulemeester, Prada, Tim Hamilton , Yohji Yamamoto, Ralph Lauren Purple Label, Alexander McQueen, YSL, Dior Homme, Phillip Lim.
*Courtesy of City Magazine