Scion presents Infinity
Place:

SCION Installation L.A.
3251 Helms Ave (at National)
Culver City, CA90232
Curated by

Andrew Schoultz
Date:

October 10 – November 7
Opening Reception:

Saturday, October 10th, 2009 | 7-10pm
Website:
www.scion.com/space
Opening Oct. 10, Scion's Installation L.A. Gallery presents "Infinity," a group exhibition curated by respected contemporary artist Andrew Schoultz, which explores both the vastness of the infinite and the limitations of the finite.
Scion's 4,500 square foot Installation Gallery in Culver City will host a laboratory of works that experiment with time, space, technology, mortality and other highly studied and interpreted continuums. Fifteen artists, including acclaimed and emerging printmakers, installation artists, illustrators, muralists, collagists and painters, exhibit their takes on the limitless and perpetual using confined and restricted mediums. Continue reading for more info and images under the cut: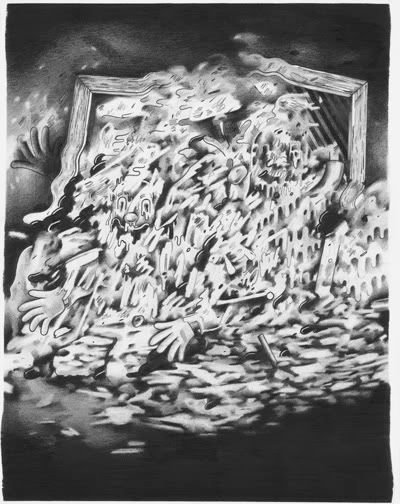 Ryan Travis Christian

is a Chicago-based artist and independent curator. Christian reappropriates cultural icons and foreign experiences, from muppets to faded old photographs of people he will never meet, and places them in new contexts and meanings.
Richard Colman, born in Bethesda, MD and currently working in San Francisco, is a graduate of Boston's School of the Museum of Fine Arts. With a background in graffiti and an appreciation for Renaissance-style portraiture, Coleman shifted to fine art creating paintings and murals of elaborately surreal scenes of geometrically patterned madness.
Noah Davis

, born in Seattle in 1983, currently resides in Los Angeles, CA. A graduate of the Cooper Union School of Art in New York, Davis uses traditional compositions and painterly techniques to evoke a world of nostalgia, memory and personal obsession, Davis' works often obliquely reference racial, social or political issues and how they affect our daily activities and inner lives.
Chris Duncan, born in New Jersey and working in Oakland, earned a Bachelor of Fine Art from California College of Arts and Crafts in 2003. The recipient of the 2006 San Francisco Bay Guardian's Goldie Award in Visual Art, Duncan's paintings, drawings and sculptures innovatively combine materials to give structure to motifs that he considers forms of energy rather than images.
Andres Guerrero, a champion of the urban art movement, began his career in graffiti art. Guerrero now enjoys working in the grey area between street art and fine art. Formerly co-owner of the White Walls Gallery in San Francisco, Guerrero has curated numerous art shows in California and abroad.
Joseph Hart, born in New Hampshire and currently residing in New York City, received a BFA from the Rhode Island School of Design. Most recently, his work was accepted into the 2009 North American Print Biennial, and was included in the New Talents section at Art Cologne. Balancing hard edges with delicate marks and dense imagery with open space, Hart's mixed media works on paper have been exhibited and published internationally.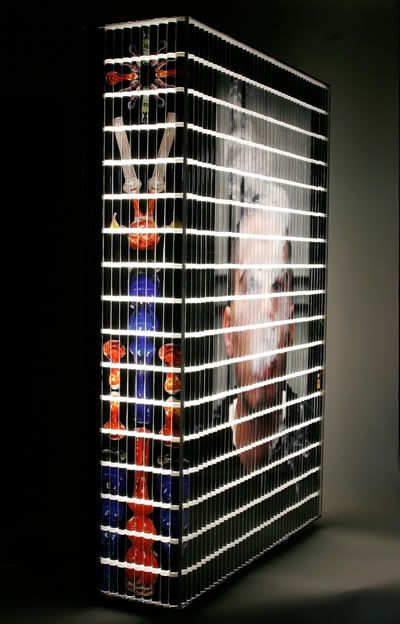 Andy Diaz Hope

, born in Mountain View, CA and working in S an Francisco, received both a Bachelor of Science and a Master of Science in Engineering from Stanford University. In addition to being exhibited in several solo and group exhibitions throughout the world, Hope's art has also been featured in dozens of influential art and lifestyle publications.
Xylor Jane draws on mathematical algorithms to create staggering installations based on patterns from basic arithmetic, including the Fibonacci series and prime numbers. Her simple and complex sequences are informed by swarms of numbers and executed through her personal expression.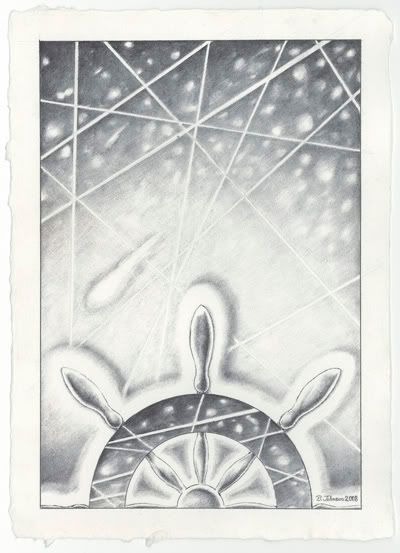 Butt Johnson

, a Rhode Island School of Design graduate now living in Brooklyn, NY, creates obsessively detailed ballpoint pen drawings of topical scenes in styles that recall Baroque, Renaissance and Victorian etchings. Johnson's references include disparate pop and political themes, from the Searching for Extra-Terrestrial Intelligence (SETI) screensaver to Super Mario Bros. and car-bombings in the Middle East.
Chris Natrop's process combines precision with fluidity in paper cuts that vary from energetic rips and tears to finely constructed shreds. Natrop, a School of the Art Institute of Chicago grad, mobilizes space, shape and light to fill unused environments and make sense of our surroundings.
Aaron Noble, inspired by comics and superheroes, the LA-based artist practices large-scale, site-specific wall painting and works on paper and canvas. As a fan, collector and wannabe professional cartoonist, his visual vocabulary includes reverent ink link rendering techniques, fetishistic heroic forms and post-human identities.
Hilary Pecis is a Bay area artist whose otherworldly landscapes capture the post-apocalypse through intricate collages of obscured advertisements displaying luxury goods, media-inspired lifestyles and contemporary perfection.
Andrew Schoultz, SF-based artist and "Infinity" curator, fills and creates new spaces and times using lines, color, creatures, nature and architecture. His bright and lively murals can be seen throughout the alleyways of San Francisco and in streets and galleries the country.
Ryan Wallace, born in New York and working in Brooklyn, is a graduate of the Rhode Island School of Design. Wallace's paintings, prints and installations, often representing personal interpretations of science, technology and society, have been exhibited and published internationally.
More information on this and previous exhibitions is available at www.scion.com/space.
The opening reception takes place on Oct. 10, 7 p.m. – 10 p.m. at the Scion Installation L.A. Space, 3521 Helms Ave. (at National), Culver City, CA 90232. The reception is free with complimentary valet parking and an open bar. Many artists will be present and available for comment. The exhibit will run until Nov.7, 2009.
Dedicated to fostering independent artistic expression, Scion Installation L.A. is a space that allows artists to explore their creative visions. The Scion Installation L.A. Space hosts art shows and art-related events for cutting-edge contemporary artists from across the globe. Gallery hours are Wednesday through Saturday 11:00 AM – 6:00 PM and by appointment – 310.815.8840.
*Images courtesy of Scion Installation