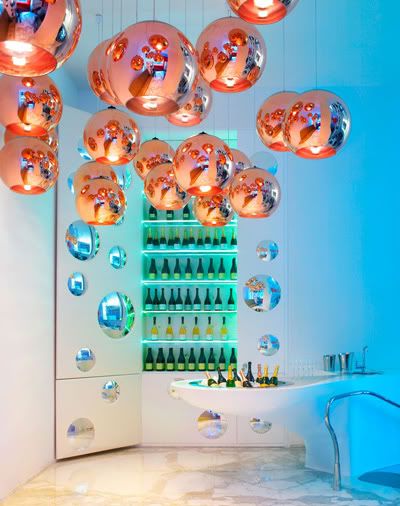 Boscolo Exedra Milano *****
Corso Matteotti, 4-6Milan
T: +39 02 7767 961
Website:
www.boscolohotels.com
Boscolo Exedra is a new luxury design Hotel in Milan, just right for the fashion and design capital that Milano is. The ever-new Boscolo Exedra Milan gives rise to a new concept of luxury design hotel. Located in the heart of Milan's fashion district, it is an inspired fusion of italian style, art and original design, combined with the renowned elegance that distinguishes the Boscolo collection. More after the jump:
Exedra Milan upraises from a 1920's bank, completely remodelled by architect Italo Rota into a lighthouse in the landscape of contemporary design. The wondrous entrance with its bright glass windows and sparkling colours and the splendor of the harlequin sculptures, breaks the monochromy of the contiguous buildings. The collective spaces, embracing hall, reception and restaurant, are conceived as a one open- plan area.
The hotel boasts of three sophisticated restaurants to sample innovative renditions of traditional Mediterranean dishes, a fancy louge bar and an exclusive champagnerie where guests can taste fabulous cocktails and light meals. The 154 guest rooms include 9 thematic suites, equipped with top shelf entertainment amenities and stylish furniture to provide the utmost comfort. Exedra offers 4 fully equipped conference rooms, hosting up to 170 delegates, with striking view on the Duomo cathedral.
The Luxury SPA is the ideal place to spend moments of relax and beauty, dipped into an sensorial oasis. Exedra brings a blend of feelings and sensations, that combined with the flawness Boscolo courtesy create a unique experience for an unforgettable stay.
Photo: Leo Torri