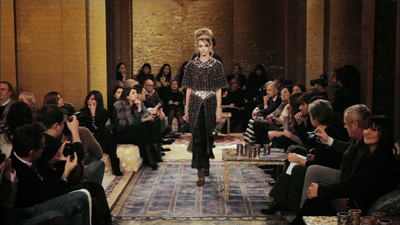 Collection: Chanel
Season: Pre-Fall 2011
Designer: Karl Lagerfeld
Website: www.chanel.com
For their pre-fall show Chanel and Lagerfeld went for a more intimate presentation, nonetheless show was an instant buzz all over the globe, with first images appearing on twitter during the show itself. For the gold dominated collection designer was inspired by Byzantine queen Theodora, acquiring the motives from the era both in garments and accessory and combining them with well known Chanel silhouettes.
An intimate show has meant a smaller number of invitations and has certainly upset a great deal of fashionistas in Paris, yet while you view the show focus on the stunning collection and beware of minor distractions (an honorable front row guest opts for a pair of Adidas, and unfortunately camera catches it more than once). Click on the image above to view the video over at the official website.