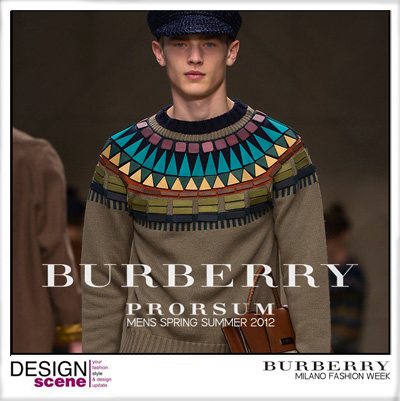 Collection: Burberry Prorsum Menswear
Season: Spring Summer 2012
Designer: Christopher Bailey
Website: www.burberry.com
Perhaps the introduction to the new Christopher Bailey designs came as a spoiler with the Pre-Spring Summer loookbook, nevertheless the main collection gives you the final result of Baileys ongoing idea. The essentially British look of a Burberry guy this time has more volume to its cut, but the note of luxurious is quite different and much more relaxed from the one we saw in the winter designs. The expensive furs and leather craftsmanship are toned down for the Spring-Summer season and with the new detailing the words organic and natural often comes to mind.
Do not forget that Burberry guy is always ready for the British weather, so the layering present in the styling with the strong emphasize on outerwear is more than appropriate, and with the always wanted heritage trench present you can't ask for more. But beyond the layers of worm clothes ready for the trickiest Spring weather, the pieces coloured in tones of ink blue and primrose white can safely land in your beach luggage. In the winter season the white fur caps looked like such a risk – couple of months later those became a perfect last touch to a winter attire, will the same happen with the stand-out crotchet raffia caps? (If you are daring enough you can already pre-order those as well as the rest of outerwear and accessory on the official website).
To add something more for the end, among the ten shows we saw in Milan, the one for Burberry Prorsum was the only indoor one to let a burst of natural light grace the audience and the clothes – it came as the much anticipated surprise, the one we are spoiled into always expecting when you go to see their new collection (you can see the moment HERE on our opening video). From the runway ready rain and snow it is time for sunshine!
Describing the clothes in detail could last forever but more than sixty looks are after the jump ready for your viewing:
Stay tuned for more, tomorrow we'll bring you a closer look of the collection.
*Images courtesy of Burberry.