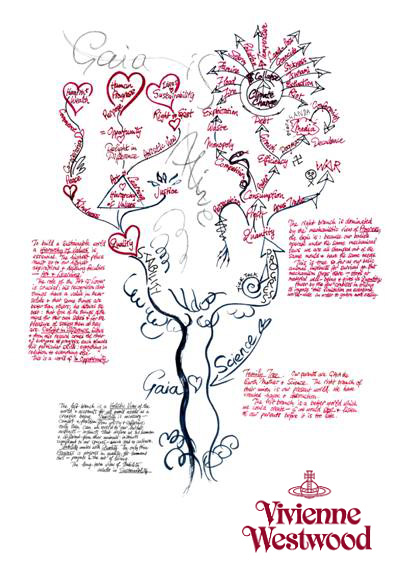 Collection: Vivienne Westwood Gold
Season: Spring Summer 2012
Website: www.viviennewestwood.co.uk
Intro into the new Vivienne Westwood Gold collection came with a beautiful story and illustration of The Family Tree, which in so many ways described the world around us. Here's the short story in full along with more from Vivienne talking about the earlier featured Spring Summer 2012 collection:
The family tree starts with the marriage of GAIA the Earth Mother and Science. They have 2 children so we have 2 branches. The child of the right hand branch is Quantity and it's what happens when Progress marries Quantity. They produce unlimited Profit and unlimited Consumption and lead to disaster. This is our world. The left hand branch is a parallel world. It doesn't yet exist but it could if we had respect for Science. Its first child is Quality who marries Stability, and this, I believe, leads to true Progress and quality of life. The most important child of this branch is Hierarchy of Values, whose pinnacle of Achievement is Art, which gives culture and ethics and structure- instead of today's free for- all and chaos. That is why the Art lover is a Freedom Fighter for a better world.
The collection has 3 main influences : China, because I hope their traditional wisdom and experience from a culture going back to Confucius may help us to save the planet; the desert because of climate change; and 17th century corsets. When I was in Nairobi I met Mr. Xijia Wang who is working there with the United Nations. Our conversation left me with the wish to sum up my ideas. The result is the World Family Tree which you will see printed on T-shirts and bags. Mr. Wang wrote my name and the words "Green economy" in his calligraphy and I incorporated this in a print taken from Chinese flower painting. There is a blow-up oversize jacket called the Mao jacket and I have always loved the Mao cap, though I hate violent revolution. Perhaps our love of uniforms comes from a wish to look alike, be part of a group – and maybe a group not happy with the status quo.
The desert inspired me to look at the Berbers with their burnous and the Tuaregs with their layers and their sunlight blue. There is a lot of black, indigo and copper fabric plus whites. Dresses are long. Something I always do is mix up historical dress with ethnic clothes and new shapes or it could be a torn scrap of dress worn with court shoes and a chic handbag. For some time I wanted to do oversize historical corsets. I thought I could give them a feeling of armor, worn as a jacket they would look tough – like a soldier or biker. The corsets we chose to oversize are from the England of Charles II; those beauties who, in their portraits dressed themselves in the sheets and satin covers pulled from the bed.
The Music:
Sixteen year old Kyle Nash-Baker will perform his own piano composition for tonight's show: "The music I will play consists of selected excerpts from a range of my own compositions rearranged with sound effects to represent the World Family Tree, one branch good and the other frightening. I agree with Vivienne that art rests as the center of human existence. The path she maps on the tree, regarding the union of Gaia and Science demonstrates our better chance to navigate the problems that humanity is building for itself".