Chanel has done it again. However, Karl Lagerfeld avoided his trademark theatrics at the Grand Palais that could sometimes overshadow the collections – now it was the clothes' turn to do all the talking.
Using the current 'it' girl of fashion as his muse, Lagerfeld called upon Cara Delevingne to open and close the show. The supermodel's influence over the "Cambon Club" collection was evident with the brand opting for a more casual approach to couture. Geared towards a youthful party-going crowd, the pastel hued looks saw loose fitting evening gowns with drop waists and flapper inspired feather detailing in abundance.
The accessories were an unusual choice. Elegant embroidered gowns were teamed with kneepads and trainers – a further nod towards the carefree skater girl that is Cara. However, these were no mere sneakers; the prestigious house of Massaro were commissioned to add a touch of opulence to the occasion. With lashings of python skin, pearls and veils of lace thrown into every bespoke pair and with them taking approximately 30 hours to make, the price tag of £3,000 is hardly surprising. But for anyone hoping to get in on the action, don't fret, the AW14 Chanel collection is rumoured to have similar offerings in much greater numbers.
This was a signature Chanel collection but revamped for its new generation clientele.
GOODBYE HEELS, HELLO SNEAKERS! Chanel's 65 models embraced the sporty transition from heels to flats and let this show with athletic running, twirling and dancing down the runway.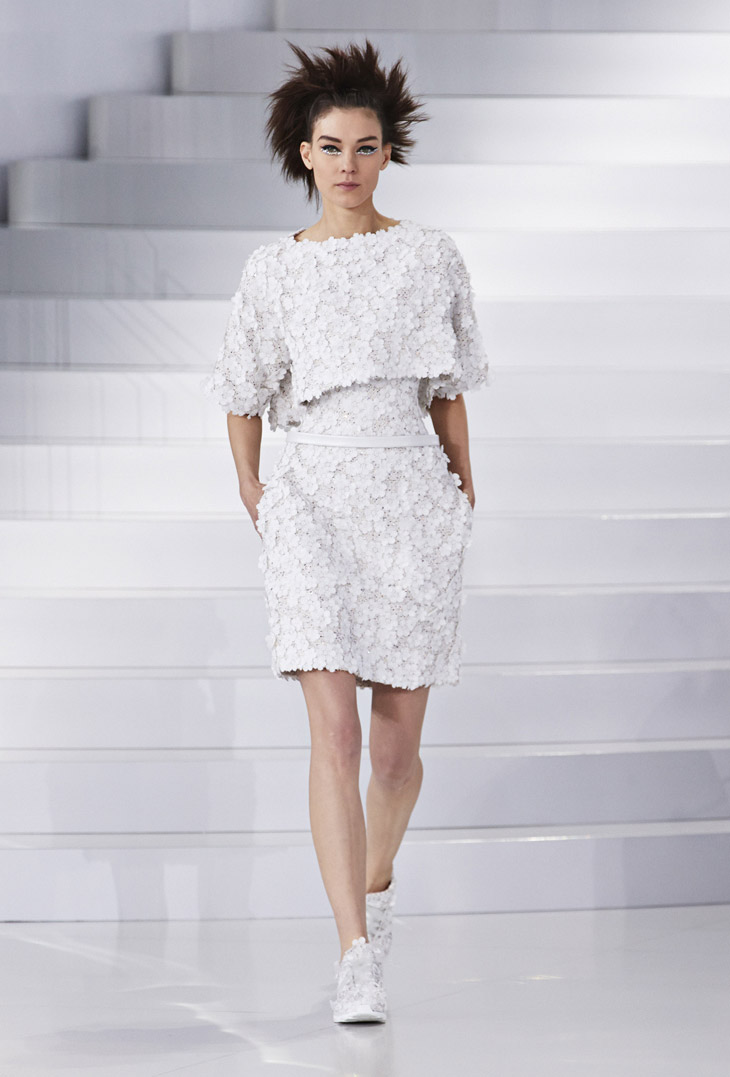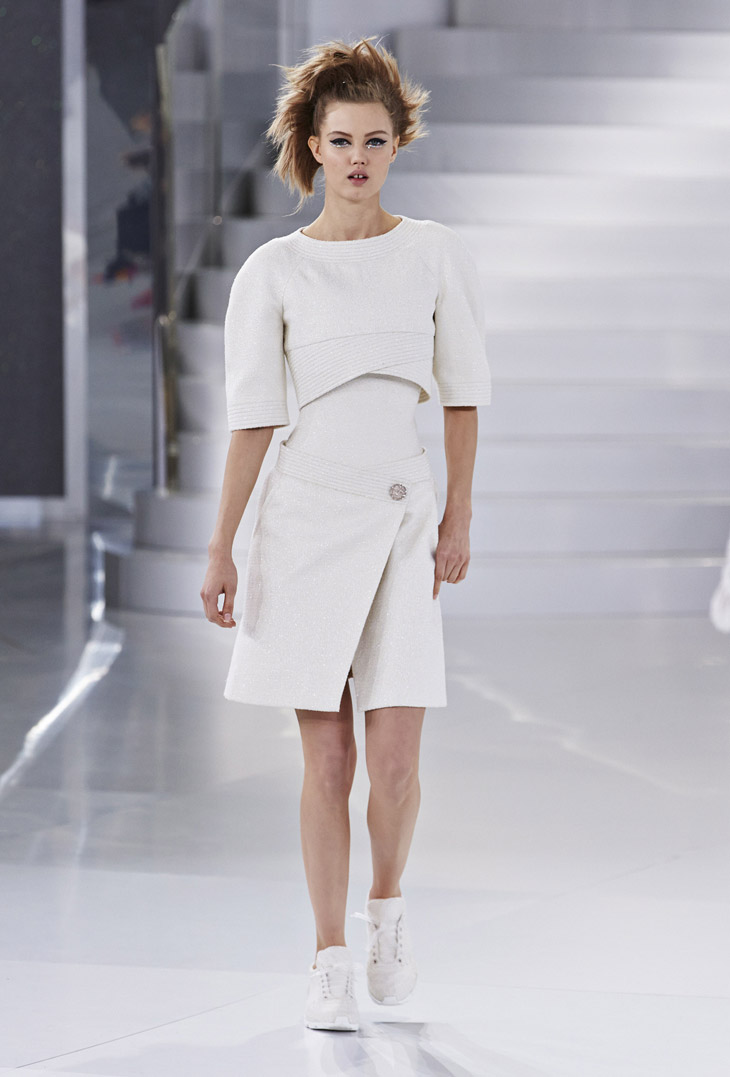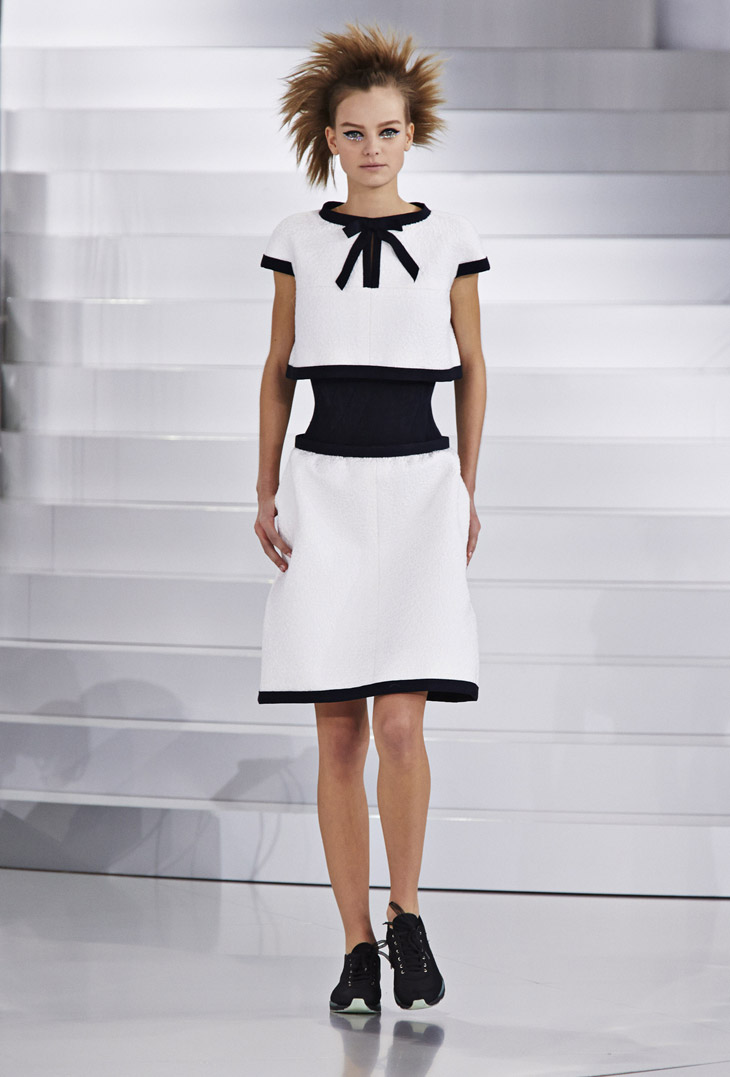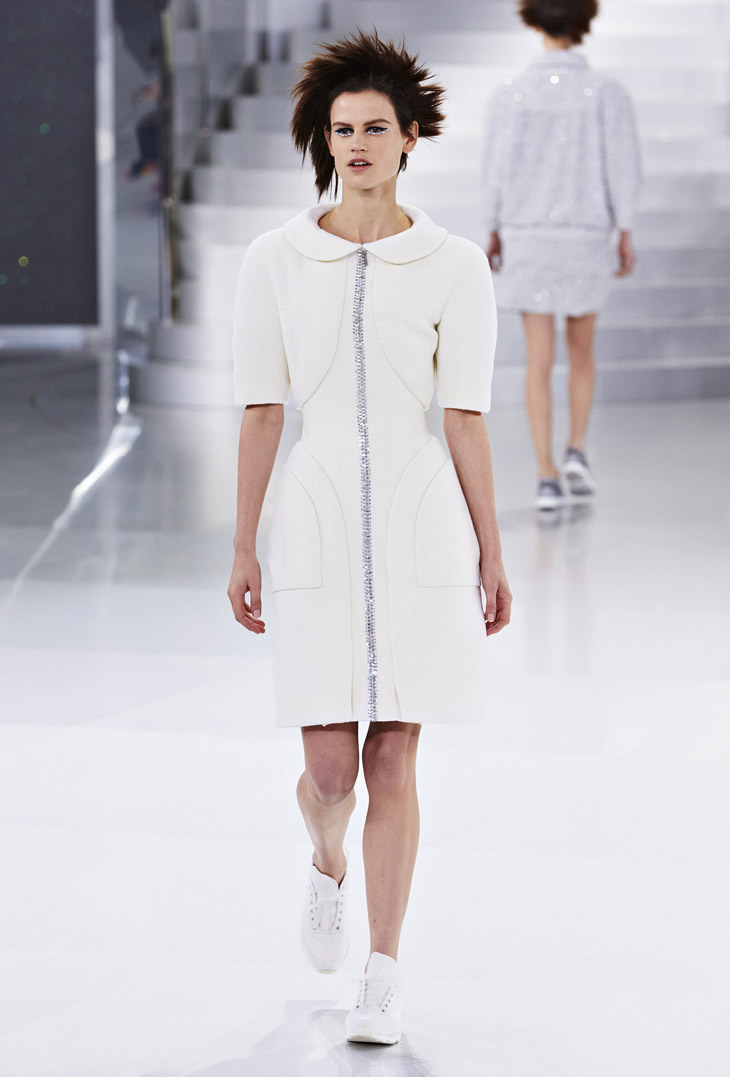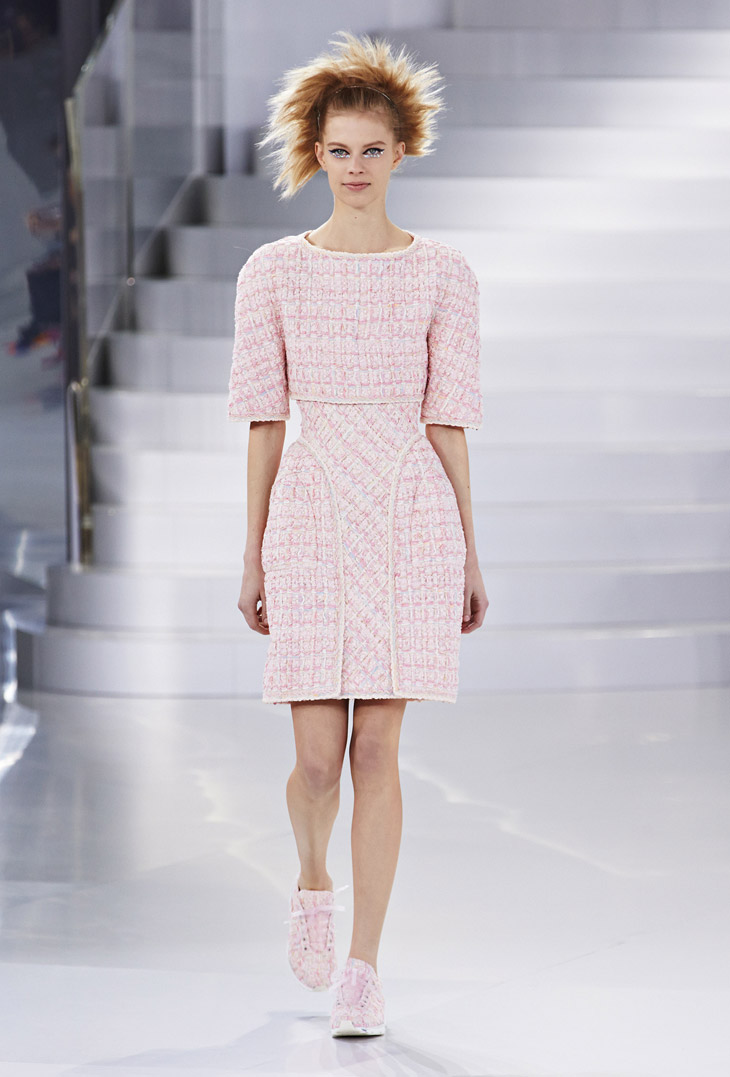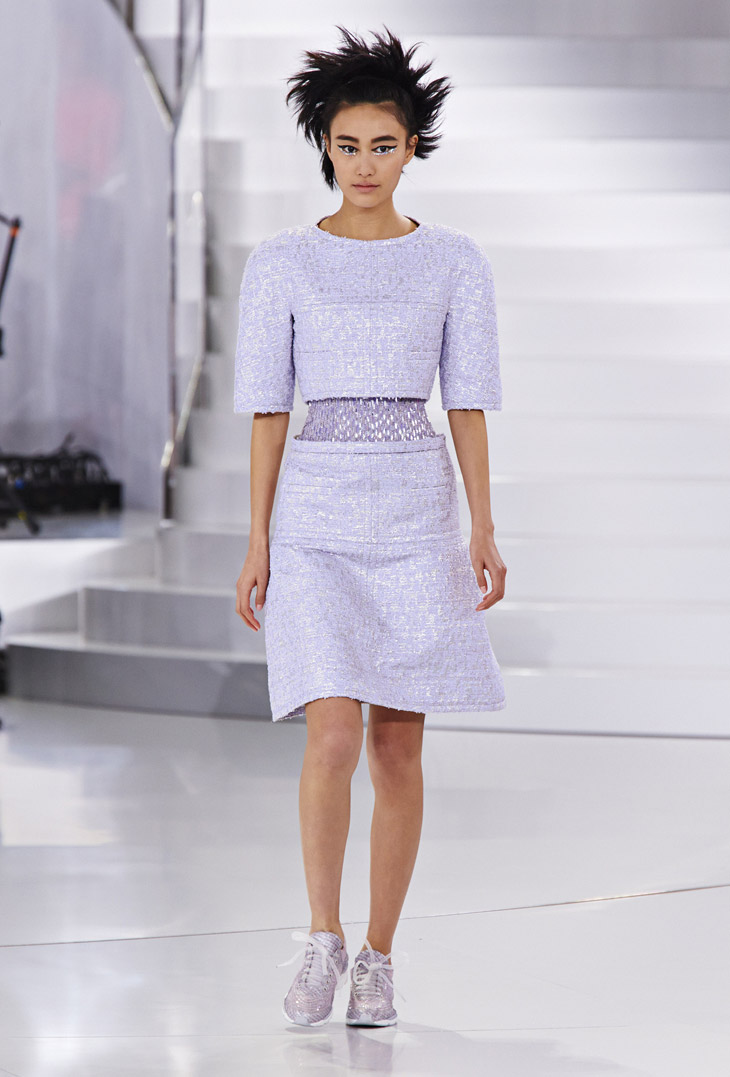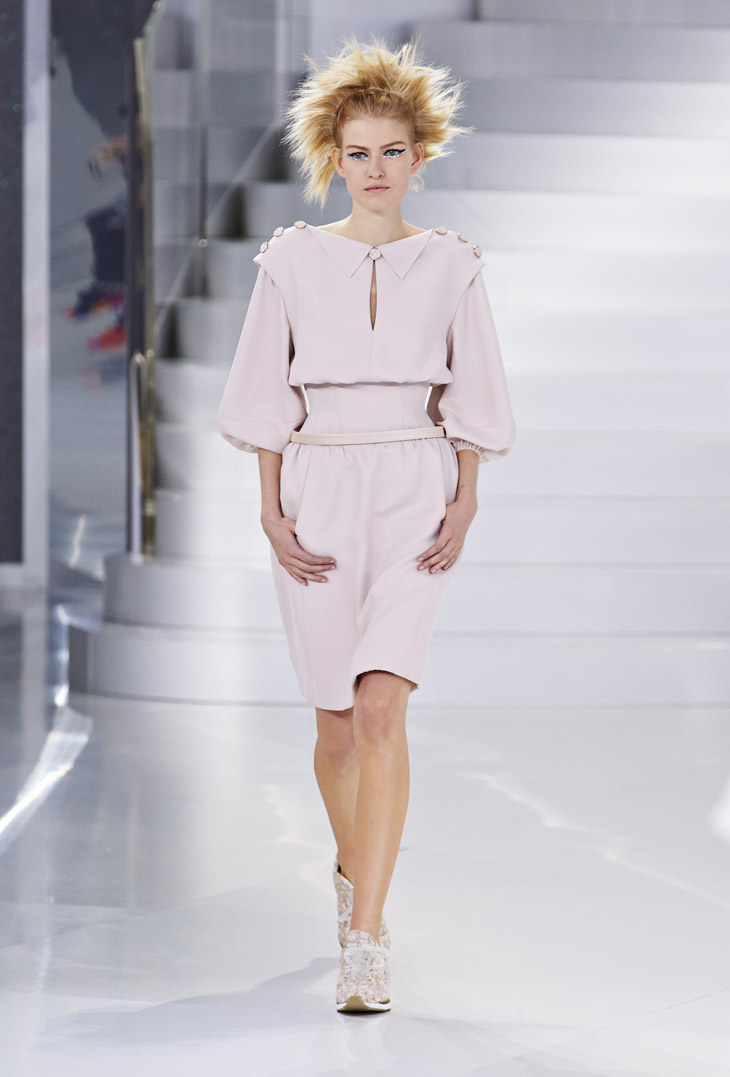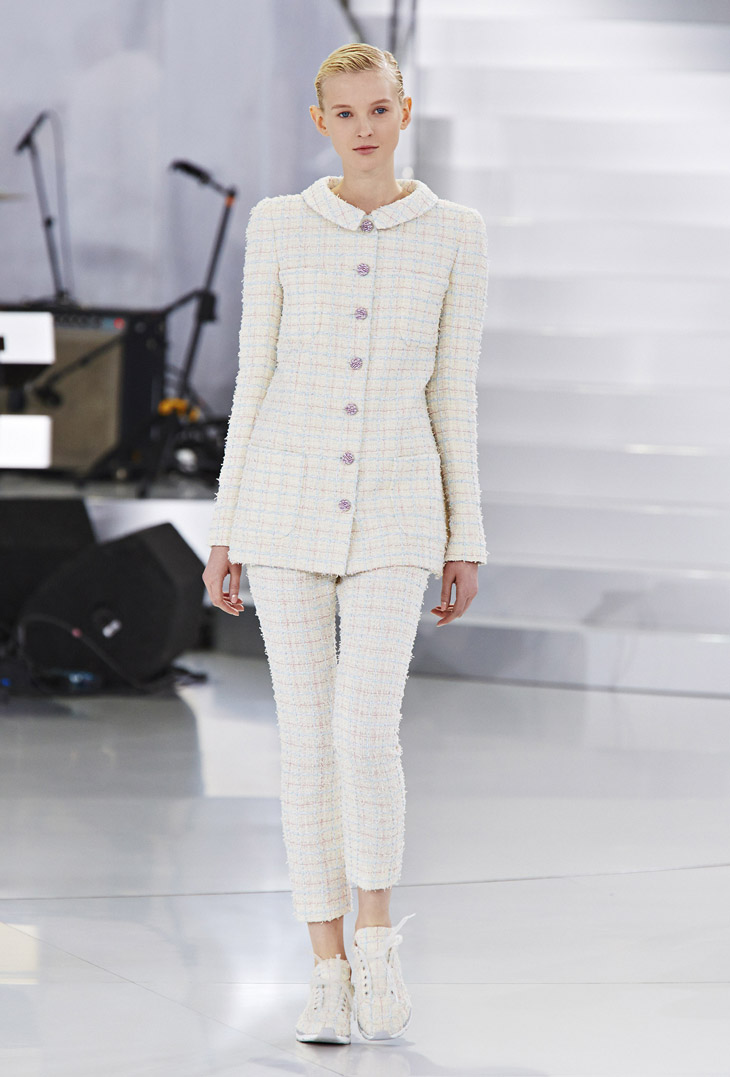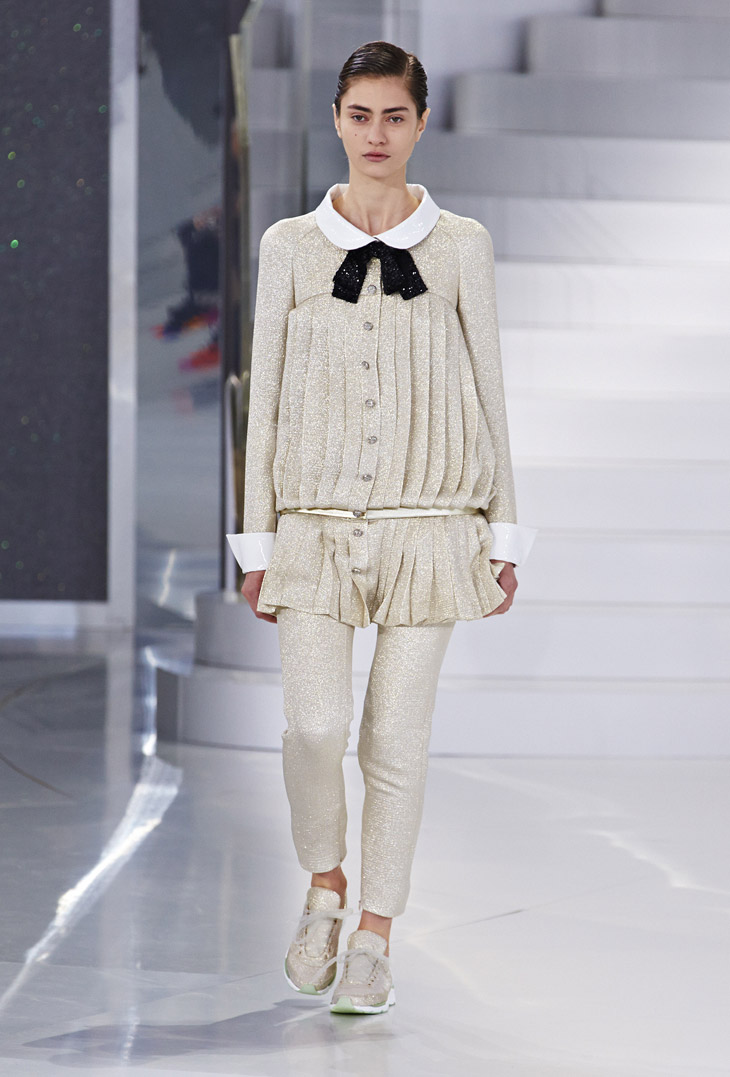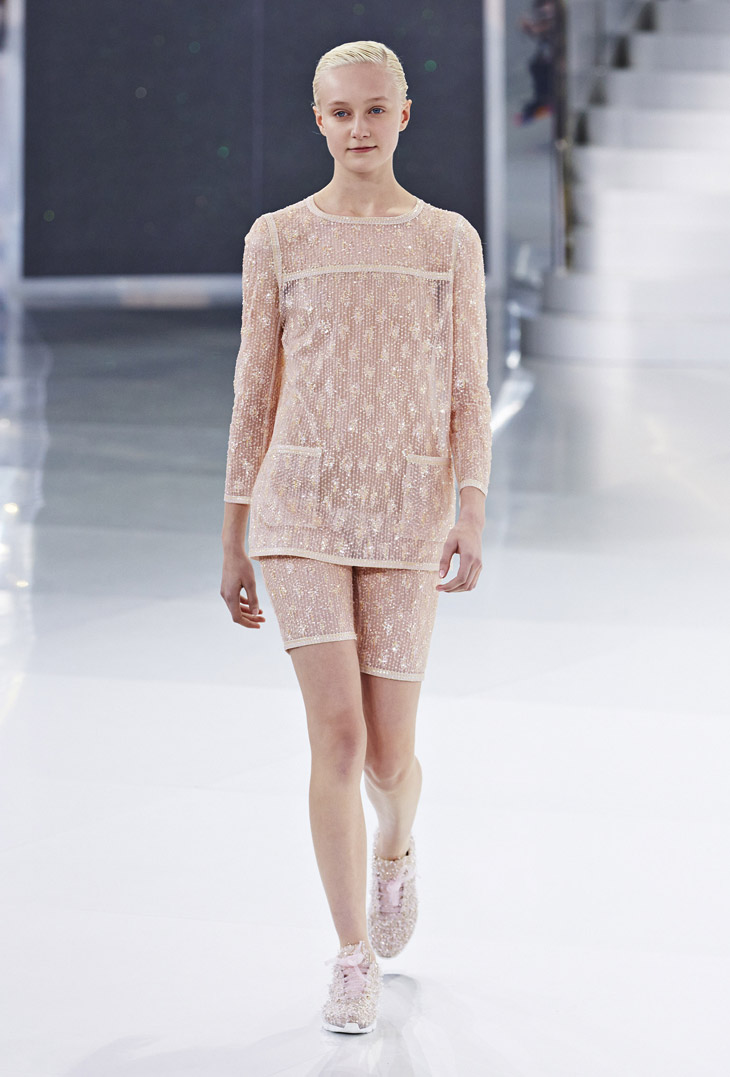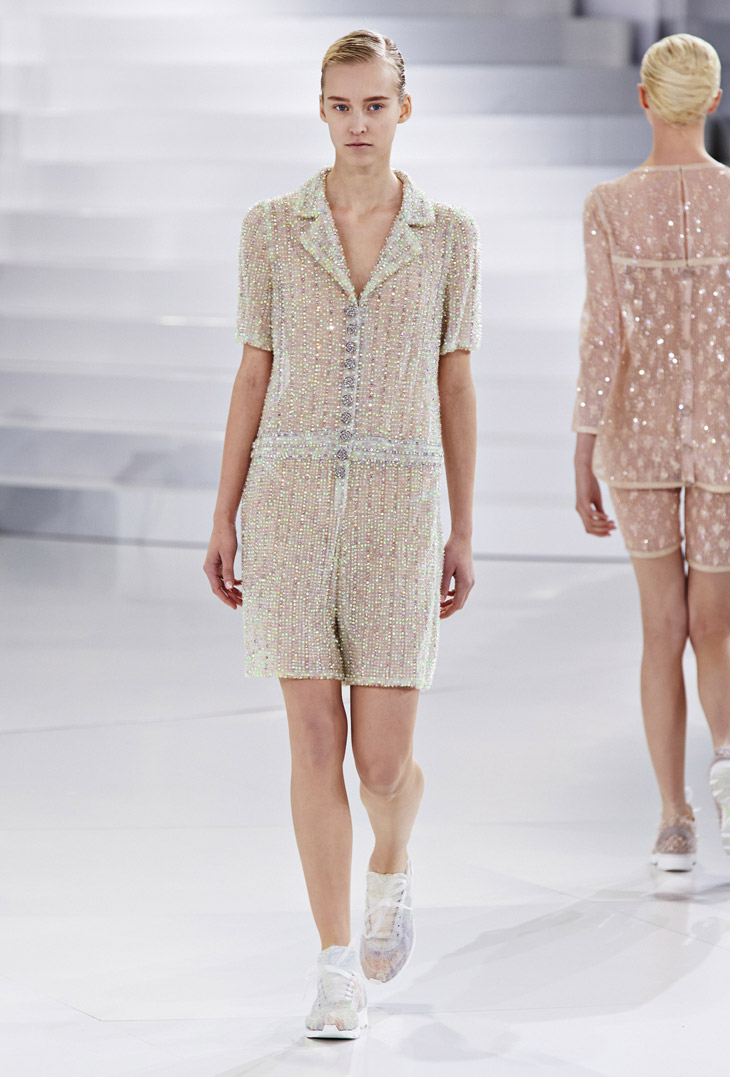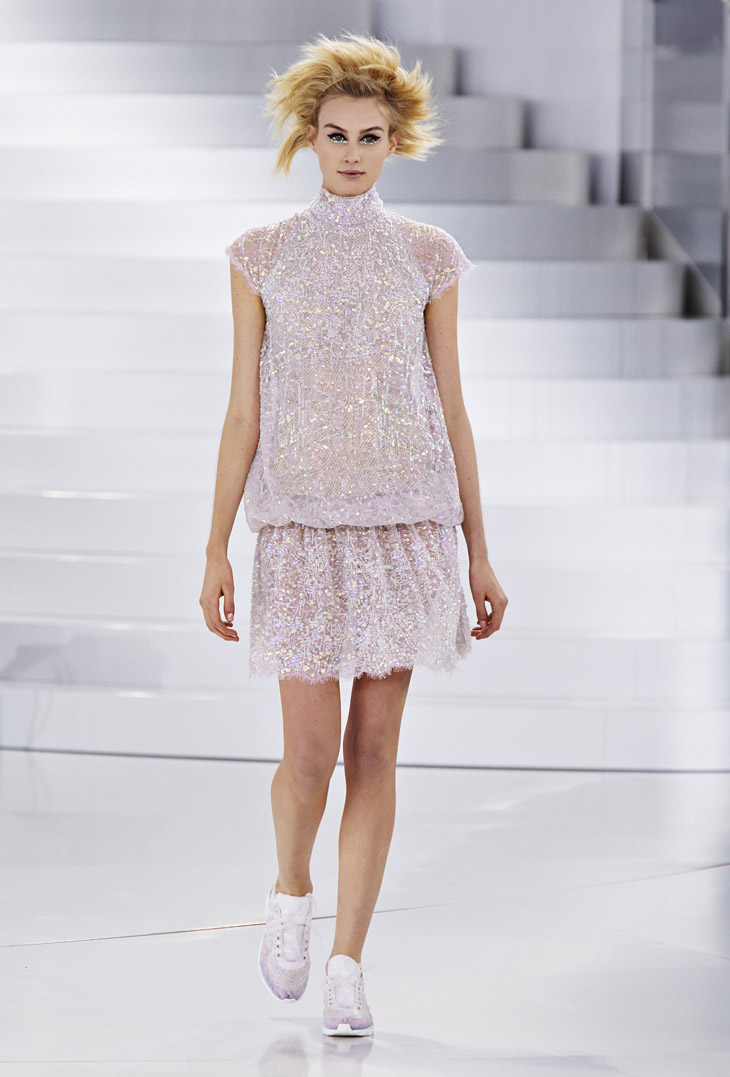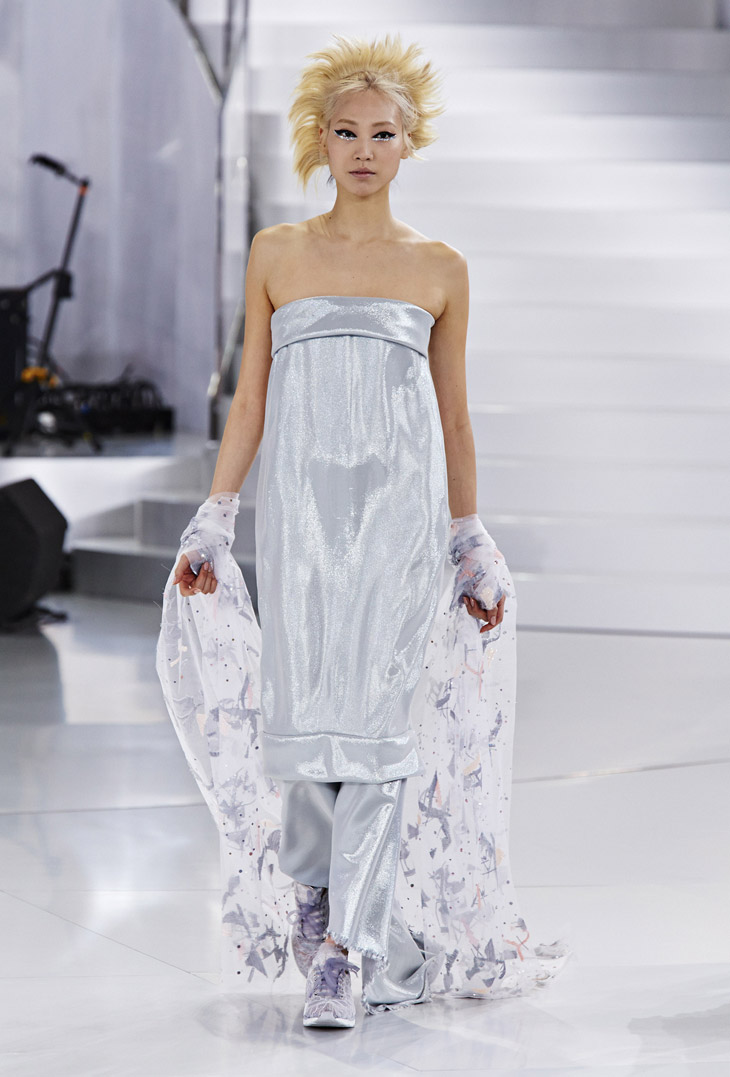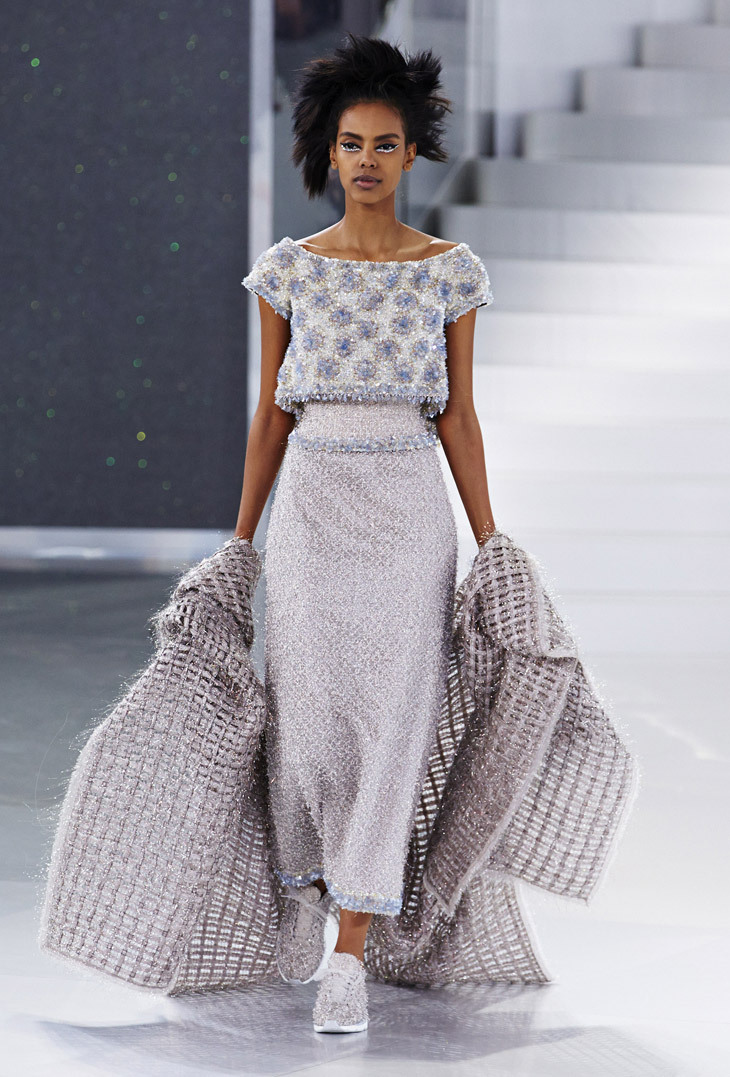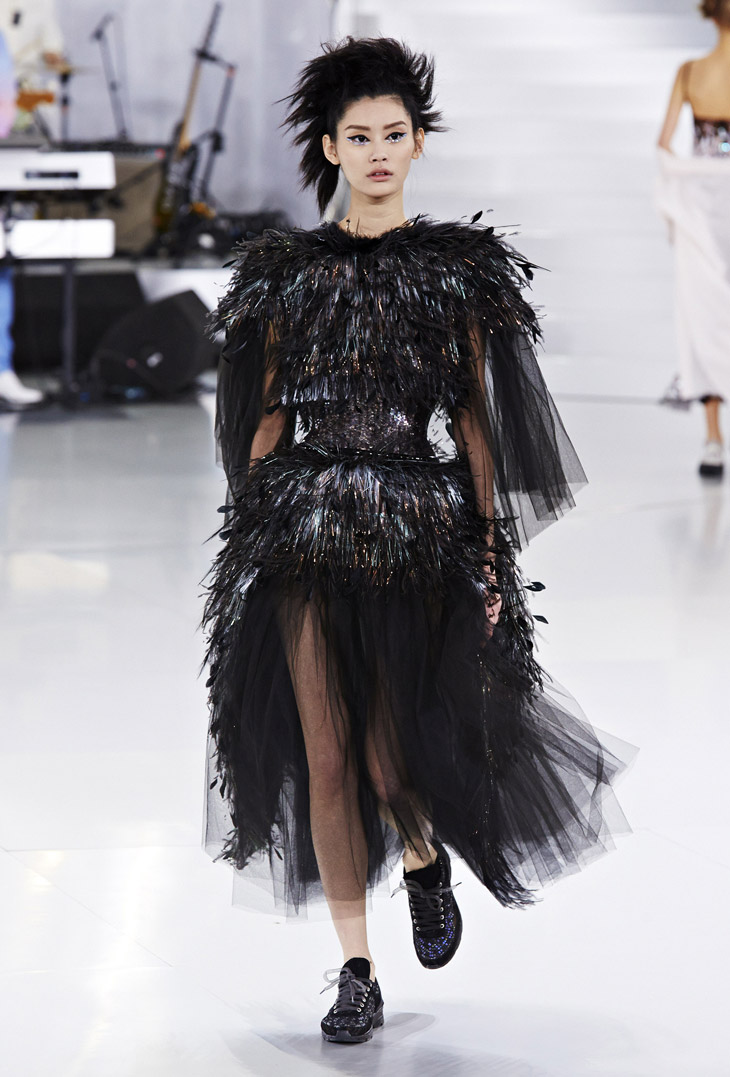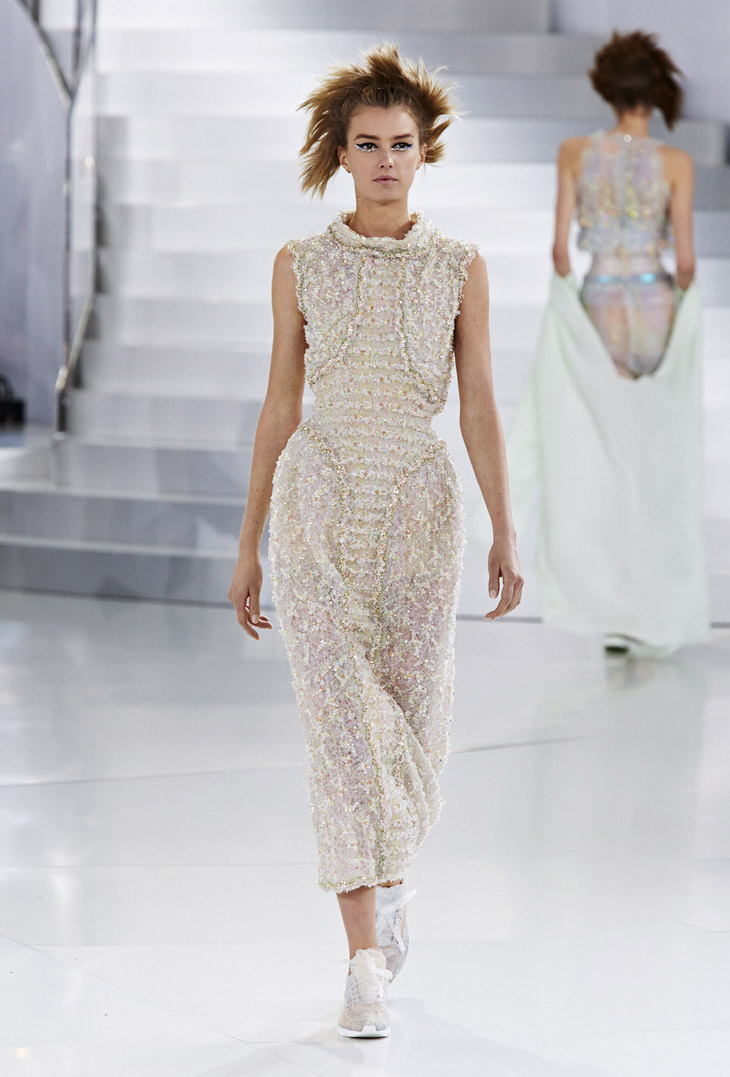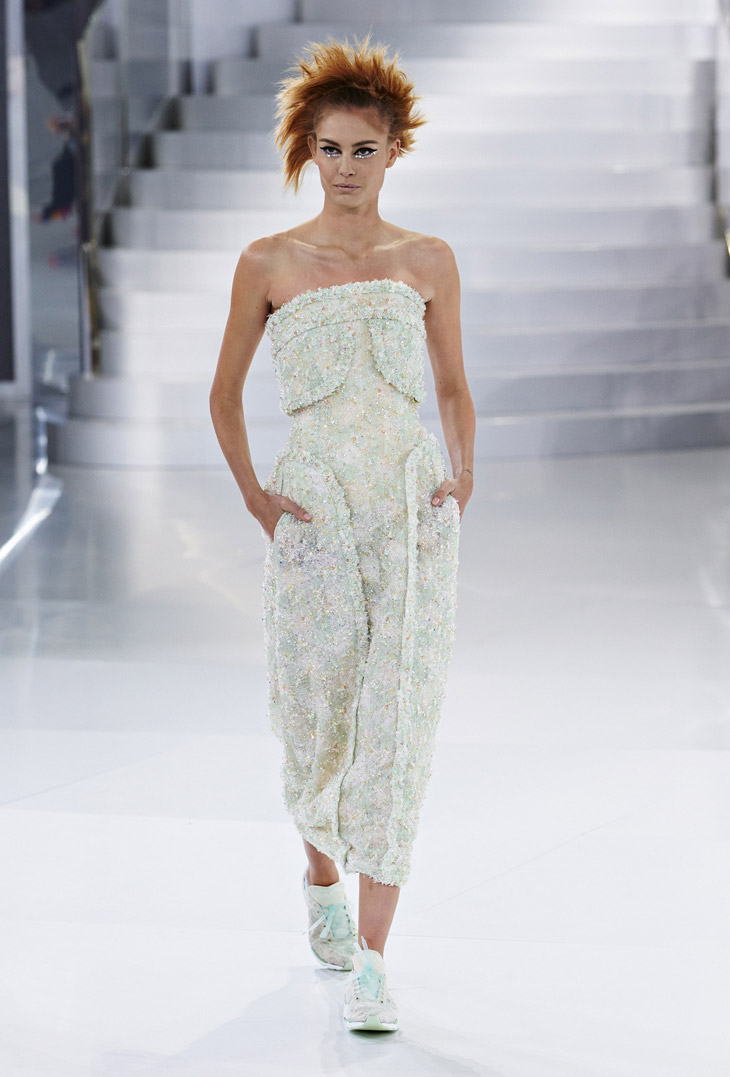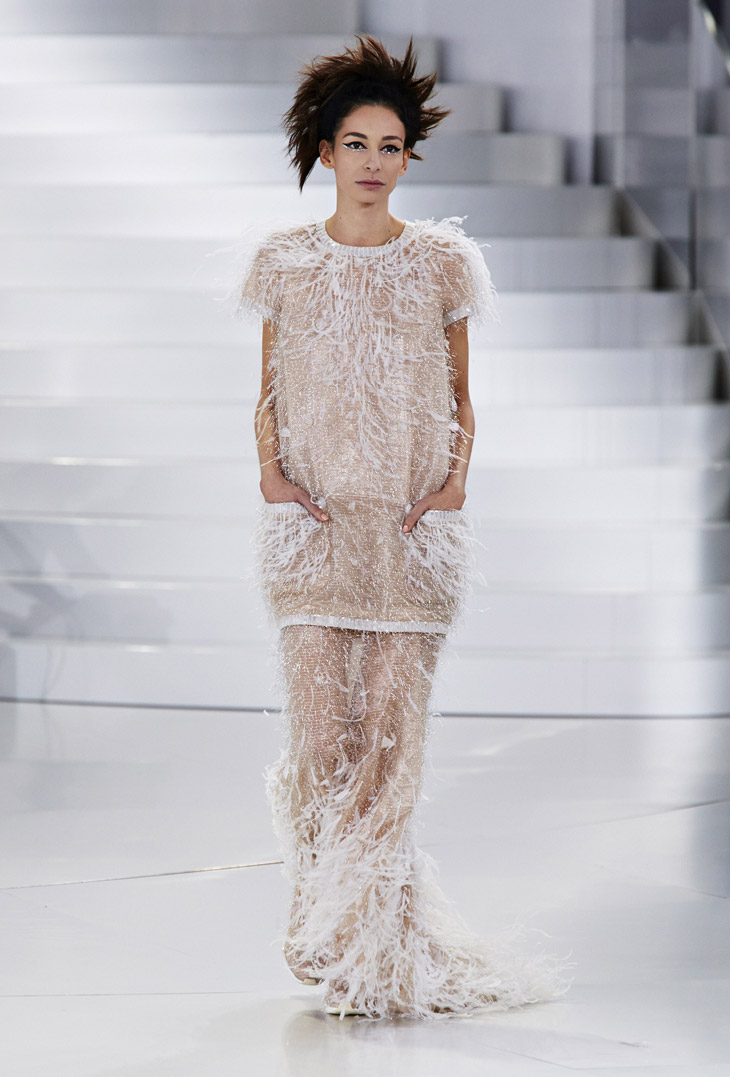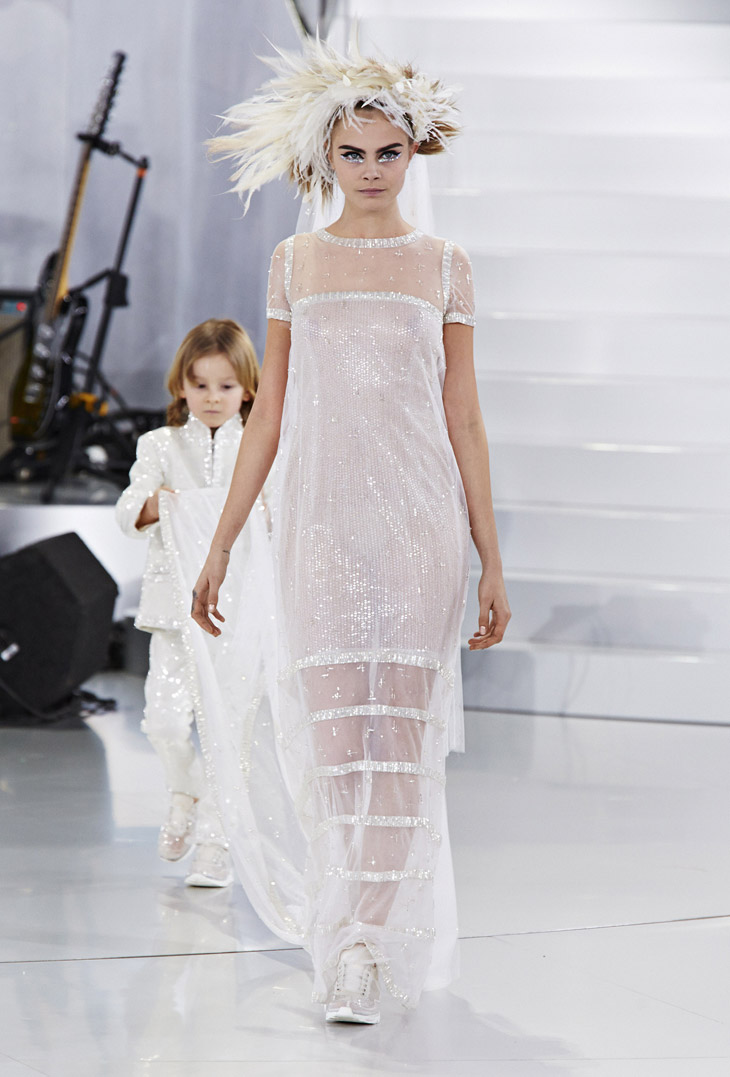 KEEPING IT IN THE FAMILY:
Karl Lagerfeld's godson, Hudon Kroenig, held Cara Delevingne's train as she closed the show.
Models: Alina Ilie, Alyosha Kovalyova, Amanda Brandao Wellsh, Amanda Sanchez, Anna Vostrikova, Antonina "Tonya" Vasylchenko, Antonina Petkovic, Ashleigh Good, Cara Delevingne, Caroline Brasch Nielsen, Charlotte Free, Chiharu Okunugi, Cindy Bruna, Cristina Mantas, Dani Witt, Dauphine McKee, Devon Windsor, Elisabeth Erm, Emma Oak, Estee Rammant, Esther Heesch, Eva Berzina, Evelina Szamszoncsik, Grace Mahary, Ine Neefs, Ji Young Kwak, Joan Smalls, Joséphine Le Tutour, Juliana Schurig, Julie Hoomans, Juliette Fazekas, Kate Goodling, Kati Nescher, Kremi Otashliyska, Larissa Hofmann, Leona "Binx" Walton, Lexi Boling, Lindsey Wixson, Louise Parker, Magda Laguinge, Manuela Frey, Marine Deleeuw, Marta Placzek, Mengyao "Ming" Xi, Mila "Mijo" Mihaljcic, Nadja Bender, Nastya Sten, Natalie Westling, Ondria Hardin, Pauline Hoarau, Sasha Luss, Saskia de Brauw, Shu Pei, Sigrid Agren, Soo Joo Park, Xiao Wen Ju, Zlata Mangafic
All Photos © CHANEL
Written by Design Scene's London Fashion Editor Christopher Maul.  Follow @maulfaced