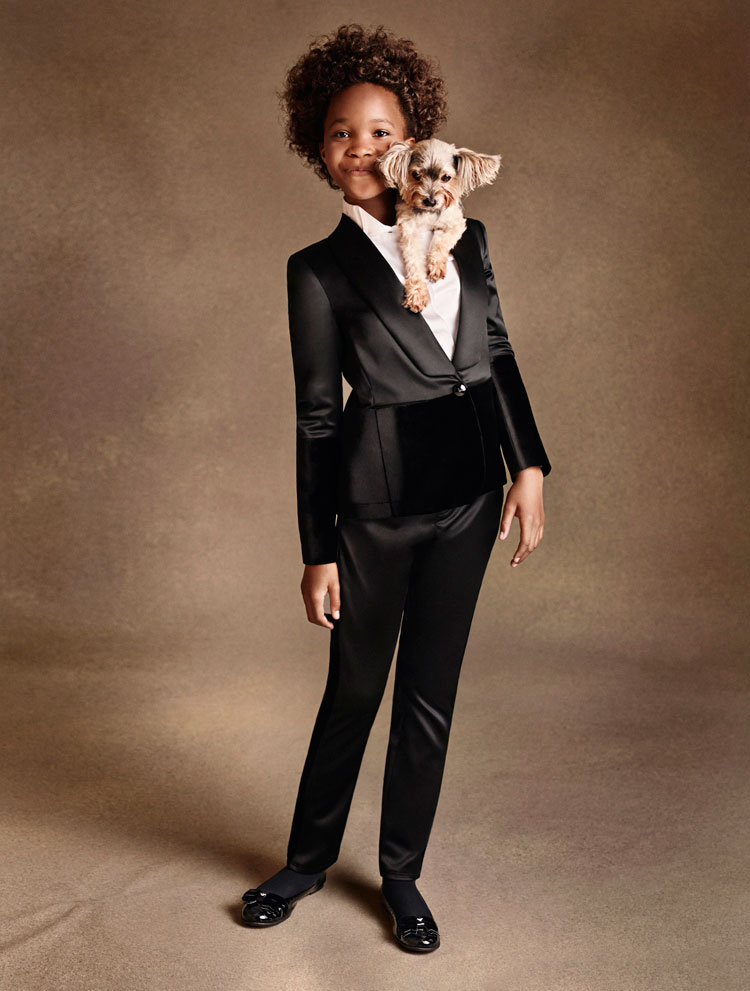 Giorgio Armani has just announced the young Academy Award® for Best Actress in a Leading Role actress Quvenzhané Wallis as the face of label's ARMANI Junior Fall Winter 2014 campaign. She's set to star in the new musical adaptation of move Annie (also featuring Jamie Foxx and Cameron Diaz), the young Quvenzhané caught the eye with her roles in "Beasts of the Southern Wild" and the Oscar winning movie "12 Years a Slave". Campaign scheduled to debut next month, was photographed by Stefano Azario.
"Quvenzhané is so talented despite her young age. She is a child who has the natural ability to play many different roles. Her kindness, curiosity and openness towards others really struck me, as they are all traits that I admire. It is for this very reason that I wanted her to be a the face of Armani Junior. With her insatiable energy, Quvenzhané made the clothing come alive, interpreting it in her own singular way." said Mr. Giorgio Armani
The 10 year old Wallis' Armani ads are set for a global release.
"I'm so happy to be chosen by Mr. Armani to be his ambassador for Armani Junior. I felt the same excitement when I got cast for a major film. Me? Wow! I was honored to wear his custom gown to the Oscars. It made me feel like a princess. When I saw Mr. Armani's Privé show in New York, the dresses were so pretty…I had too many favorites! Afterwards when I met him, I realized Mr. Armani is such a nice man. I liked that he was so thoughtful. It's fun now to wear Armani Junior since I really like the clothing. It's young. It's cool. My friends are going to want to borrow all my clothes now, for sure." – from Quvenzhané Wallis
For more of the label log on to ARMANI.com.