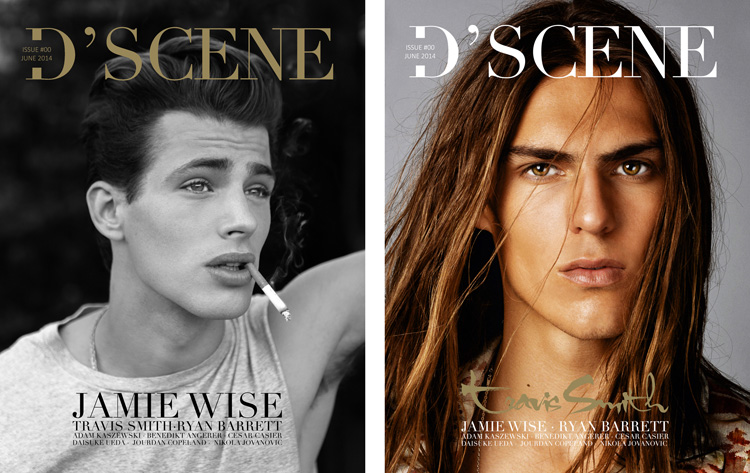 Welcome to D'SCENE – magazine edition of Design Scene and Male Model Scene, marking a new step in our journey. The magazine shines the spotlight on models and talented established as well as up and coming photographers, designers and writers.
For our cover boys we chose two striking guys Travis Smith (I Love Models Management) and Jamie Wise (New York Model Management). Travis was photographed in Milano by Michelangelo L. Cecilia, while Jamie's shoot took place on the other side of the globe in Los Angeles with photographer Elias Tahan where the young model is also pursuing acting and singer career in addition.
Created in the past 6 months on our 120 pages we are showcasing edits shots in Milano, Paris, London, Sydney, New York, and Los Angeles.
D'SCENE IS OUT NOW TRAVIS COVER (ORDER HERE), JAMIE WISE COVER (ORDER HERE) IN DIGITAL + PRINT.
Photographer contributors Michelangelo L. Cecilia, Riccardo Dubitante, Igor Cvoro, Maud Maillard, Clara Copley, Jared Bautista, Pat Supsiri, Horacio Hamlet, Sinem Yazici (Here Come The Boys story), and Elias Tahan. Styling courtesy of Emily Lee, Stefano Guerrini, Ornella Bonante, Marvin Latournald, Andrew Hainsworth, Anthony Pedraza, Nicola Neri, and Kyle Edward Blackmon.
DISCOVER MORE ON OUR MALEMODELSCENE.net.
Let us know your thoughts.