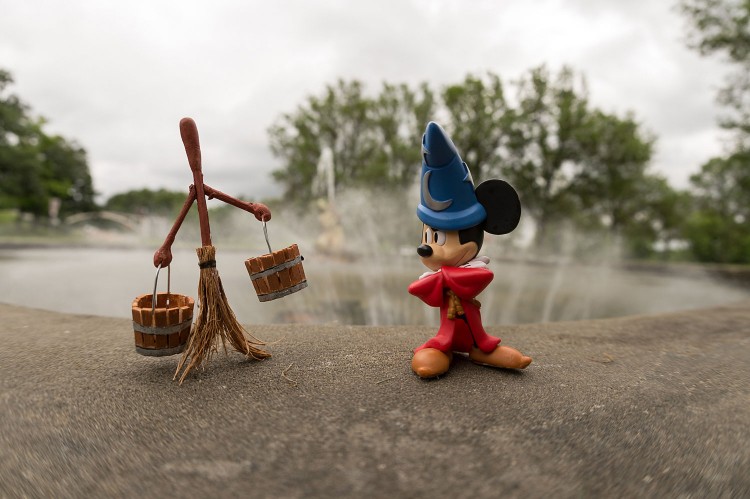 Macro photographer Kurt Moses has teamed up with Disney to create 15 unusual photos starring the famed infinity characters in a real world surrounding. Kurt has taken Disney Infinity Characters and photographed them across the USA in his signature style, all ahead of the launch of Baymax (Big Hero 6). Images feature Ralph from Wreck it Ralph, Mickey Mouse, Merida from Brave, Maleficent, Elsa from Frozen, Tonto from The Lone Ranger, Buzz Lightyear from Toy Story and Baymax from Big Hero 6.
"I've always been fascinated with miniature photography and love creating unexpected shots by photographing miniatures outside the constraints of their natural habitats. "When I saw the Disney Infinity characters, I was captured by the way the physical toys cross over into the digital world of the game and allow people to create stories and worlds of their own. "I tried to mirror that with my photography, creating images which would surprise and delight anyone who knows the characters. The rich heritage of Disney films allowed me to create scenarios which would resonate with people in a way that isn't possible with other miniature figures." – from Kurt Moses
Disney has helped Kurt with the project, providing the figurines of the Disney Infinity collection in advance as well as Bamax from Big Hero 6.
Disney Infinity is an interactive gaming platform where players have unprecedented freedom and endless opportunity to create stories and play experiences starring the beloved characters from across the worlds of Disney, Disney-Pixar and Marvel. A special Disney-themed Toy Box Combo Pack is set to launch this November giving Disney fans the chance to experience the new and improved 2.0 Toy Box, play with newly announced Disney and Marvel characters, as well as bring all of their existing figures into the most popular mode of Disney Infinity.
For more of Kurt's eye-catching work log on to www.kurtco.com.