Jane Fonda strikes for the cover of DuJour Magazine masterfully lensed by fashion photographer Thomas Whiteside, styling for the session was handled by Anthony Unwin at Atelier Management.
Hair styling by hair stylist Antonio Diaz, makeup by makeup artist Elan Bongiorno. The 77 year old Fonda still stuns on the magazine covers and red carpet, for her cover story Anthony selected elegant pieces from top brands such as Isabel Marant, Donna Karan New York, Bottega Veneta, Elizabeth and James, and Sergio Rossi.
While the subtle and chic jewelry pieces selected for the black and white fashion shoot are work of the renowned Bulgari, as well as Tiffany & Co.
"We all wonder what, if anything, we're going to leave behind. My ability to understand what my life means—to put it in a way that can be meaningful to other people—that's the gift I would leave behind. It's the strangeness of my life that is the most important thing about me, more than any particular part of my work. I pulled the shades down and locked the door and drank some vodka," she tells me, "and sat on the floor and shook like this. It was so upsetting to me." [Of the decision to star in a play that didn't have a finished script, let alone a point of view, she says,]"The director wanted to do it. And he was my friend. So I said yes. I didn't want him to be mad at me." Why let cameras in? "Those were the days when I didn't know how to say no." – Jane Fonda for DuJour
De more of DuJour's spring 2015 cover story starring the legendary actress below: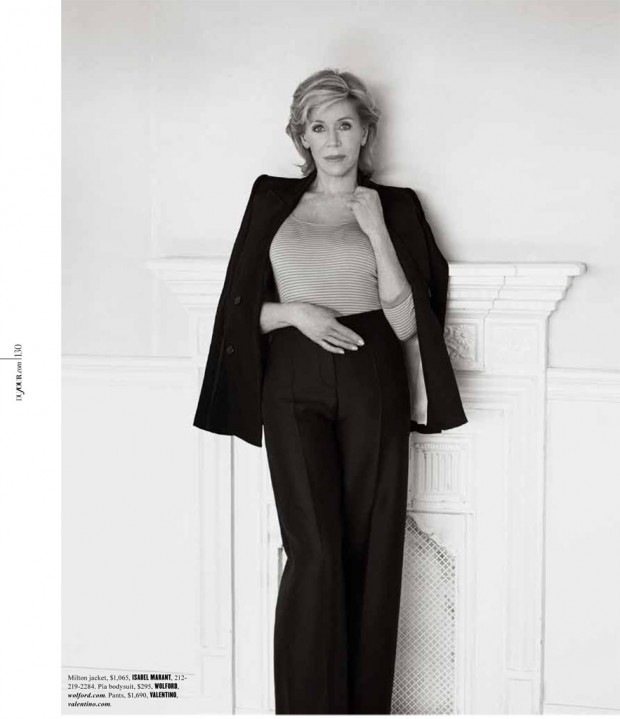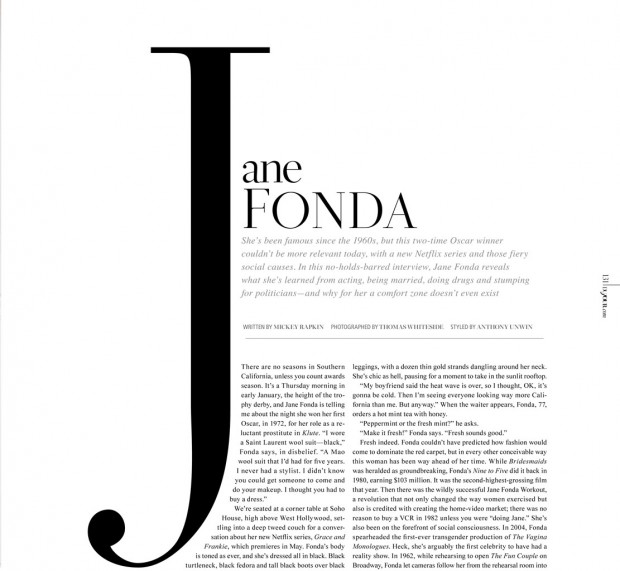 Images courtesy of Atelier Management – www.ateliermanagement.com.