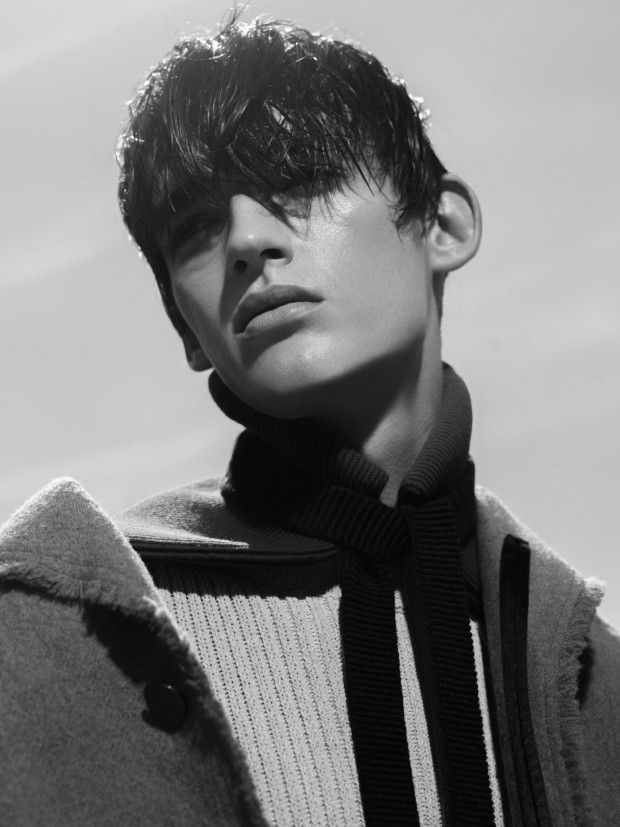 Up and coming designer Edmund Ooi is turning heads on the fashion scene for a couple of seasons now, D'SCENE sits down for a quick chat with the designer before his Spring Summer 2016 Runway Show in New York.
Edmund's Fall Winter 2015.16 collection was shown to great success in Milan during Milano Moda Uomo winter fashion week. The young designer was selected personally by Mr. Armani to present his collection as a special guest at Teatro Armani. Today along with the interview we are revealing the Fall Winter 2015 campaign shot by fashion photographer Zeb Daemen.
Continue after the jump for our interview with Edmund, as well as New York X and its founders Taeko B. Stein, Dejan Jovanovic and Luke Abby who are supporting Edmund with his SS16 NYFW show.

What inspired you to become a designer, and why did you chose to concentrate on menswear?
Hanging around my mother's tailoring atelier after school during my childhood. Being in an era where internet are not so advanced as today, there tare actually pros, i was living in my own fantasy world without distractions from the outside world. The ability to dream! Menswear, there are still a lot of unexplored ground with menswear, it's not easy to change the way people look at menswear but i am willing to take this adventure.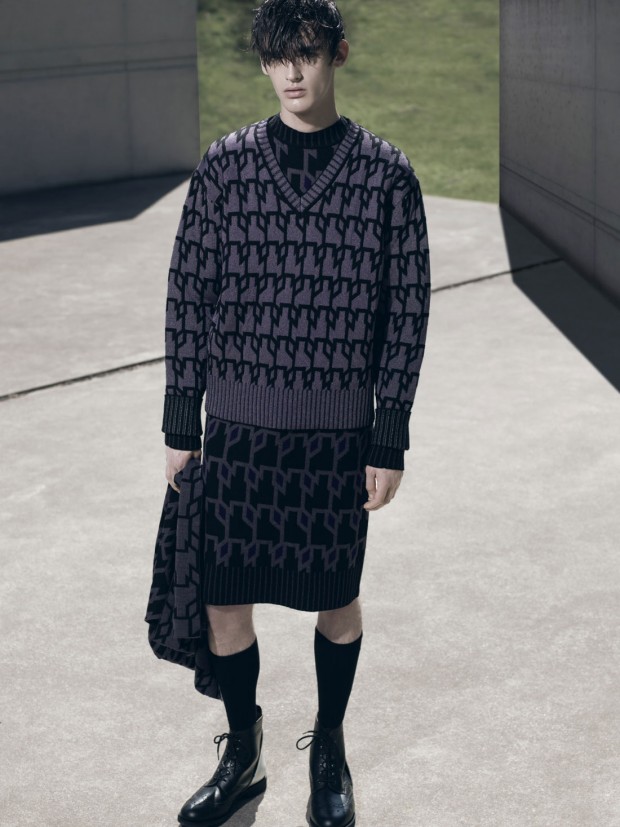 What was the inspiration for the Spring Summer 2016 collection?
The images of European Space Agency. The colours, geometirc sharp edges yet nonchalant. The idea was to conjoint sportswear into pieces you may find in every guys' wardrobe in a twisted flambouyant manner.
If you had to name three designers who you look up to the most, who would they be?
Azzedine Alaia, Pierre Cardin, Tom Ford.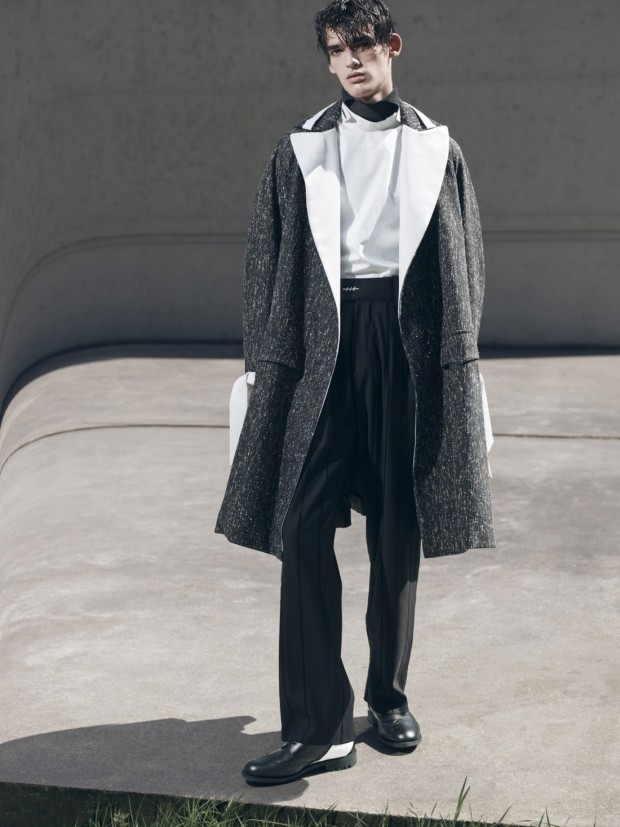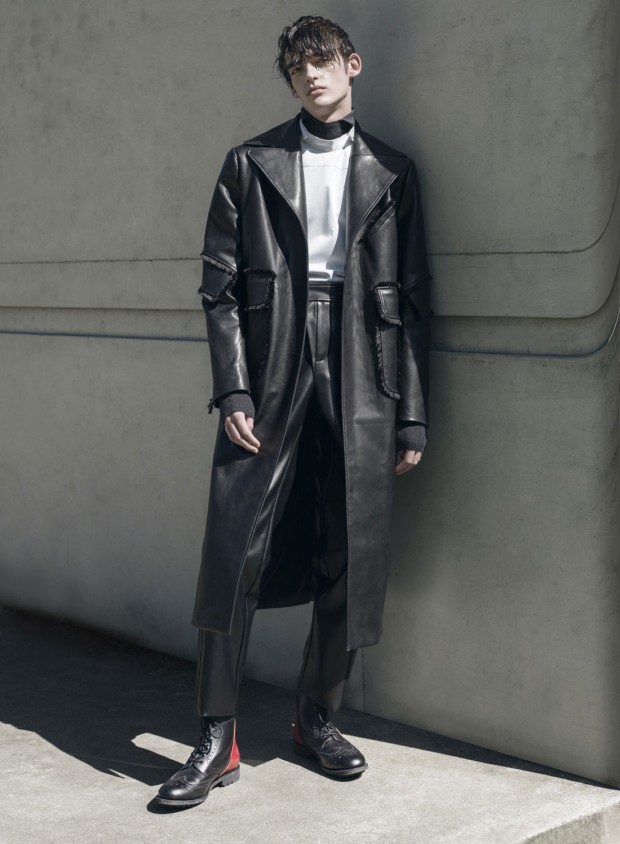 You showed your Fall Winter 2015 collection in Milan under the roof of Armani's famed Teatro Armani, did Mr. Armani have any word of advice for you?
Being handpicked by Mr. Armani already gave me a big push and a big shot of confidence.
Your Spring Summer 2016 is to be revealed in New York, how different do you find the fashion scene compared to Milan?
I've yet to experience it. I guess I will only be able to make the comparison tomorrow.
You came a long way from Kuala Lumpur, what advice would you give to young designer trying to breakthrough?
Passion! I wanted to absorb and learn everything when i went to Belgium. The eagerness to learn is very important. Everyday is a lesson and be ready to work 18 hours a day!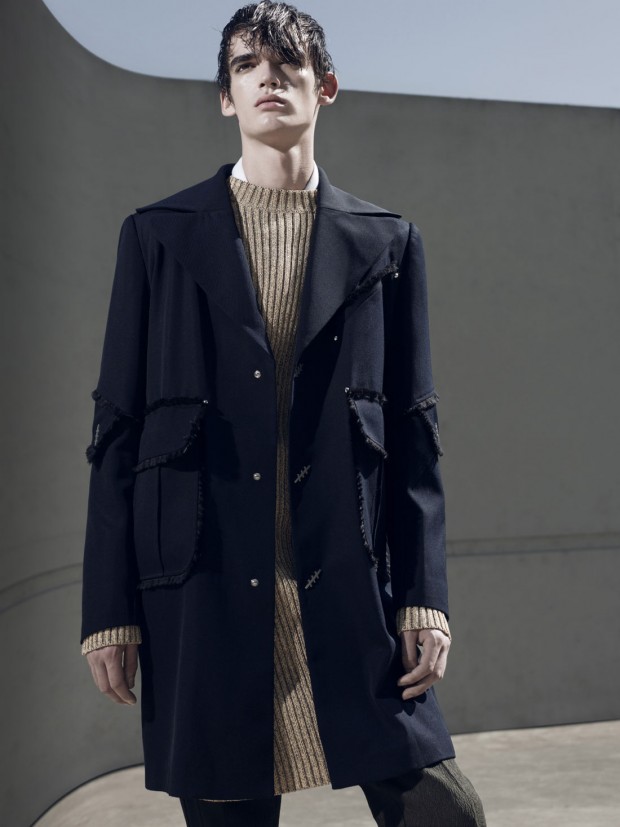 Campaign above was photographed by the talented Zeb Daemen (one of our D'SCENE magazine contributors), it stars up and coming model Florentin Glémarec at ELITE Paris as the face of Edmund's fall winter collection. Grooming courtesy of Sharon De Winter, image manipulation Uber and Kosher, photo assistant Koen Vernimmen.
New York X is a multi-disciplinary creative organization to support emerging talent from all over the globe. Each season New York X identifies emerging, creative and forward-thinking designers and gives them an opportunity to show during New York Fashion Week to international press and buyers. The goal is to reach maximum media exposure and lead our collaborators to the next step.
Why did you choose to start with men's week?
Throughout the years we have built a strong network of the most talented creative minds in the industry and developed a strong desire to bring the right people together and create something special. It was planned for quite some time, but once the first menswear week was announced in New York, the timing felt right and we decided to jump on board and bring New York X to life.
Exactly how did you select Edmund Ooi?
New York Men's Week is mainly featuring american designer, but New York X stands for worldwide collaboration, so we try to identify international creatives. We find the most talented and emerging designers around the world, bring them to NYC and create an outstanding fashion show, that supports their collection. Putting on a fashion show can be very cost intensive for a young brand, so we want to make it possible for them to show on an international scale, by supporting them on a creative and financial level.
We were following Edmunds work for quite some time. His designs go into a futuristic direction, but maintain a very high tailoring standard. His eye for details and selection of the best quality fabrics make his clothes highly technical, yet wearable.
The decision was very easy, we are thrilled to be collaborating with Edmund this season, as a start of New York X and help boost his long and defining journey in fashion.
Note to editors – visit the NEWYORK-X.com web page to RSVP there's still a chance to see Edmund's SS16 show in New York.