Flashback to the D'SCENE interview from the MAUL MEETS section of our Fashion Director Christopher Maul who went to visit London's most promising designers – PALMER//HARDING. The design duo presented yesterday their Autumn Winter 2016 collection. See what they shared with us us only a few seasons ago. 
This isn't your average interview. We're sat in their studio but we're not alone – a litter of kittens are a bittersweet distraction as they claw at me during our chat. Felines aside, Levi and Matthew talk about their signature spiral pleated shirt, their studies at Central Saint Martins and what the future holds for them.
Where did you study?
Levi: I studied a pattern cutting degree at El Centro College at Dallas. I think this gave me my technical foundation. I then won some scholarships and I travelled to Europe. It was intrigue that brought me to [Central] Saint Martins. El Centro was very technical and very structured but Saint Martins was very unstructured and it took me quite a while to adjust to this. Central Saint Martins taught me to have independence and in this industry you need to have some self initiative.
Matthew: I studied at [Central] Saint Martins. I was very institutionalised, I did Foundation then BA Womenswear and then MA Womenswear.
Did you always want to become a designer as a child?
L: Ever since I was 15, I always wanted to be a fashion designer.
M: As a kid I wanted to be a vet… When I initially applied to go to university I got accepted onto a few psychology courses but I think I wanted to do it back then because I was obsessed with Cruel Intentions and because I wanted to have this really cool office.
Why did you choose to focus on shirts from the offset?
M: We spend a lot of time developing the concept of how we wanted to start our business. At that time, and even now, a lot of people started their businesses as cocktail party dress designers and that seemed really boring to us. We wanted to do something else but we wanted to have some kind of speciality. We wanted to corner a sector of the market, I guess. We always wanted to build our business in that way, it something from day one that we had always planned, to have a dual function business where you have a whole world that you can buy into in every product category but you're also known for a particular trend.
L: We focused on the shirt because we wanted to have a USP when we started, we wanted to own a product category that no one else was really focussing on and we thought the concept was quite interesting to go at, to look at a single garment creatively rather than just showcasing what the palmer//harding lifestyle is about.
M: People are starting labels and are offering everything at once. It kind of rules you out a lot because you are saying, 'this is me fully formed right now'. By having the the thread of being known for our shirts we have been playing for the last couple of seasons and working where we want to go. Now we feel really confident and know what we want to do. The first couple of seasons especially we wanted to work things out because it was the first time we were properly working together but because we had that thread of the shirt we were allowed those experiments. Some seasons were more successful than others.
L: I know there are a lot of commercial brands that started with a product focussed concept but from our research we couldn't find a similar comparable of a business model in terms of a high fashion brand that started with a singular product.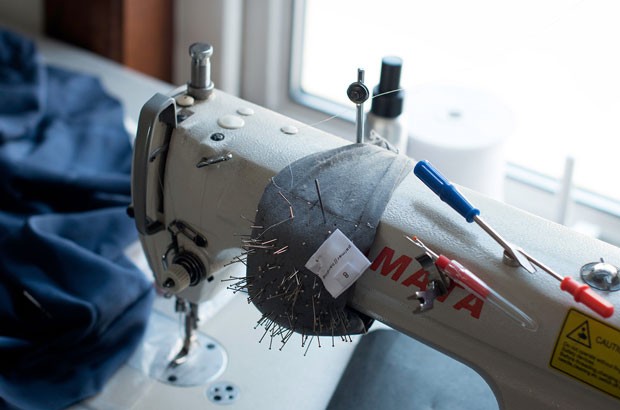 Was it a natural progression from designing shirts to a full collection?
M: We like the idea of change. We like to find the balance between evolving things but also having that constant. Adding additional garments into the collection was inevitable to give it more context.
L: It also allows us to play with the shirts more. In the beginning all of our look books are pretty much shot from the hips up because we don't want to put focus on anything else. But if we want to create something that has really fantastic shape and silhouette, we also need to consider what we are going to style it with so we then had to start pushing in additional elements. In the beginning when we started adding additional elements it was to free up the movement and silhouette opportunities of the shirt. That then led onto other things.
Where does the balance lie between menswear and womenswear for you?
M: At the moment our business is mainly womenswear because the market is much bigger. They both serve different functions for us creatively and in terms of business. The menswear still sells but it's much more about making clothes for our wardrobe and thinking about what we want to wear. We have fun with it.
L: The menswear is almost a vanity project for us. As long as we enjoy what we're doing, we're not too concerned about the commercial value of it.
Why do you decide to showcase in London?
M: We both studied in London and we're based here. I think there's a lot of London pride and support networks at the moment. Paris is obviously where everyone goes to sell but Paris was never an option for us because the girls are so much more expensive, the venues are so much more expensive and in general people are less willing to help new people out.
L: They don't know about favours in Paris.
M: Whereas in London you can pull favours out of your arse. People want to be involved and help out. It's a much friendlier city to be young in and to start a business.
Image From PALMER//HARDING AW16 – SEE THE FULL COLLECTION
What's in the pipeline for you?
M: We're at a really good place creatively. We are more certain of the direction we want to take our brand. It's a really exciting time for us, both creatively and commercially. We want our business to grow but we don't strive for a fast, speedy growth. For us, a brand that we really admire is Dries Van Noten where they got to a really good size but it's been controllable. They could have their business much bigger but they choose to keep it at a more sustainable level. For us, it's the same – whereas we want our business to grow, we want to enjoy the process.
L: People complain so much about the pace of the fashion industry. Gandhi said, "be the change you want to see." That is something we try and take to heart.
M: We are slowly adding more elements into our collections but still every interview we have is about our shirts and that's really important to us because it shows that message is still there. The most important thing of our brand has survived.
All photos by Nastassja Thompson