Sports Illustrated is one of those magazines that divides opinions. Many models dream of being chosen to adorn the cover of its swimsuit edition, stretching out seductively by the ocean or writhing on a rock in skimpy swimsuits. For others though, the magazine stands for all the body-shaming arrogance of the fashion industry that promotes one specific body type again and again. Which is why many were surprised when this year's swimsuit cover was revealed. In fact, this year Sports Illustrated will issue three separate covers, all with a different model gracing its front. In 2014 the magazine adopted a similar strategy, choosing Lily Aldridge, Chrissy Teigen and Nina Agdal to decorate its 50th anniversary cover, long and slender limbed, glancing playfully over their shoulders.
This time around things are different. Not only does each model receive her own separate cover, but the models that Sports Illustrated chose have three diverse body types. Hailey Clausen is what Sports Illustrated would describe as a modern bombshell, and is perhaps the most conventionally model of the three. Champion UF fighter Ronda Rousey, shows off her muscular, athletic figure on her cover and the third cover features Ashley Graham's gorgeous size 16 curves. Sports Illustrated says of its three cover models: "All three women are beautiful, sexy and strong. Beauty is not cookie cutter. Beauty is not 'one size fits all'. If a magazine notorious for celebrating only one body type is ready to embrace body diversity, perhaps change really is afoot?
Read more after the jump: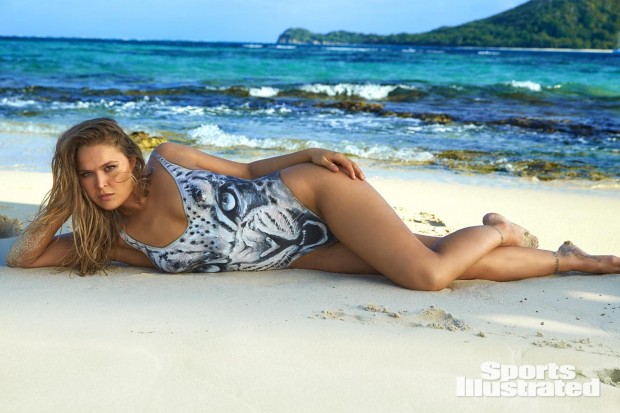 The body positivity movement has been gaining momentum for quite some time. The first plus size model on the cover of Sport Illustrated is only one battle won in a war that has been raging off the glossy pages of magazines for a long time. Fed up with only seeing one type of body represented over and over again, women began claiming their own spaces to express their bodies. As is so often the case these days, the internet was a prominent tool in the resistance against standardised beauty norms. Particularly the rise of blogging played a large part in the body positive moment, as people found themselves with more accessible ways to publish their blogs online than ever before. Many blogs grew from the need to see more diverse body types represented in fashion, giving bloggers like Chastity Garner from Garner Style or Gabi Gregg from GabiFresh the opportunity to spread their body positive message. With most followers eager to see clothing on someone with a body similar to their own, it is perhaps little wonder that these bloggers have attracted a vast readership.
There is still a long way to go though. Reaction to Ashley Graham's Sports Illustrated cover were not all positive. Former model and Sports Illustrated cover girl of her day Chery Tiegs criticised the decision to have a plus sized girl on the cover, claiming it glamorised full-figured women, "Your waist should be smaller than 35 inches. I don't think it's healthy. Her face is beautiful. Beautiful. But I don't think it's healthy in the long run." (Vogue).
All too often plus sized fashion remains the "dirty little secret" of the fashion industry. Calvin Klein and Vince Camuto of Michael Kors are among what the plus size fashion community refers to as "closet" plus size designers, who have plus sized lines that are sold in department stores but choose not to advertise them. Even in non-high-end shops, the plus size section is all too often relegated to some deep, dark corner. Strange, considering the average American woman is a size 14 and with that, "plus sized".
There is a long road ahead for the plus sized fashion industry and one that will no doubt include renegotiating the term "plus sized", as many, Ashley Graham included, reject it for its negative implications. But with body positive bloggers and models becoming more and more prominent and even Sports Illustrated jumping on board, the future of the industry looks bright.