Lysting Our Favourite Dresses for A Day-to-Night Option
|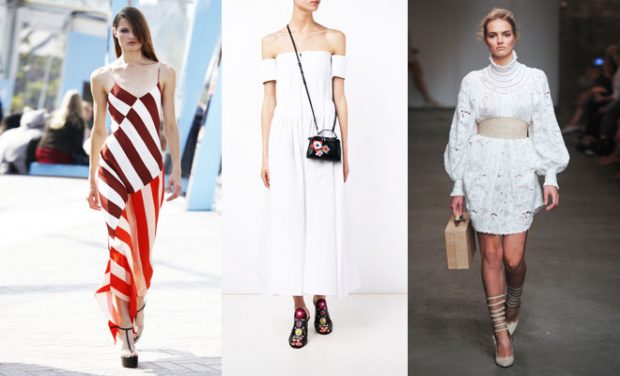 The calendar is right, it is the official start of Fall fashion even tho the termometar might not match the date it is the time to put the wardrobe change on our schedule. Whether you are looking for a warm sweater dress or perhaps plan to go into a bohemian direction for the autumnal colour set here are 5 of our favourite dresses for every occasion to shop now. At the same time dress itself is the garment always ready to skip a season, what is far more important is to have a dress which can easily transition from daywear to evening wear.
Helping us this time to narrow down our choice is much talked about Lyst site, where we found our own Favourite Dresses Lyst.
JONATHAN SAUNDERS SLIP DRESS
Earlier this year Scottish Fashion Designer Jonathan Sauners was rumoured to take over the spot of creative director of Christian Dior, while this turned out to be just a fashion industry murmur, his influence on the fashion scene is hard to deny. One of Saunder's specialties is the slip dress, which for so many women got lost in the late nineties alongside checkered shirts and shredded knit cardigans and a pair of Doc Marten boots. But footwear is exactly what allows a slip dress to transit from day to evening with such an ease. Sure it still complements the pair of boots we adored wearing it with two decades or so ago, but a pair of heels, distinct yet subtle jewelry and an oversized blazer will give it a perfect touch of evening luxury.
ZARA CHECK DRESS
Check and fashion have a never ending affair, the revival of it is inevitable every few seasons. Check comes in many forms from preppy Americana and Scottish tartan to the lumberjack the defining style of the nineties grunge music scene. However when check checked in on the runway this season the prints came with a chic statement, boasting oversized graphic details at Stella McCartney as well as always coveted lines at Prada. While Victoria Beckham was confident enough to mix up bold florals with check bringing up it's undoubtedly feminine sentiment.
While everybody's high street guilty pleasure ZARA went to the classic route, creating a multicolour check print dress which is easy to say flies of their shelves. (Lyst finds this Zara dress for only 26 euros!)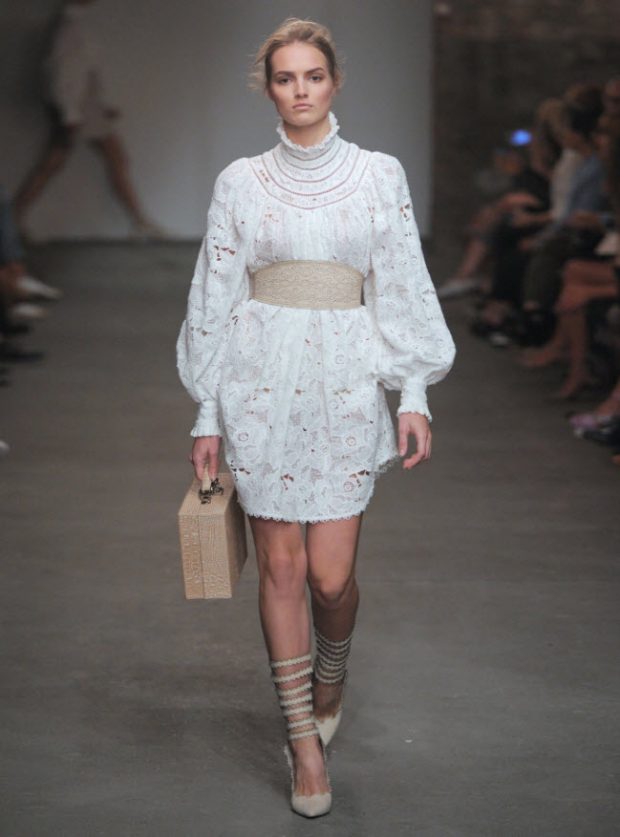 THE WHITE VICTORIANA DRESS BY ZIMMERMANN
The latest Burberry shop to runway collection might be taken over by the sentiment of Victoriana, but sisters Nicky and Simone Zimmermann were in front of Christopher Bailey when it came to this must have trend. This white dress just in colour choice comes as the everlasting look good and feel good factor in one, not to forget white dress is ready to refresh every complexion. The Zimermann Victoriana dress allows you to show a lot of leg since this sort of a modest dress that conceals the body is by definition asking for a leggy reveal.
However there is a massive DON'T with this dress, do not wear a massive high heel since it will conflict with the old-timed feeling of the dress. A heel is still a good choice, but make sure to go for a lower block heel or even flats in a neutral colour. (Lyst finds this dress on MATCHES FASHION on a 500 british pounds discount, listed right now for 723 pounds).
FENDI OFF THE SHOULDER DRESS
Legendary fashion designer Karl Lagerfeld is enjoying a new FENDI revival, whether it's only a fashion cycle or the younger generation of shoppers noticed the brand, this Rome based label is on its A game. Standing out is their Off-The-Shoulder white dress which does have a sensual appeal when you put it on with high heels bringing out a great element of flirtation. What you should NEVER do with this sort of a dress cut is overwhelm the neckline with statement jewelry since simply said your glowing bare skin against the white dress is a strong enough statement. The dress does not come cheap, the best price we found it is thanks to Lyst on FarFetch web page for 2448USD.
ASOS DARK FLORALS DRESS
This Women's Multicolour Frill Skater Dress In Dark Ditsy Print leaves the sentiment of summer fashion evoking the thoughts of floral patterns by default, yet when turning to same in a darker setting you are easily adjusted to the Autumnal mood.
The fall season is quick to show it is not always about the bright and the bold. For the Autumn days the flowers are both decadent and dark but still equally fascinating. This darker shade also holds its inspiration in the seventies, the print is a good idea for a head-turning evening dress. While the darkness and light are perfectly merged in these dark gothic blooms allowing you to put together a daywear work attire for the office. We found this ASOS dress on Lyst for only 48 USD. Don't miss our LYST Profile.