Itching for your next home improvement project? Wouldn't it be nice if there were a few constants, though?
Think about it: moving from project to project, tearing something down and investing in new pieces month after month can grow incredibly costly. Instead, consider how you can work around a few signature pieces to influence your home improvement efforts. Image above from Modern Apartment in Valencia by Rubio and Ros
After all, furniture represents an investment in your home. For example, most people hold onto their sofas between seven and fifteen years. Wouldn't it make more sense to work around your investments versus constantly chasing trends? I would've spent days making this myself with my a detail sander while working on your new furniture.
Believe it or not, there are styles are furniture that are always "in." Likewise, you can find clever ways to compliment furniture within any room of your home. Whether you're looking to bring in a new piece or are looking for your next potential home improvement project, use the following three styles as inspiration.

Working with Wood
Elegant and long-lasting, wooden furniture is arguably the easiest to work with when it comes to finding new DIY projects. From finishing or stripping complementary pieces (such as bookshelves or end-tables) to installing hardwood flooring, the options are seemingly endless whether you're working with pine, cherry wood or anything in-between. )Image above from 25 Degree Celsius Dwelling design by ©Urbane architecture practice.)
If you're looking to compliment your furniture on the cheap, consider investing in durable, wooden shutters that can help manage the light in your living space. Likewise, smaller DIY projects such as frames and book-ends are great for newbies looking to their feet wet with woodworking.
Luxurious Leather
The benefits of leather furniture are well-documented: beyond aesthetics, leather is easy to clean and capable of taking a beating. However, leather pieces often represent a bold statement. So, what sort of projects compliment leather pieces? Image above: Little Boltons by ©Woolf Interior & MWAI Architects
• Start with a fresh coat of paint in your living room (think: bold colors save as navy or maroon)
• Craft your own throws and rugs, perhaps of warm colors to accent the boldness of the leather
• If you want to experience the best of both words, combine some of the aforementioned wooden projects with leather: unfinished wood meshes with just about anything
Keep in mind that a bold room needs bold pieces to complement your interior design solution; however, make sure that you also let some light into your respective rooms to prevent them from becoming too cave-like.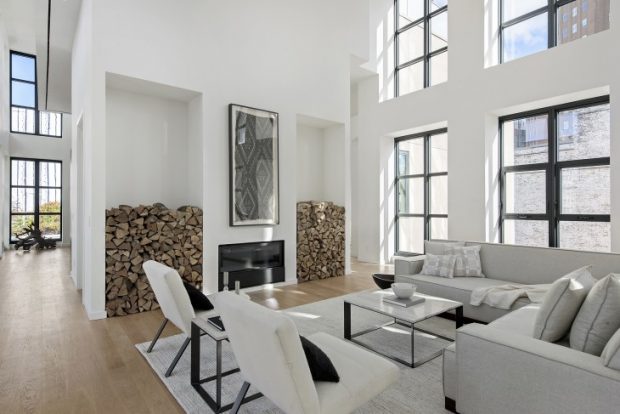 All White Affair
From cotton to linen and beyond, an all-white room is an absolutely classic aesthetic for any home. Complimenting white furniture is rather straightforward: simply employ more white in your decorating. However, don't rely on a single shade: playing with subtle off-whites can really make your pieces pop. Photo above: Penthouse in TriBeCa by ©AA Studio
Painting and re-finishing decor are perhaps the obvious projects for complimenting your white pieces. In addition, consider again how playing with natural light (think: windows, fireplaces and reflections from mirrors) can have a subtle but significant impact on the vibe of your room.
When transforming your home, it's important to have some centerpieces to work around rather than constantly starting from scratch. By picking any of the former timeless styles, the possibilities are endless when it comes to complimenting your furniture and picking out new home improvement projects along the way.