We all take pride in our homes, showing them off to friends and family or rejoicing in having a cool, safe space where we can unwind and relax, feeling completely comfortable and at home. While this isn't all about décor, it can go a long way. Your home décor is a way to express yourself by adding your personality to the small details, to make it truly yours, distinctive, and personal. Adding glamor is a great way to do this and it doesn't need to be expensive or time-consuming.
Lighting
Lighting is often something that gets neglected when it comes to décor. However, there is so much you can do. Large, statement pendant lighting is a fantastic way to add glamor and style without losing the essential quality of light. Lamps, wall lanterns, and string lights can also work to add atmosphere and personality to any room.
Read more after the jump:

Floors
We tend not to change our floors as often as we change the rest of our décor because it can be a time-consuming and expensive job. However, it is a great way to add glamor. There is nothing that feels better than a wooden floor with a soft, luxurious rug under your feet after a long day.
Soft Furnishings
Soft furnishings, like scatter cushions, throws, rugs, and blankets make a room look comfortable. Remember, comfort is the most important thing, so the softer the better.
Mirrors
Mirrors are an easy, cost-effective way to add glamor to a room. Mirrors look great on dressing tables, surrounded by gorgeous antique frames. Place smaller, decorative mirrors in halls or stairwells to add style to a small, often plain space. Or, add larger, feature mirrors to small rooms to give the illusion of a larger space.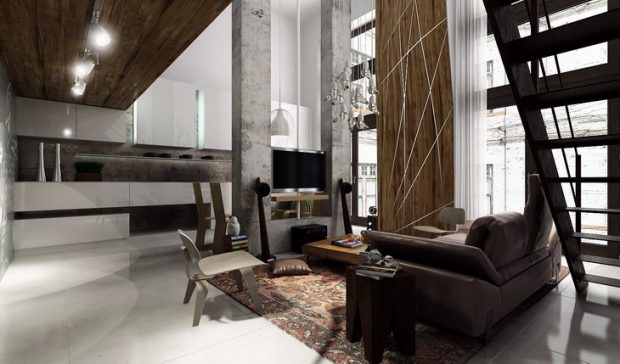 De-clutter
Nothing is less glamorous than clutter and mess. Organize your storage and spend some time decluttering your rooms. Keep your floors clear and make sure everything has its space. It's hard to relax in a cluttered area, so this simple act could improve your mood and lower your stress levels while making your room look great.
Flowers
Flowers and houseplants look gorgeous in any room and can be a great way to add color and personality to smaller spaces such as bathrooms and hallways. They can also add a wonderful fresh aroma naturally. If you don't fancy fresh flowers, you can get some realistic artificial alternatives.
Color
White space and bright colors are important in rooms like your office and the bathroom where you want to feel more alert and awake. Pastel shades can be great in your bedroom, as they can help you relax and get a great night's sleep. Add bold accessories for a great look and use feature walls if you fancy trying something a little more daring when it comes to glamorous colors and patterns.
Follow some of these simple tips and you could easily make your home look a million dollars. But, remember, above all, it's your home, so it must always suit your style and taste and reflect your personality.
Images from Prague Loft by Andre Sedmak Studio