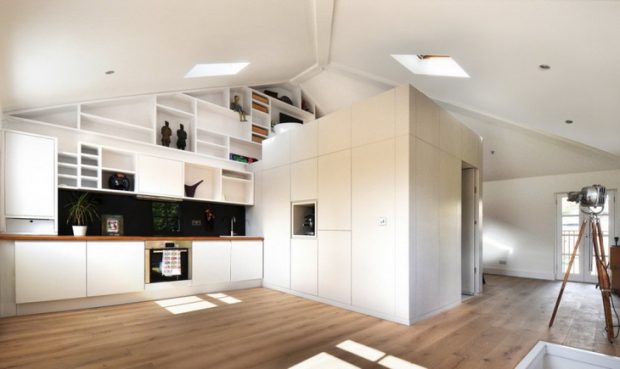 Properly lighting a room is a multi-faceted endeavor. If the only light source comes from overhead, it will wash out everyone in the room. If there's not enough general light to go around, the room will be too dim to really be enjoyable. Stations where you undertake specific tasks like chopping vegetables, washing your hands or reading need concentrated illumination to make them fully functional. It's worthwhile to step back and really think about how the different components of your lighting plan are—or aren't—working together in harmony.
It's often easier to come up with a full-fledged lighting scheme for the living room and bedroom. These locations tend to be incorporate more surfaces for table lamps, more space for floor lamps, and more nooks for wall-lighting. The furniture in these warm living spaces tends to lend itself well to a theme, which makes choosing lights all the easier. But what about the kitchen and the bathroom? Without proper lighting, these rooms run the risk of being cold spaces that aren't living up to their full potential. The good news? Recessed lighting has the potential to work magic in your kitchen and bathroom.
See more after the jump:

Kitchen
Recessed lighting in the kitchen can provide all-over ambient lighting that illuminates dark corners and main thoroughfares alike. You'll need to incorporate task lighting over work stations, but the smoothly incorporated overhead lights will create an even radiance around the entire room. Install recessed lighting fixtures between 24 and 42 inches apart evenly around the room, according to the experts at Better Homes & Gardens.
While uniformity can be helpful in creating an even glow, it's not necessary to stick to formal grid pattern for your recessed kitchen lighting. Inopportune placement of light fixtures leads to unfortunate glare issues. Keep this warning from designer and National Kitchen and Bath Association Max Isley for HGTV in mind: "A lot of people do it incorrectly, and they'll end up with too much light in some areas and shadows everywhere else."
Part of the fun of incorporating recessed lighting into your kitchen is coordinating the fixtures with your favorite appliances, materials, and colors. While there's less external hardware than a chandelier or pendant light, recessed lights offer a subtle way to reinforce your chosen design concepts. Trim sizes range from two to six inches and include refined finishes like silver, white, gold, crystal and bronze. Some fixtures feature a movable spotlight while others remain fixed. Recessed fixtures let you pick up on other elements in your kitchen to make a cheery, cohesive space ideal for preparing a snack or whipping up a beloved holiday recipe.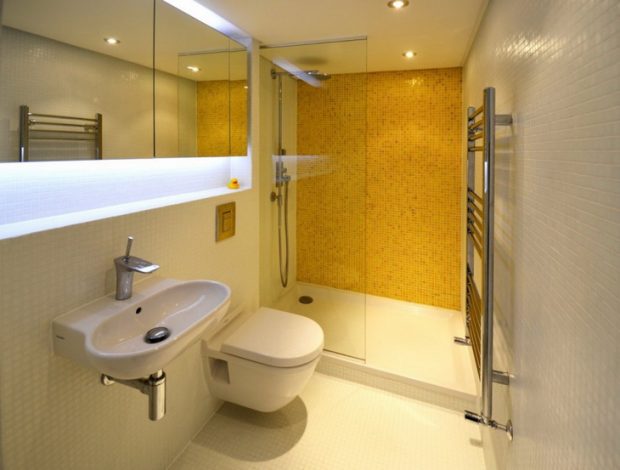 Bathroom
As a much smaller space, the bathroom is well suited to incorporating recessed lighting as a combination of ambient and task lighting. Just don't put it directly over the mirror! This will only lead to struggles with getting ready thanks to unsightly shadows. Where should you hang recessed lights in your bathroom if not above the mirror? Try above the shower, freestanding tub, or toilet, according to This Old House. Make sure to adhere to safety rules regarding water and electricity, and only move forward with the help of a qualified electrician.
Another bonus to recessed lighting is that you can easily use a dimmer to alter the mood of a given room. Whenever you don't need your illumination on full blast in your kitchen or bathroom, it's nice to be able to turn a knob to conserve energy and to amplify the coziness.
Don't forget about the strong ambiance that recessed lighting can bring to your kitchen or bathroom. With plenty of options regarding light color, trim, and location, recessed lighting gives homeowners plenty of choices on how they style their fixtures. Ramping up the amount of general light in a room goes a long way to illuminate forgotten corners and make the space inviting to spend time in.
Images from Camden Loft by Craft Design