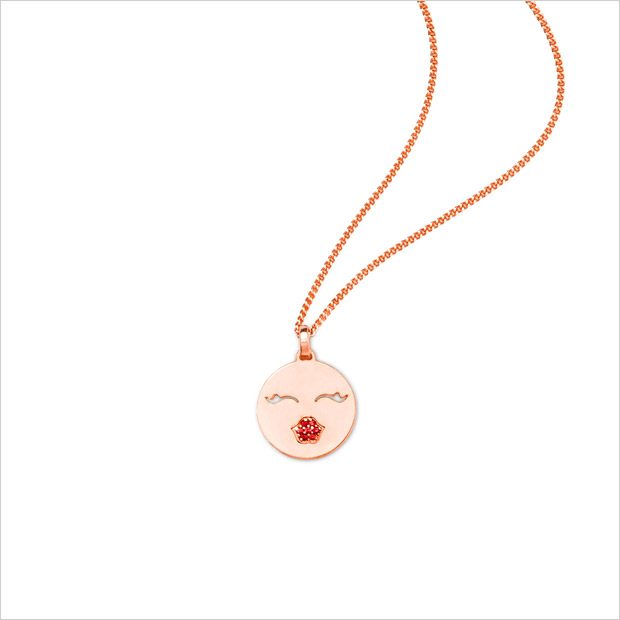 As we know from its previous pieces, jewellery label SO COSI is creating lucky charms that have a symbolic character. Thus, their purpose is to symbolize the appreciation among friends or family members. With their special designs that stay in mind, they are the perfect lucky charms and remind the wearer to focus on the positive sides of life. They can be worn at any age and guide you for a lifetime. Incredibly inspiring!
SO COSI supports DKMS' "look good feel better" programme for cancer patients
For its special edition, which will be available from 1st of June on, SO COSI cooperates with DKMS Life. Hence its bestseller KISS KISS BANG BANG, which is a winking smiley made of sterling silver in rose gold with a striking red kiss mouth that consists of Swarovski crystals, appears in a new design. Additionally, this cute lucky charm is dedicated to DKMS Life. The charming chain can be purchased for 99,00 Euro. From each piece, 20 Euro will be donated to DKMS Life for its "look good feel better" cosmetics workshop.
The "look good feel better" programme supports cosmetics workshops in 26 countries cost- free for cancer patients
With this idea, women and girls that suffer from cancer are supported with hope and optimism. Furthermore its aim is to guide them on their way to recovery and during their tiring therapies. The right make- up helps them to feel better and restores their self- awareness. A kiss as seen on this lucky charm stands for love, affection, concealment and friendship- values which are extremely important for women in those tough situations. Moreover a kiss mouth embodies sensuality, femininity and activity- which rounds the thought and idea behind this programme off. It makes cancer patients forget about their bitter fate for a moment and gives them some blithe hours back. Especially as the appearance is affected by the tough therapies, it is essential for those women and girls to feel pretty again. As we know from various studies, the mind is extremely important to conquer such a severe desease.
We love the idea behind this project, the cute lucky charms are available from 1st of June 2017 on via: www.socosi.de
Review by Sussan Zeck for D'SCENE Magazine