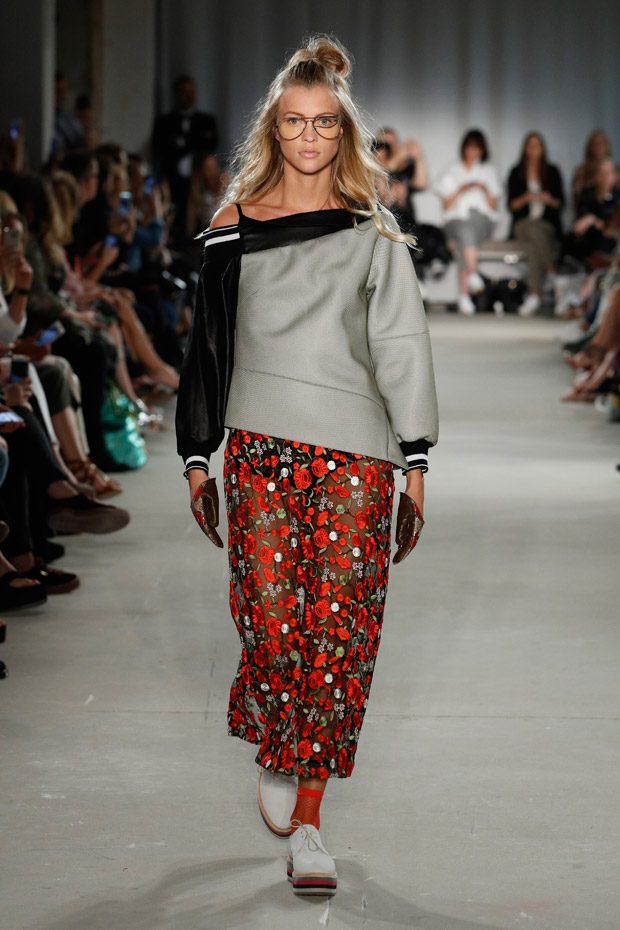 Austrian designer Rebekka Ruetz presented her Spring/ Summer 2018 collection "Cosmic" in the afternoon of the second show day of Mercedes-Benz Fashion Week Berlin. As location, the main venue, Kaufhaus Jandorf in the heart of Berlin Mitte, was chosen. Rebekka Ruétz stays true to her significant style which is characterized by an uncommon, diverse approach but adds sundry innovative ideas in this collection. Her creations certainly stay in mind and "Cosmic" proves that anew.
The entire collection feels like an astronomical journey. The mesmerizing mood of this collection can be described as poetical and tender, but on the other hand reckless and wild- with just the right amount of each. They do not scream for attention, but way more enchant you with their very special detail- awareness and charme. Expect the unexpected, dream and walk through Rebekkas' very own universe!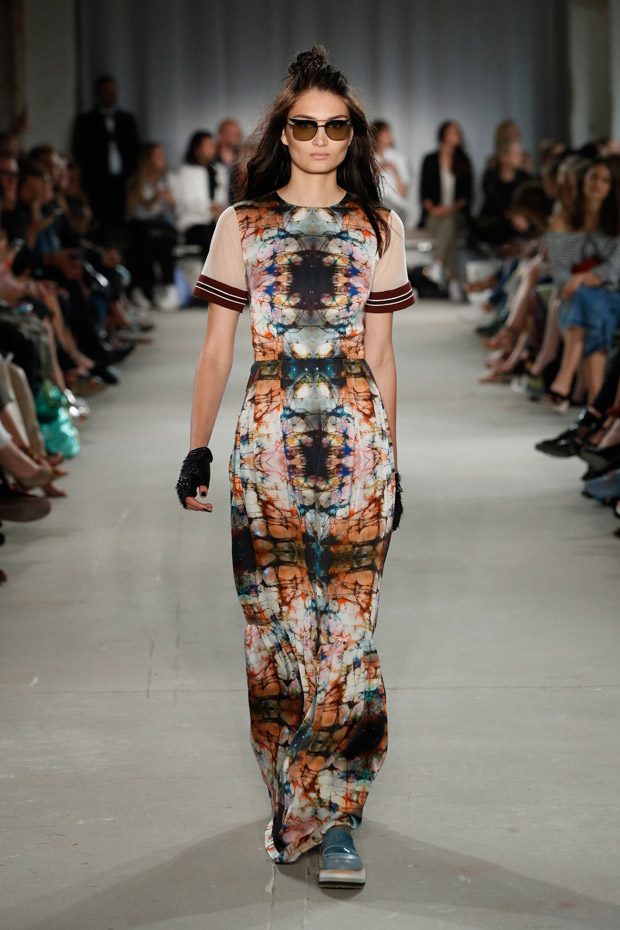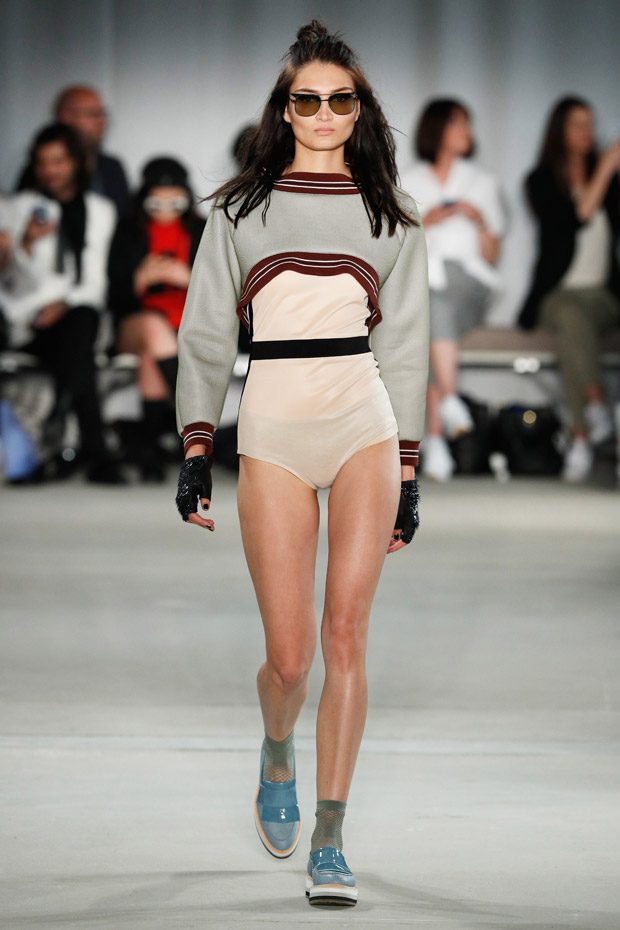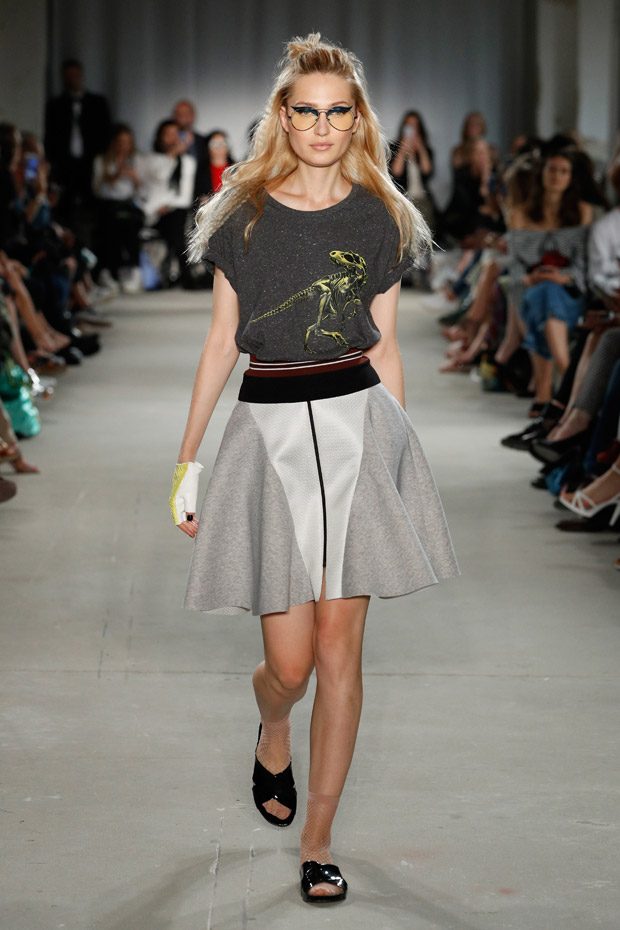 The whole collection vividly mixes and matches multifarious influences and shapes, for instance Retro Athletic Wear is paired with feminine elements and futuristic ones. A bunch of fabrics teams up with asymmetric tendencies and a mix of different colours and volumes. When it comes to shapes, oversized- influences often come along with formfitting ones. Contrary elements are harmoniously united in one look. Those innovative ideas are incredibly inspiring to watch. In addition to lace dresses, sporty hoodies, colourful glasses and plateau shoes are shown. Simply smooth! This vivid mix gives the outfits a very easy- going, cosmopolitan character. It is a collection for cool cats that do not follow any social norms, but even more their own preferences.
The sporty shoe choice underlines the maverick character of those lavish looks: casual sneakers and sandals with delicate socks are paired with all kinds of outfits. That shoe choice is the perfect addition to explore big urban jungles. When you have a closer look, you'll notice the models are also wearing fingerless gloves. Charming. casual. cool. Length- wise, everything you can imagine, becomes real.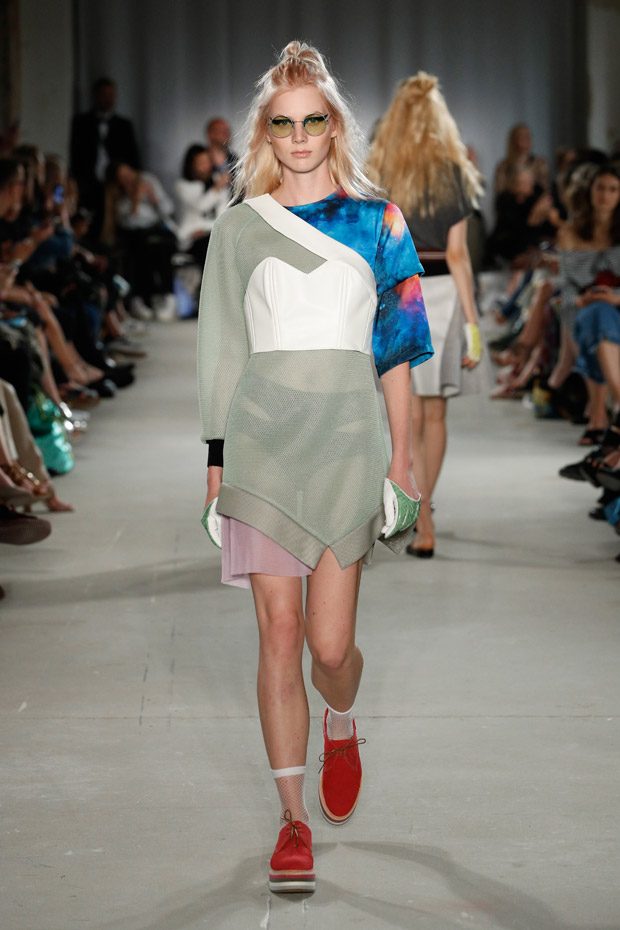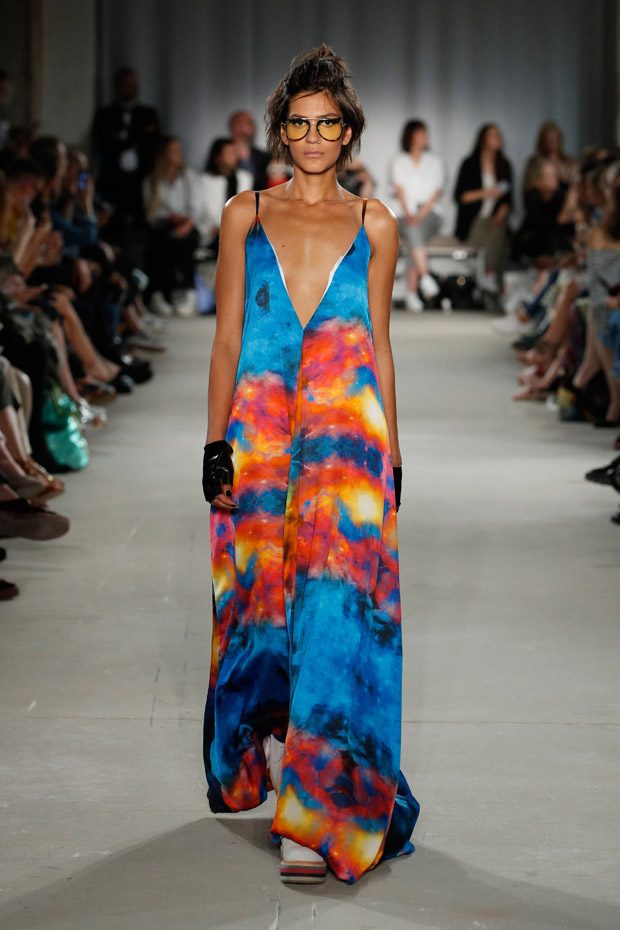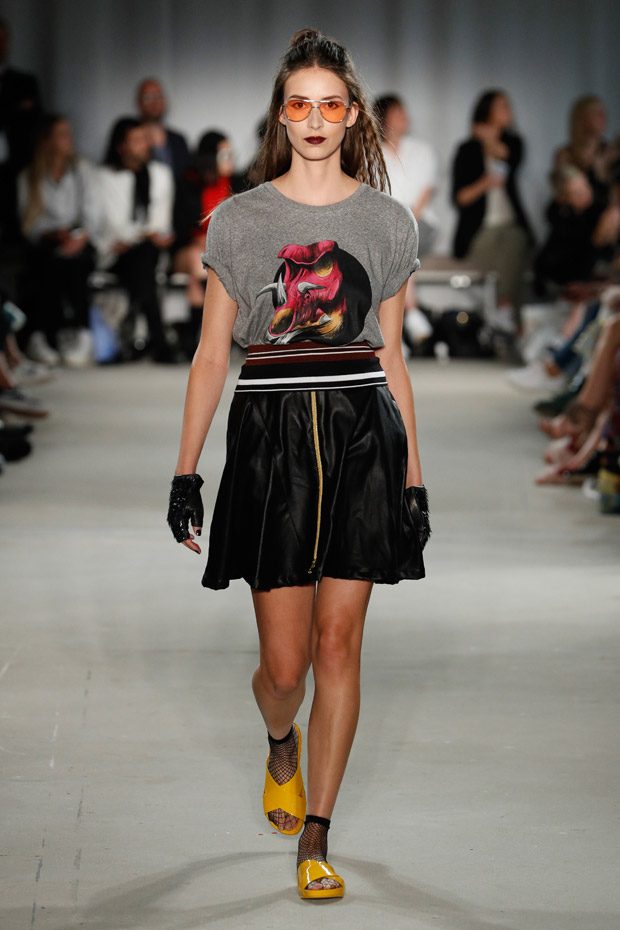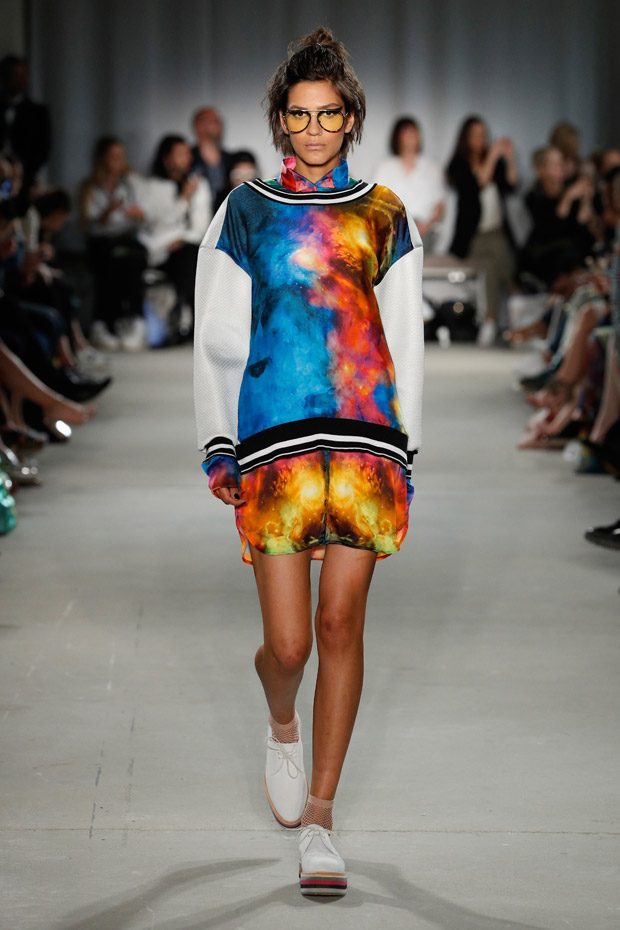 Transparencies play a central role in this collection. They appear various times, however they are always used in an utterly elegant way and never reveal too much. Our favourite piece that contains transparencies? A black transparent midi- skirt that is equipped with red roses. The same pattern is shown in form of a dress. Sensual. Sophisticated. Smooth.
The colour palette contains some striking, bright hues such as pink, lime, yellow, azure, raspberry and rose. Those bright colours embody pure joie de vivre and summer spirit. In additition to those vivid tones, also a few timeless, classy tones are added, for instance night black, creme, pewter and maroon. It is exactly this mix that keeps this collection so fascinating.
The hair of the models is worn open with a trendy half- bun, the make- up is either focused on eyes or lips: For one look, colourful cat eyes meet nude lips, the other beauty look is focused on dark lips. Mysterious. Dangerous. Strong. Don't mess with Rebekka Ruétz' cosmic amazons.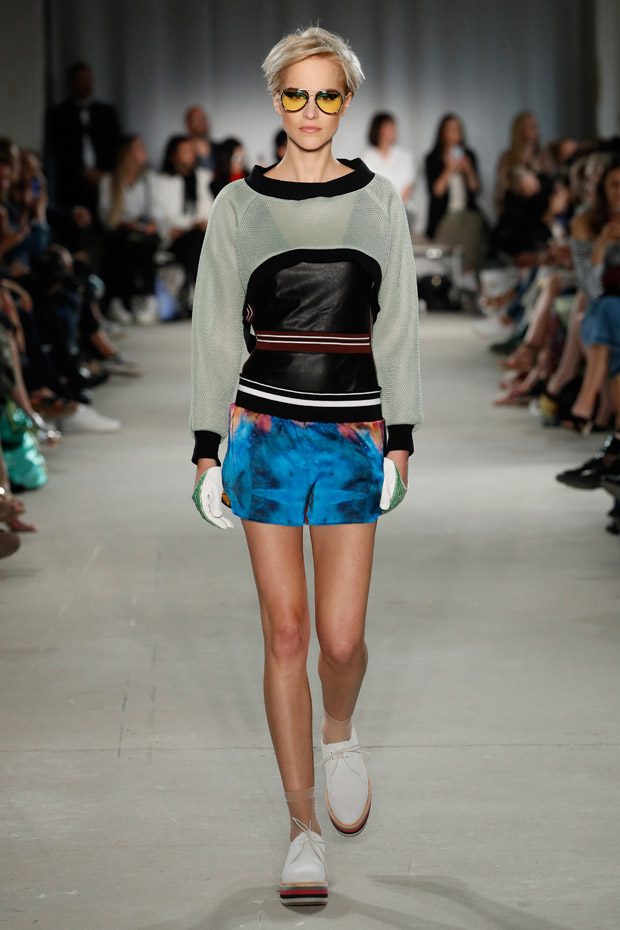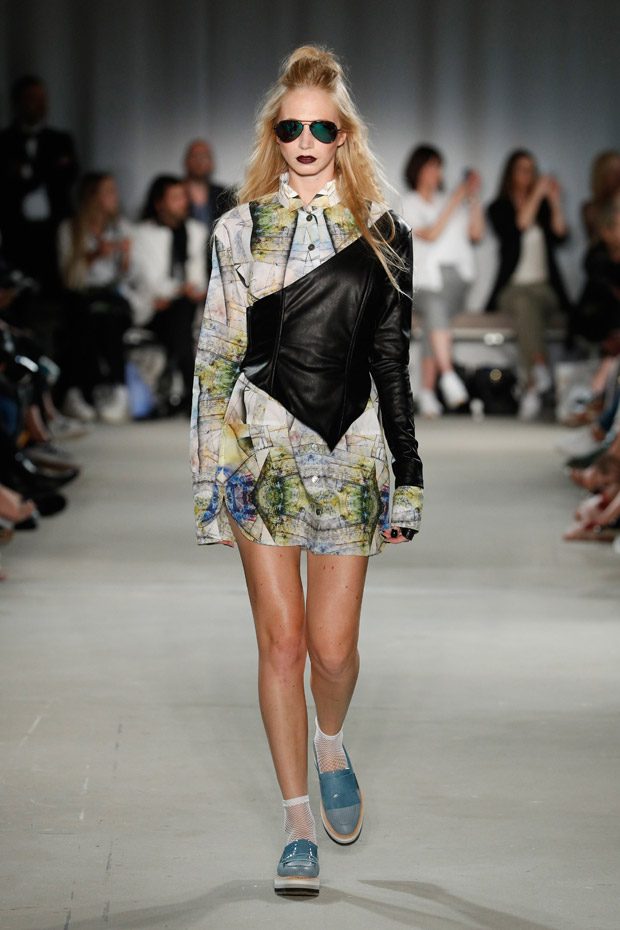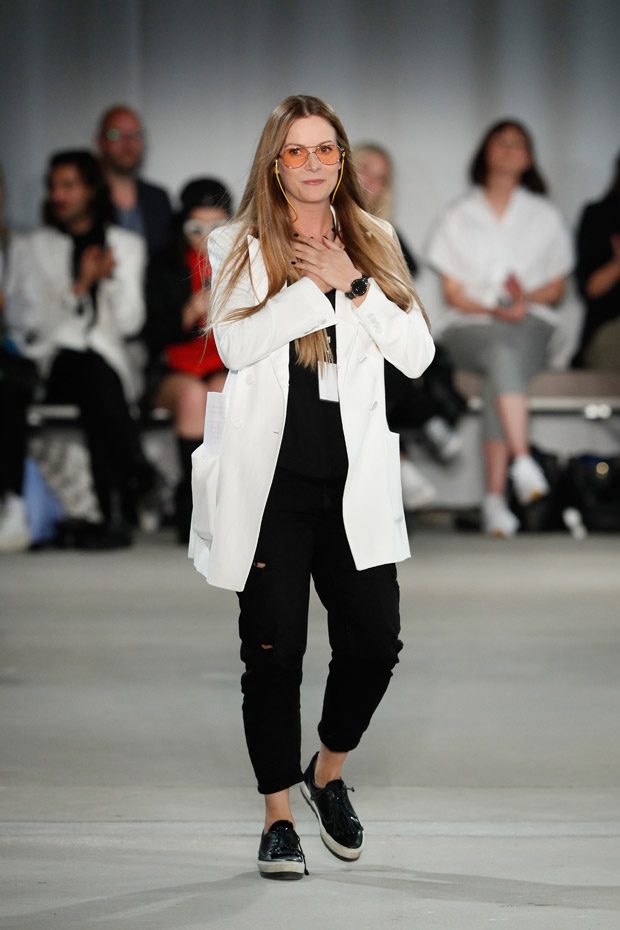 "Cosmic" shows approaches we did not witness in any other collection before. The Austrian designer stays true to her significant style but dares to add some highly inspiring innovative ideas. Thus, we will definitely keep an eye on Rebekka Ruétz and on all upcoming collections!
Review by Sussan Zeck for D'SCENE Magazine