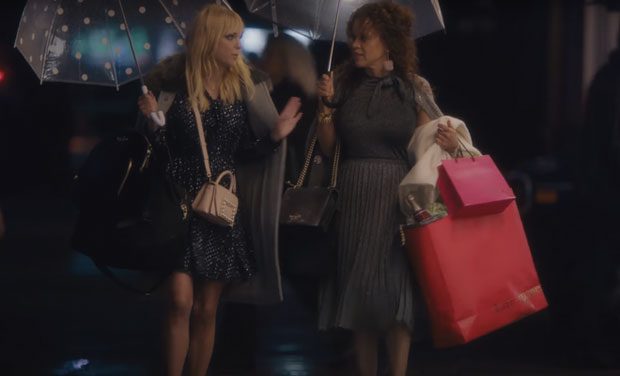 Discover Kate Spade New York's Holiday 2017 fashion film, Miss Adventure, starring Anna Faris, Rosie Perez, Greta Lee and Ben Sinclair. Season 3, Episode 2, named The Pit Stop takes us to Zabar's, the iconic Upper West Side market and destination for all holiday party must-haves.
En route to Anna's mother-in-law's home for holiday festivities, our heroine dashes into Zabar's scent-laden market to pick up a pre-ordered gift basket for the event. Her sister-in-law, Rosie, anxiously waits double-parked out front, where she charmingly befriends a disgruntled meter-maid, played by Greta Lee. To her shock, Miss Adventure discovers she mis-ordered, and all that's left for her is a tiny rugelach dressed with a bow. Undeterred, she has a few tricks up her sleeve to save the day, with the help of the Zabar's Manager played by Ben Sinclair, and a few laughs along the way.
– from Kate Spade New York
The Miss Adventure film series is a 2016 CLIO Gold Award Winner for Fashion Film in the Branded Content category.