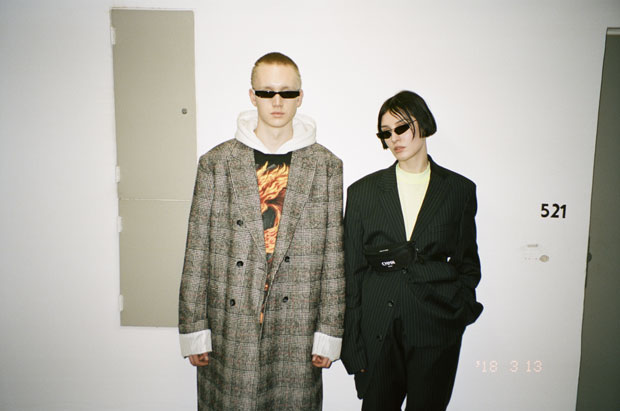 Amsterdam-based eyewear brand Ace & Tate has collaborated with menswear label CMMN SWDN on a two-part unisex sunglasses collection. The collection is a combination of Swedish brand's exploration of urban youth subculture and the complexities of coming of age, as well as Ace & Tate's clean and minimalist aesthetic, and it consists of three acetate and three metal frames.
The Ace & Tate design team spent many hours in CMMN SWDN's London-based studio when concepting, and the frames take the names 'Pris' and 'Neo' from characters found in Bladerunner and The Matrix movies. The collection harks back to 90's rave culture, and shows a renewed interest in Sci- minimalism which has made a sudden resurgence in the fashion world. There is also a clear and romantic throwback to the time's sportswear and cyber hacker Y2k in uence with the narrow, dynamic shapes and bold futuristic colours. – from the designers
The glasses are extending upon the theme of our recent collection of retro futurism. The slim and proportioned sunglasses hint at sci- movies of the past but are designed for now. – CMMN SWDN
Campaign is captured by photographer Vitali Gelwich in Berlin, focusing on a young couple at dawn and draws from the energy of adolescence and a hazy post-club morning atmosphere.
RELATED: EYEWEAR
Discover the collection after the jump: