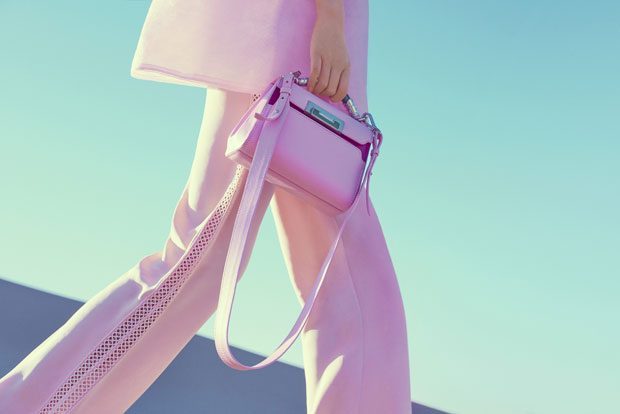 The sugary shade of Tumblr pink is no doubt a nuance of the decade, yet pastels in this season's collection are adding up an unusually bold statement. The sugary nuances are finding way to your sweet spot between defiant and prim. [Image – Shiatzy Chen Spring Summer Accessories Collection]
From swimwear to daywear 2018 like no other becomes the year of the pastel tones.
HOW TO EMBRACE THE PASTEL
For some of us pastels were just never an option, many of us have never before even entertained the thought of a baby blue twinset. But what numerous runways are making us is do exactly that, the trend machine is making us rethink our view of the baby blue and the above mentioned Tumblr pink.
Pastels for summer 2018 are taking on a revolutionary new reinvention, this renaissance has brought a new way to dress in them coming with an edgy and refreshing twist. Thanks to this pairing up a dusty pink dress with the bold fishnet tights is as ever welcomed as wearing a pretty ice blue body swimsuit with oversized trousers.
Tibi Spring Summer 2018 Collection
Pastels have taken the runways of New York city design staples such as Helmut Lang and Calvin Klein, who boasted their new approach to long forgotten materials such as viscose patenting it to keep it looking tailored sharp. We completely understand you might be reluctant to take on the trend, so if a full on lilac outfit is something coming out of your worst nightmares maybe this should be a slow journey. But by startign slow you can use those favourite black pieces from your closet as a foundation and mix them in with some of the pastel like accessories coming from the likes of Loewe and Chanel this season. While brands like Tibi are enjoying their own play on the lavander colour as well as a touch of lemon.
Also, if you are a stylish mom with the rise of kid collections from top brands such as Gucci and Burberry, up and coming designers are also taking part in this fashion race. Breakthrough Brazilian designer Ana Giovanna is turning heads for her childrenswear collections, no doubt available in pastel nuances as well.
TRAVEL IN PASTEL
If anything the instagrammable moment of simply anything pastel is clearly a never ending phenomenon. Everybody's coveted summer destinations have no doubt served as an isnpiration for this ongoing trend. From Greece and the isle of Santorini, often referred to as the top model of the Greek isle. The easy to recognize white wash sugar-cube like houses, to it's sublime volcanic cliffs forming the red pebble bitches this is a purely bucket list destination.
RELATED: 9 Womenswear Trends for Spring Summer 2018 Season
If there was a chart, no doubt Santorini with its blue rooftops is the most instagrammable destination on the list. For decades now this island is the must-go for the fashion royalty and jet setting elite. Even Gianni Versace was a frequent guest at one of the iconic island hotels.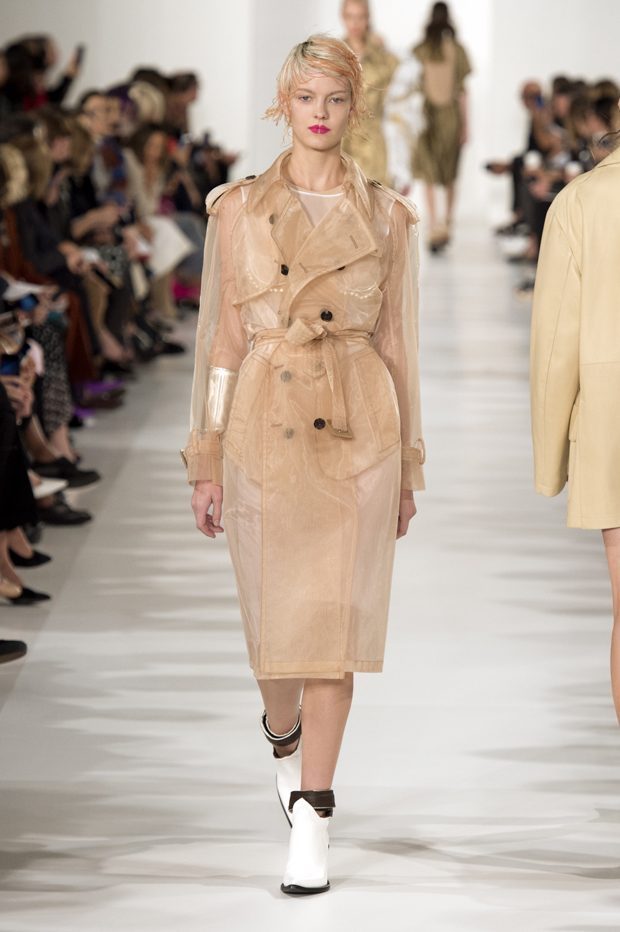 Maison Martin Margiela Spring Summer 2018 Womenswear Look
Close on the pastel list is Alicante in Spain, with its landmark La Muralla Roja one of the most fascinating pastel buildings you could find. The buildign is located in Calpe a very small town on the beach of Alicante.
INSPIRED BY PASTEL
Brands inspired this season by the pastel nuance are no doubt french houses Celine and Balenciaga but also high street destinations such as River Island as well as Marks & Spencer. Chanel has for the season prepared remarkable pastel jewelry, while others joining the trend are Donatella Versace for Versace as well as Silvia Fendi and Karl Lagerfeld for the Fendi Summer 2018 collection. Nevertheless from sunny bitches to heated pavements, it is up to you to enjoy and make the trend work for you.