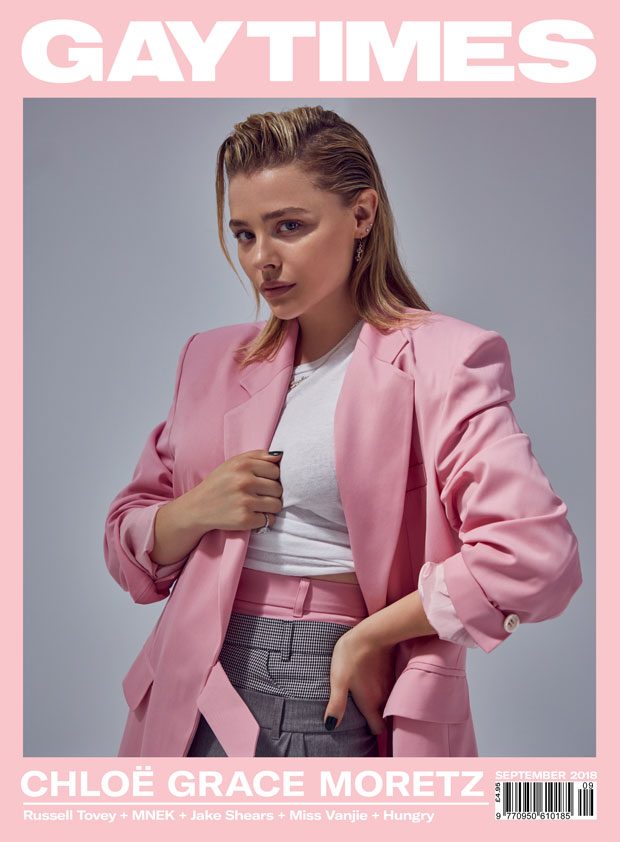 Actress Chloë Grace Moretz takes the cover of Gay Times magazine's September 2018 issue with a shoot from Fashion Photographer Dennis Leupold. For the magazine hitting newsstands on August 31st, Moretz talks about her upcoming movie  'The Miseducation of Cameron Post', her gay brother's relationship, politics in Washington DC and bigotry.
See more of the shoot for Gay Times and also get a sneak of Chloë's exclusive interview for the magazine's September 2018 issue:  
Chloe on how her gay brother's relationship is the healthiest she's seen:  "The healthiest relationship that I've ever seen and grew up with was not that of my parents, it was that of my brother and his boyfriend who have been together – still to this day – for 11 years. That has been my most healthy parental relationship that I've ever seen. It gave me faith and hope that you can find someone to be with for a long period of time who you truly love. But for me, it's interesting that it wasn't your typical nuclear family unit – it's my gay brother and his boyfriend."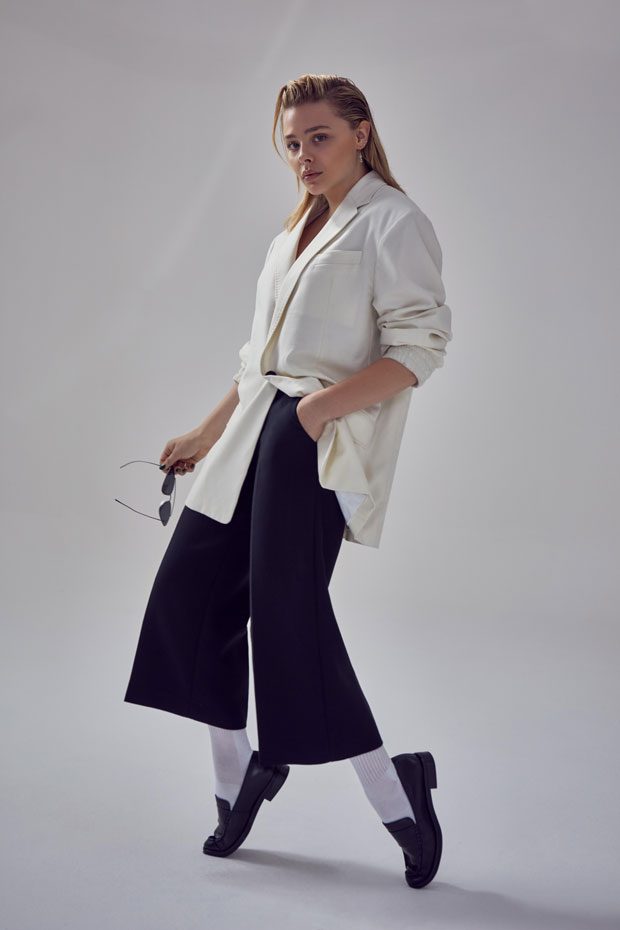 "I grew up fighting on their behalf because it broke my heart to see that yes, they can stand up for themselves, but people wouldn't listen. So I took it upon myself with their blessing to go out there and talk about it, and to tell people, 'Hey, being gay is not a big deal at all. But be proud and be out there and raise the flag high. Be a part of the community, and be for the community.' So it was never a question to me whether or not I was ever going to be an advocate, and what that meant to my heart and how it shaped me."
Chloe on taking this movie to the politicians in Washington DC:  "In the current state of America, if you don't have a message that you're pushing out, if it's not some sort of activism, then why are you doing it? I want this movie to be a platform. I want this movie to start a conversation and to help lobby against conversion therapy in America. I'm actually flying to DC to do a screening and to have an open conversation with a couple of politicians, and to talk about lobbying against gay conversion therapy in America."
Chloe on religion being used to justify bigotry: "The pushback we saw towards our family after my brothers came out was jarring for sure. There's a lot of people from our small town that treated us differently, and treated my brothers differently. The way I saw them bullied and ostracised was shocking. What made me most sad was that people were weaponising something that isn't inherently a negative thing. Religion isn't inherently negative. It's the misinterpretation of it and the weaponisation of it that becomes abusive. There's a lot of really scary rhetoric in the interpretation of the bible – the way people can really manipulate it. That breaks my heart because you can do that with any religion, you can do it as an atheist, you can be an extremist in any form. It's really heartbreaking to see people use something that could potentially be enlightening, but turning it into abuse like that."
Photography Dennis Leupold
Fashion Dani Michelle
Hair Gregory Russell
Makeup Mai Q
Nails Shigeko Taylor
Fashion Assistant Rum Brady
Pre-order your copy of Gay Times.