The tension between art and fashion is what gave birth to EACH X OTHER, a brand founded by Ilan Delouis and Jenny Mannerheim, the two talented creatives who are always in dialogue with the fashion lines. Ilan is a self taught Designer and also the founder of brand Faith Connexion, while Jenny is an established art director, curator and gallery owner. Upon meeting they found their know how could be the driving force of a new brand with an entirely fresh approach to fashion industry. In 2012 EACH X OTHER was launched as a true combination of art and fashion, today it's mission is also to shine a spotlight on breakthrough names from the art scene.
RELATED: EACH X OTHER SS19 COLLECTION
Our Editor KATARINA DJORIC sits down for an exclusive interview with JENNY MANNERHEIM to talk about the beginnings of the brand, the influence of art in her work and the digital era.
Read more after the jump: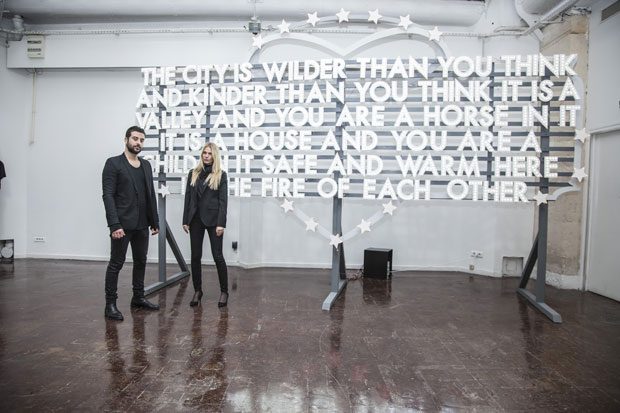 Let's go back to 2012. when you started Each X Other. How did you two meet and when did you realize you want to work together?
Each Other was created in 2012 following an encounter between Ilan Delouis, a fashion designer and entrepreneur and myself, an art director and gallerist. We met at my art exhibition by Robert Montgomery. From there we decided to launch a brand and publishing house with the ethos of art meets fashion. Our brand name was inspired directly from a poem from Montgomery: "The city is wilder than you think and kinder than you think. It is a valley and you are a horse in it. It is a house and you are a child in it. Safe and warm here in the fire of each other." Upon meeting we knew that we had complementary skills and the know-how. We created the concept of Each Other to honor the culture of fashion and art, and we wanted to fuse those two disciplines together to create something that is at the crossroad where the two intercept. Since then, we've been launching our collections in collaboration with a rich creative community. Since our inception, we've always been driven by the belief that artistic expression can change the society around us, and we hope with our collections and collaborations we truly do make change.
You define your brand as "Art Meets Fashion" and you often collaborate with the visual artists on your collections. 
The concept of Each Other is to honor the culture of fashion and art, and we wanted to fuse those two disciplines together to create something that is at the crossroad where the two intercept.  Each Other is working in a similar way to a publishing house or gallery, but instead of using printed media or a space Each Other is investing in the fashion industry and using it as a platform for cultural contents. Each Other likes to push the ideas of modern society and find new ways of communicating Art history, and new ways to see consumerism and shopping. Turning fashion into something instructive and meaningful. The idea of Each Other is to use clothes as a canvas for artists to reach a wider public using the vast field that is Fashion today.
The creative process is  that first we establish a Moodboard for the collection with the artist. Then we propose different fabrics and material that the artist can choose from. We design prints and graphics or embellishments and textures that can go on the clothes.
Who are the artist you've collaborated so far, and how does the creative process look like?
We have collaborated so far with the following artists: Robert Montgomery, Alina Birkner, Fabio Paleari, Jefferson Hack, Jean-Charles de Castelbajac, Davide Bertocchi, Maripol, Studio Orta, Jeremy Kost, Ann Grim, Douglas White, Ann Grim, François Mangeol, Blair Chivers, La Fratrie, Kolkoz, Alizé Meurisse, Ruiz Stephinson, Alessandra d'Urso, Yi Zhou, Thomas Lélu, Daniele Innamorato, Alec Monopoly, Ari Marcopolous, and Peter Grunz.
What in Alina Birkner's work you find inspiring when you called her to collaborate on the Spring Summer 2019 collection? 
The inspiration this season came from the artist. We collaborated with the Birkner bringing the visual holographic to life. She is known for her exploration of color and light interaction, Birkner melts gradients to create weightless luminosity through any canvas. Birkner's instagram profile @new.age.shit inspired the name of this Each Other collection. In the New Age, we are a rainbow in each other's cloud. This collaboration was aimed like a visual manifestation lighted by a spectrum of color to represent a "solar" future.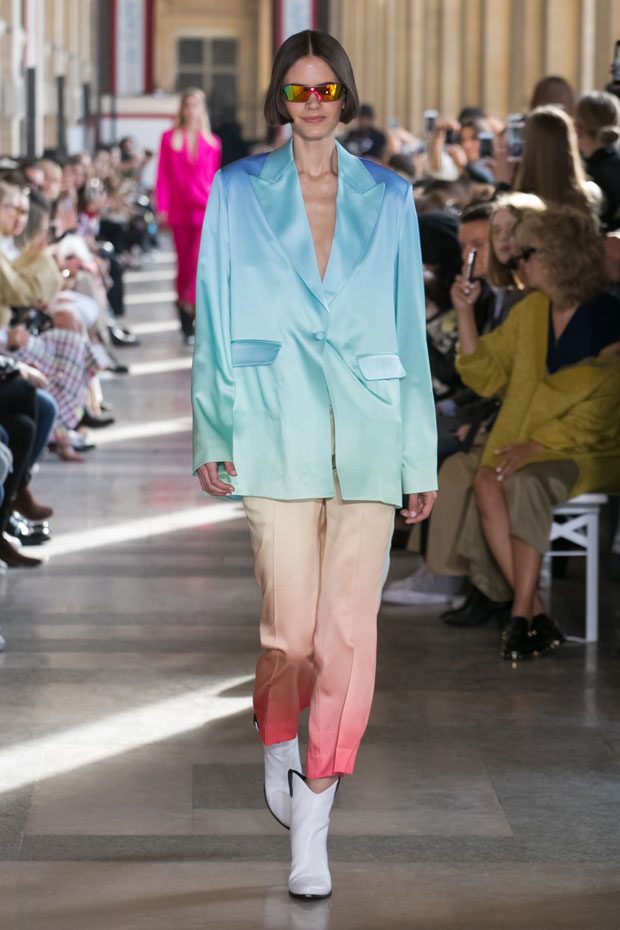 Jenny, you also have a very successful art gallery in Paris. How do you balance these two careers?
I believe that the best way to establish a relationship with an artists is through curating their exhibitions and projects. I've had my gallery since 2004 and it's where I 'meet' the artists. I can't imagine my life without this aspect of putting up shows with artists. Every exhibition project is a new experience. I've always been working parallel both in art and fashion. I've been Art directing for magazines such as Vogue Hommes International, Beaux Arts Magazine, Numéro, and L'Officiel, and designing books since 15 years and at the same time running my space. Publishing & Curating exhibitions always go hand in hand, and I believe it applies to art and fashion now as well. Fashion collaborations are an alternative to printed matter like books and magazines. Clothes have become a media where we can express ourselves and promote our ideas or contents. Culture and art today have moved into mainstream consumerism and social media. Fashion collaborations are the beating heart of contemporary culture.
What else besides art inspire you?
Writing and words, there is a power in the text, I can read about anything and find inspiration; philosophy, the daily news, science, poetry, spirituality. Each Other always works with text. The first inspiration always comes from a written statement or poem. As the name of the brand was inspired by Robert Montgomery's poem, we continue to always start from a text.

I loved your SS19 collection, especially the suits. What are your favorite pieces?
I like very much the first look of the show. It was inspired by Alina Birkner painting Untitled, to Larry from 2015. It is a classic suit but with the painting printed it has a glowing energy. I like this tension minimal against maximal expression.
Who would you consider to be the most inspiring person in the fashion and art industry today?
At this time I don't think it is one person that is inspiring, it's the phenomena of the community, the social media has totally changed our approach to fashion as well as art. We live in a oneness and it's the connectivity that dominates. The fact of being everywhere with everyone at the same time has made a major shift in culture. But I believe it has its limits… People need to also disconnect, and see each other and the world through their own eyes.
If you could describe your design aesthetic in three words, what would they be?
The key themes at Each other are Contemporary Art, Tailoring, Minimal Glam. A lot of inspiration comes from the 70s, Donald Judd, Dan Flavin, James Turrell, Ed Ruscha. Artists that are concerned with light and space. This is also the theme of in-house artist Robert Montgomery famous for his light and fire sculptures, and lately with Alina Birkner who explores color and light interaction.
What are you working on now? Can you share with our readers something about your next collection?
Now we are working on our fall winter 2019 collection and at this moment we are working on choosing all the fabrics.
What woman do you have in mind when designing; who is your muse?
The Each Other woman is glamourous, rebellious with a taste for fun. She likes art, music and traveling. She likes to mix feminine dresses and styles with masculine classics like: a pinstripe suit, a sports look.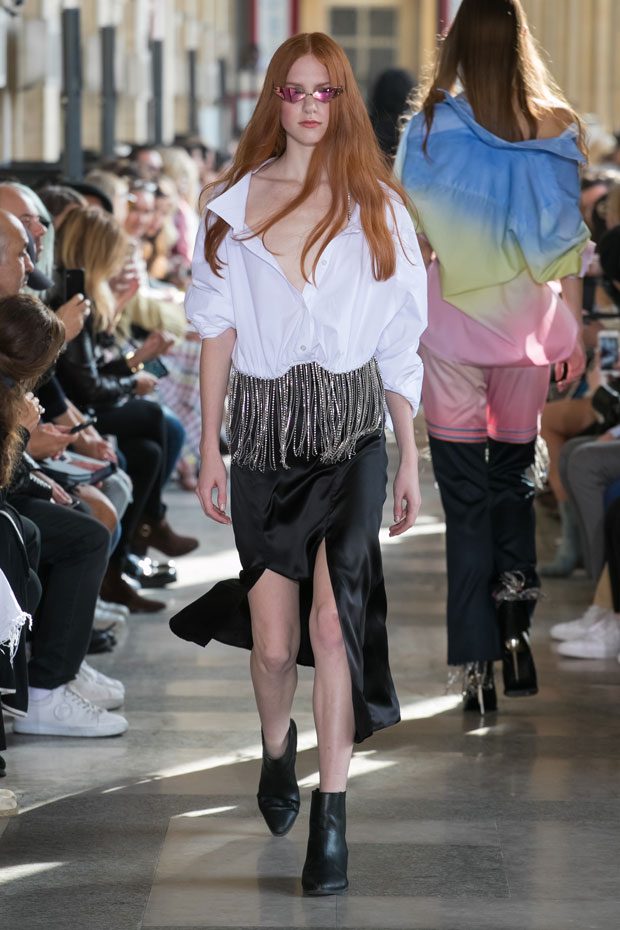 How did it feel seeing people wearing your designs for the first time?
You realize that with fashion you can reach the crowd, the people. It's an accessible way of doing something creative, you can touch the heart of strangers.
Do you think the digital era has entirely changed the fashion industry?
Already the way we encounter and consume, we buy on-line, we read online, we meet online. That's a big change.
Name 5 things you cannot live without.
Art, writing, dogs, food, travel.
What is next for you?
An "altruistic collaborative concept" is being launched to the brand's new phase, it will involve "creativity, charity, and the law of attraction".  Stay tuned!
Keep up with EACH X OTHER on Instagram @eachxother