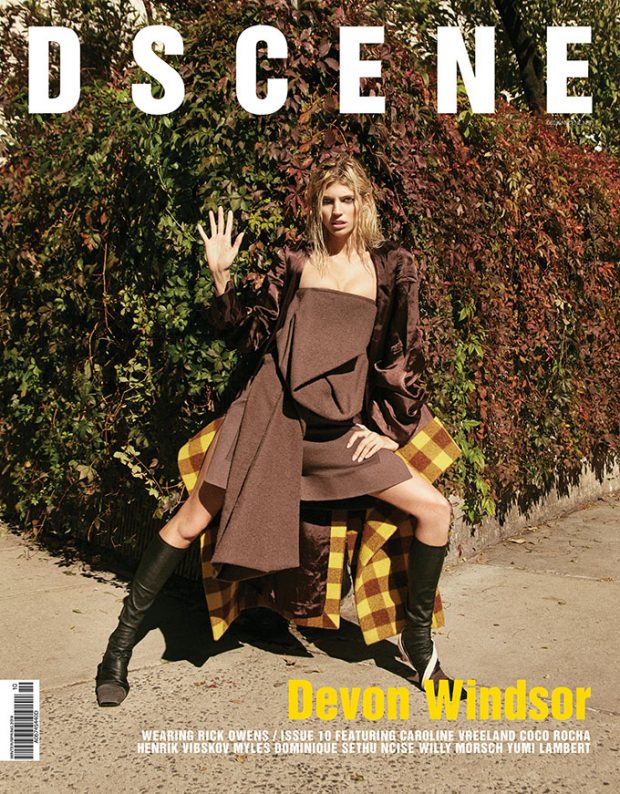 Devon wearing total look Rick Owens for DSCENE issue 10 cover
For the new issue of DSCENE magazine Editor ANA MARKOVIC sits down with cover star DEVON WINDSOR after her sixth Victoria's Secret runway show to talk about staying body positive while working out, her take on reality TV and handling social media.
Devon teamed up for our cover shoot with supermodel HELENA CHRISTENSEN who was this time behind the lens to shoot this striking cover story in NYC. In charge of the styling was Fashion Director Christopher Maul, scroll down for more of the shoot: 
Devon wears Miu Miu
How were you discovered?
I was approached by a local photographer in St Louis while I was attending a Bar Mitzvah. I was caught completely off-guard, but he asked my parents if he was able to take some photos and the rest all fell into place.
Do you remember your very first Victoria's Secret's casting?
I will never forget that moment. I was so scared and honestly never ever dreamed that I would get the show. I just went in there with a "I have nothing to lose" attitude and I was just myself. But I was freaking out on the inside.
Ring Dior, Jacket Richard Malone


Bra 16 Arlington, Coat Isabel Maarant shorts Richard Malone, Shoes Erdem



Earrings body & jumper GCDS, Jacket DIOR, tights Calzedonia
This will be your fifth time walking a VS show, is it still as exciting as it was the first time?
It's actually going to be my sixth time in a row, which is beyond crazy when I think about it! Honestly it gets more exciting for me every year. Once you have a taste of how much fun it is, and what an amazing experience it is, you want it even more.
Do you have pre-show rituals?
I try to prepare to the fullest in the weeks leading into the show between working out, getting facials, spray tanned etc so that I feel my best on the show day. Before the show all the girls are backstage and we love playing music and dancing to get into the zone.
Top Salvatore Ferragamo, belt 16 Arlington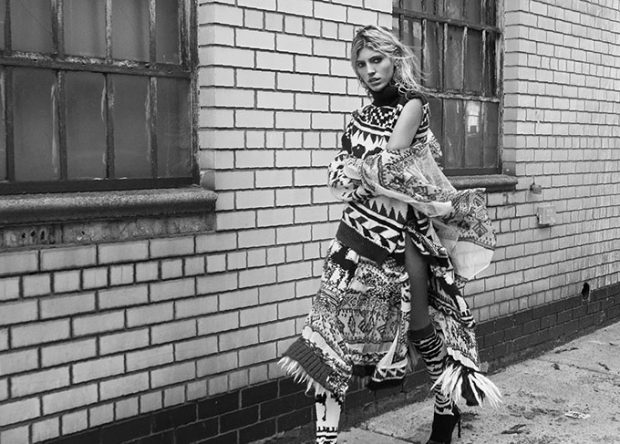 Total look Sacai, Earrings Mulberry, Shoes Lanvin
As a VS Angel do you feel a lot of pressure to maintain a certain body image, and how do you stay body positive?
Like any woman, my body fluctuates, but I naturally like to work out, so it's not like I turn into this different human being when the show comes around. I obviously amp up the workouts and healthy foods when it comes, but I have to be in shape as part of my work because I shoot swim and lingerie all year round. I think you need to be able to find a balance and a lifestyle that works for you and is attainable. For me, it's working out a couple of times a week and having those cheat meals. Take care of yourself and that will give you automatic confidence.
Who would you like to see perform at Victoria's Secret Fashion Show?
I would love to see Drake or Beyoncé! That would be amazing.
What are the biggest misconceptions about VS models?
That we all starve ourselves. We work out like athletes so we need to eat properly when we are training so hard! I love food and am such a foodie, I honestly eat more than anyone I know.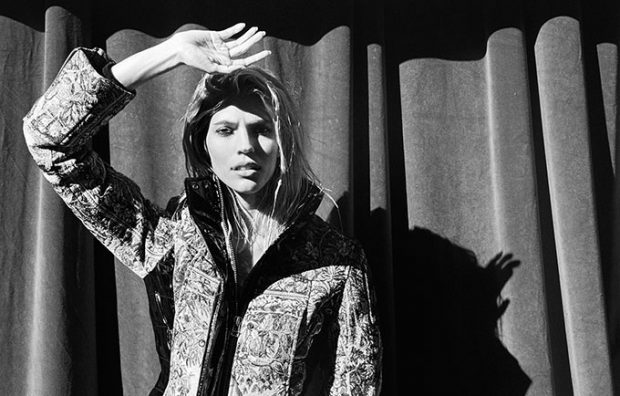 Coat Mary Katrantzou
What are your favourite lingerie trends this season at Victoria's Secret?
I love the faux-leather body suit. It's so cute and you can really incorporate it into day or night.
What's you're tips for finding the perfect bra?
I would say to go in and get sized and then pull a bunch of different styles. That way you can try on which one is most comfortable for you.
How would you define your personal style and has anything caught your eye for the upcoming season?
My style changes daily based on my mood. Sometimes I like to be super edgy and sometimes super girly. I would say overall I like to keep it womanly, edgy chic. If that's a thing? I also love all the bright coats this season. I used to always gravitate towards plain black outerwear, but now I am wanting to step up the versatility of my coat game.
Tell us about Model Squad on E!?
I was happy to be part of a show that can give fans a small look inside what it's like to be a model. I think the main point was showing that it's not always fun and games being a model. We have struggles just like anyone else would. Obviously they like to play up the drama on the show to viewers, but the cast ultimately all respects each other and all of our careers.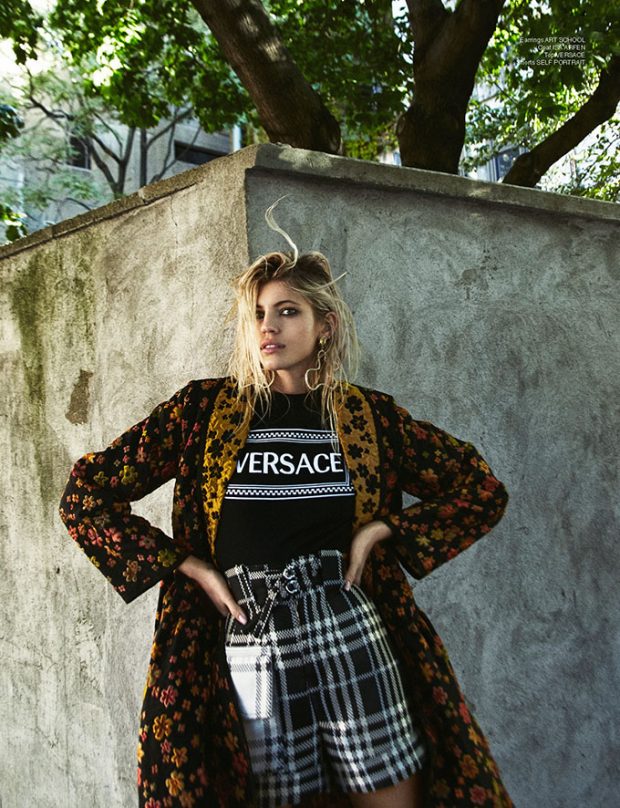 Earrings Art School, Coat Isa Arfen, Top Versace, Shorts Self Portrait
Did you enjoy being part of a television documentary?
I think there was a lot of ups and downs. It was difficult to open up about my private life and I am certainly not used to the reality show editing process. For my job, I am a chameleon which I am used too, and usually a client wants to make me look as best as possible. But for the reality show it's all in the producers hands on how they want to portray us. Besides that, I had a really positive experience working with the girls and giving them a sneak peek into what it is like to be a model.
Do you think Model Squad can shine some light on misconceptions about the modeling world?
I really think it can. I think people have this idea in their head about how easy it is to be a model. They see it very one dimensionally. In reality, it takes a lot of hard work, a lot of criticism and confidence to be able to work in this industry.
We know you love to cook, you competed with Gigi Hadid on Masterchef. Did you ever have a bake off with Karlie Kloss behind the scenes? That's something we would love to see.
I have not, but I would love to bake with her sometime. Honestly as weird as it may sound, I'm not a competitive baker or chef. I actually do it for fun and because it helps me decompress. The idea of being timed, and competing, sounds really stressful to me. I just like to cook and eat with friends and family.
Total look Richard Quinn, cuffs Tom Ford
Who's the best cook among VS Angels?
I haven't seen many of my other friends cooking too much so would it be too self-indulgent to say me? [laughs]
What is your favourite dish to make? And what is your favorite food to eat?
I love pasta so much. I recently bought a homemade pasta maker so now I can make it by hand. I feel like it tastes much fresher and almost healthier when it is homemade for some reason. Pasta and pizza are my favorite thing to cook AND eat.
You have over a million followers on Instagram, do you ever feel pressure to keep your many social media followers updated?
Sometimes I will go to my feed and be like "oh no I haven't posted in 5 days…". Staying up to date on social media is honestly like a job on its own. I do love taking pictures, editing and sharing with my fans! So that has come quite naturally. It's just about keeping up with it. I also think there's a line you have to draw in your life with privacy. I like to share as much as possible with my fans especially through posting to my stories or on my vlogs, but I don't want to expose too much.
How do you stay in shape?
I grew up doing sports as a kid so having an active lifestyle has always been a part of who I am. I like to mix up my workouts with different trainers or classes. I like body weight exercises, pilates, boxing or anything that keeps me lean and strong.
Total look Rick Owens
Your tip for taking the best photo?
Good lighting is everything when taking a picture. Avoid overhead lighting at all costs. I like straight on natural light, so that no shadows are cast on your face or body. It is also important to know your angles and which is your best side.
When do you feel the most confident?
After I wrap an amazing photoshoot or job and I can tell that the photographer or client is super happy with my work. I always get this rush of energy and feel really good about myself.
All you want for Christmas is?
A puppy!!!!! I am dying for a pup!
Keep up with Devon on Instagram @devwindsor
PHOTOGRAPHY BY HELENA CHRISTENSEN @helenachristensen
STYLING BY CHRISTOPHER MAUL @styleofmaul
Hair Stylist JEROME CULTRERA at L'Atelier NYC
Makeup Artist STEVEN CANAVAN at L'Atelier NYC
Fashion Assistants CHRISTOPHER DANIELS, ISMELKA GOMEZ
and DAMIEN VAUGHAN SHIPPEE
Producer Sheri Chiu at See Management
Retoucher Luka Ukropina
Model DEVON WINDSOR at IMG London.
Get your copy of DSCENE ISSUE 10.