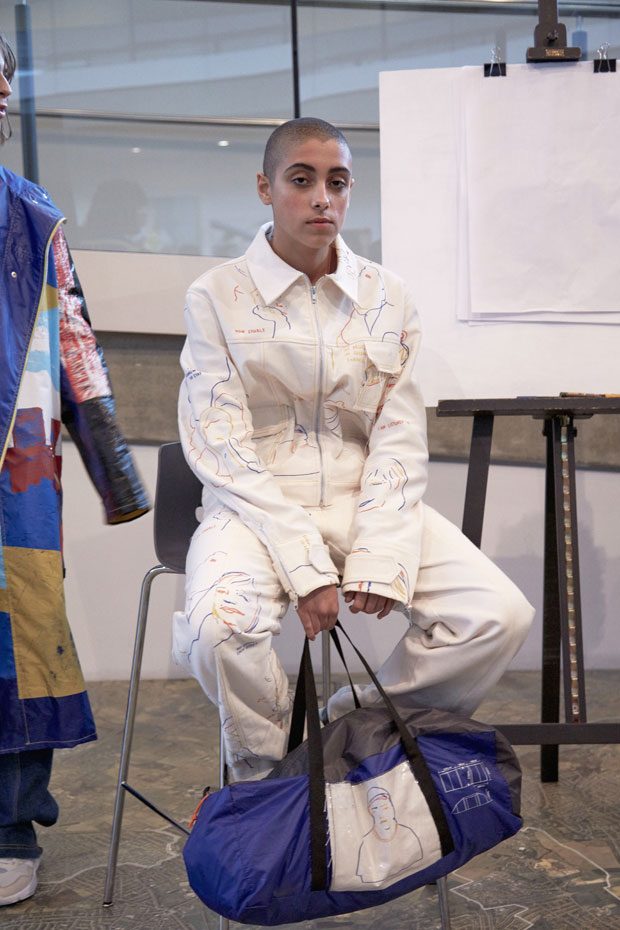 British designer Bethany Williams presented her Fall Winter 2019.20 collection Adelaide House during the ongoing London Fashion Week Men's. Working in collaboration with women's shelter based in Liverpool, Adelaide House, the collection is inspired by city forms, as well as the socially engaged female politicians that have helped support their community.
Working with the community San Patrignano in Italy, Bethany has created fabrics mixed from book waste, waste from San Patrignano and donated pre-production waste from mills in Italy. San Patrignano is an education and rehabilitation programme for people with drug dependency that teaches traditional Italian craft and a sense of community. Bethany has also continued working with the London College of Fashion 'Making for Change' programme, which supports the training of women in Downview Prison. The programme will be constructing the jersey pieces for the production of orders. The collection's production focuses on working closely with innovative rehabilitation programmes such as San Patrignano, Making For Change at HMP Downview and Manx Workshop for the disabled (button production). Providing skills and meaningful employment. Knitwear has been created in collaboration with Wool and the Gang's, Heal the Wool yarn (which comes from 100% recycled Peruvian wool fibre and 30% of the yarn price is donated to Friends of the Earth) and deadstock yarn. The sampling is hand knitted by Bethany's mother, Cecile Tulkins and Alice Morell Evans. The denim elements within the collection are sourced from Chris Carney Collections, a recycling and sorting facility. The denim is unpicked before being reconstituted and hand printed into new garments. Bethany has also used recycled tents, in a nod to the importance of shelter. – from Bethany Williams
Bethany has also worked alongside Giorgia Chiarion, who has illustrated the women of Adelaide House and created abstract paintings inspired by Liverpool's landscape.
To support Adelaide House, Bethany is donating 20% of the profits from this collection.
See more after the jump: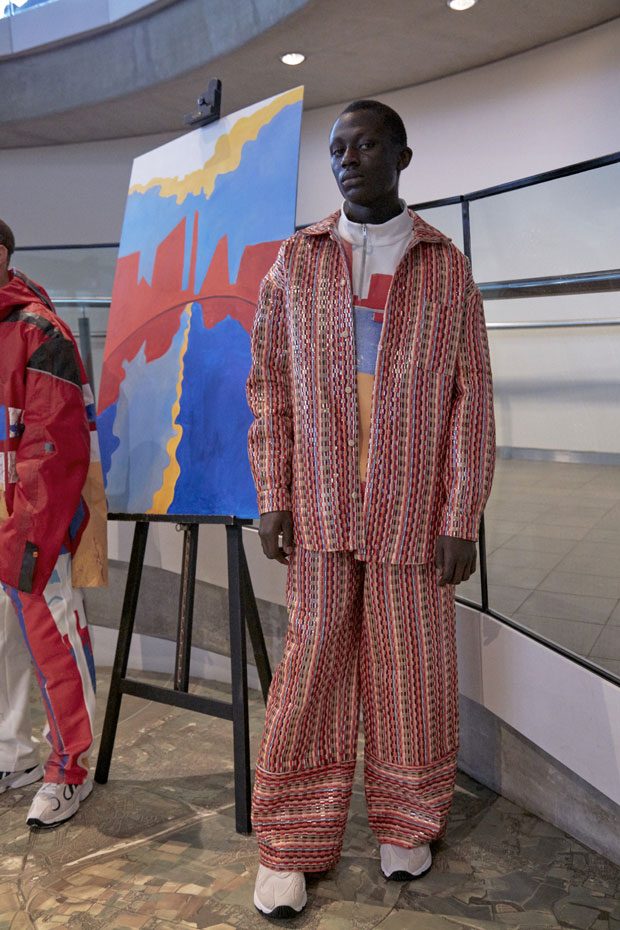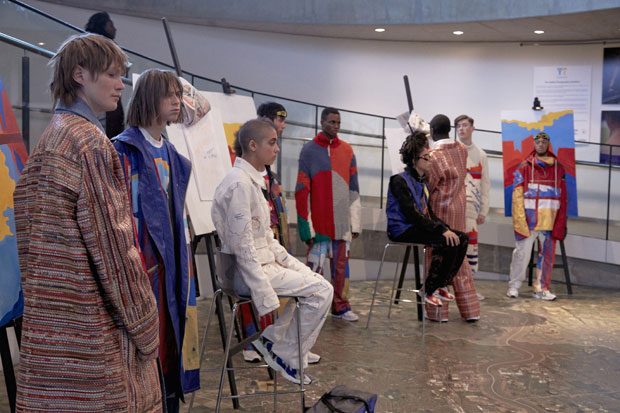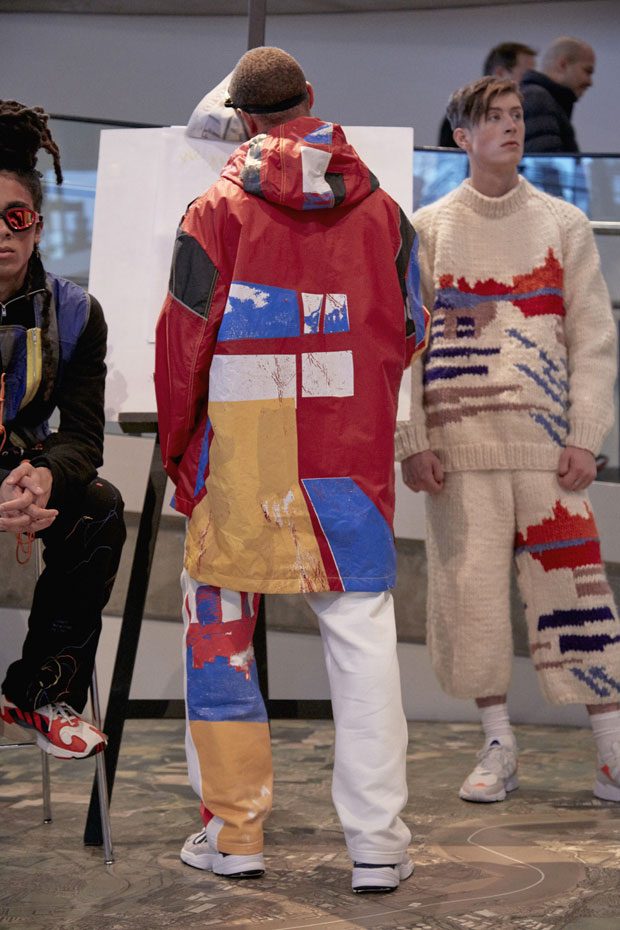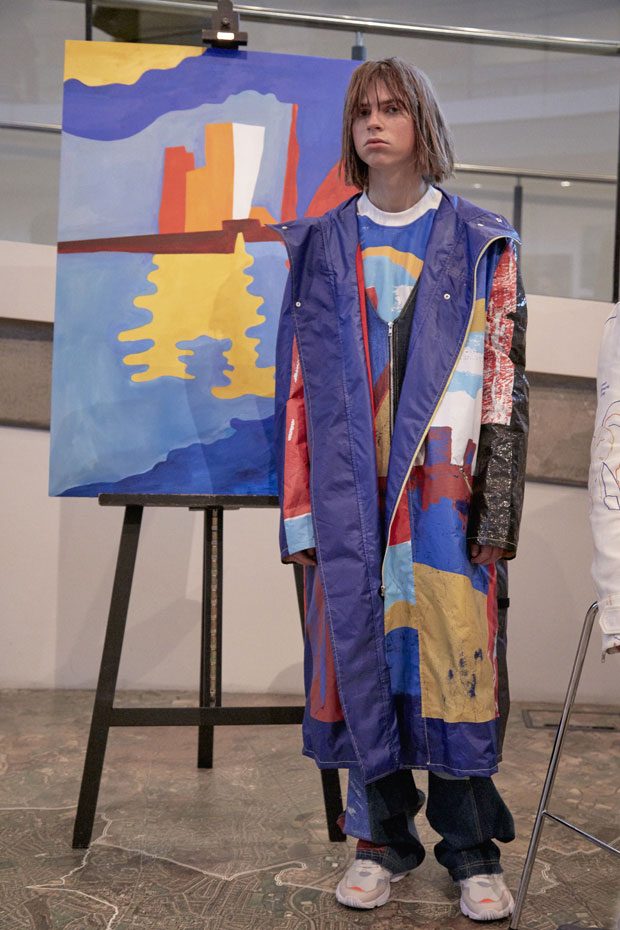 Creative Direction – Bethany Williams, Giorgia Chiarion
Styling – Lee Trigg
Set Design – Ian CY
Casting – Tide Casting
Hair – Brendan O'Sullivan using GO•247
Make Up – Michelle Webb on behalf of AOFMPro using Dermalogica
Knitwear – Karen Kewley, Cecile Tulkins, Alice Morell Evans
Communication – The Lobby
Models – Jakrin, Alfiah, Isaac
TIH Models – Morton, Kristopher McAllister
Oxygen Models – Shaquille
Nii Agency – Abdou
IMM Models – Louis
CIEL Model Management – Matilda
Special Thanks – The Mayor of London, San Patrignano, Giorgia Chiarion, London College of Fashion, Making for Change, Wool and the Gang, The Liverpool Echo, Adelaide House and The Lobby London.