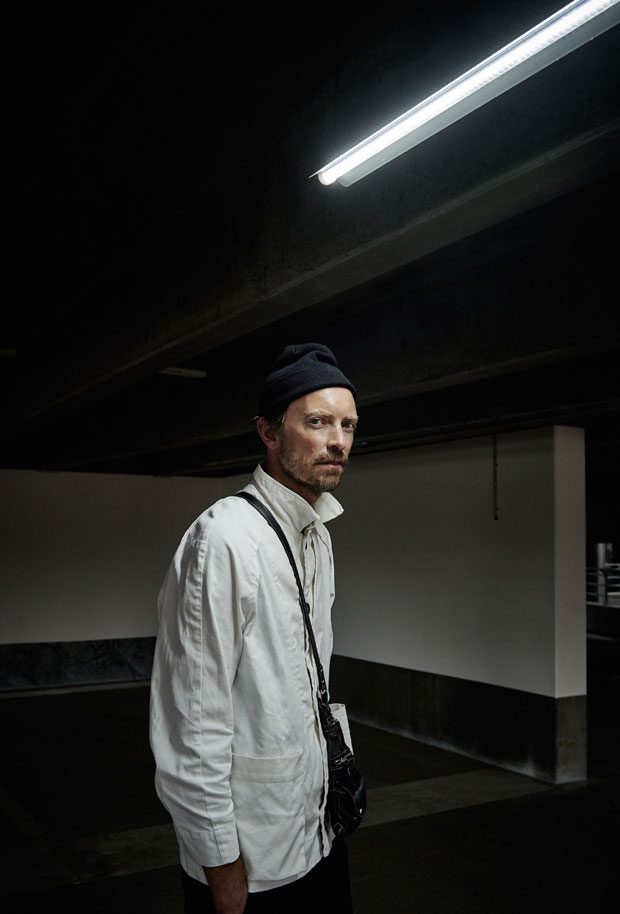 Artist and Fashion Designer HENRIK VIBSKOV sits down for an exclusive interview with our Editor KATARINA DJORIC to talk about his multifaceted range of interests from fashion to film and music as well as interior design, but also his elaborate runway show sets and the Spring Summer 2019 collection.
Read the interview after the jump: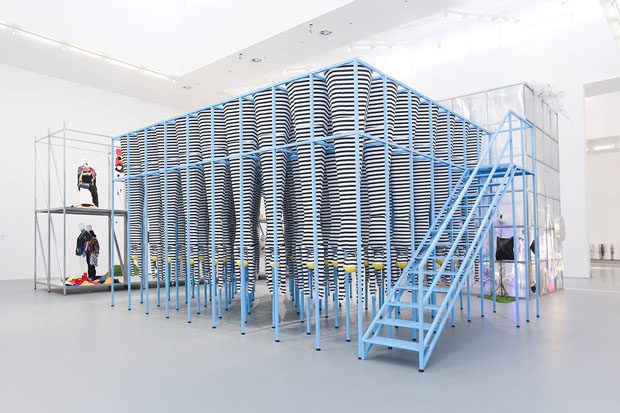 Artist, interior designer, film director, musician, fashion designer – Is there something you can't do?
Of course there is, but I always like to go after the device, that everything by principle is doable. I never believe that something is impossible, I am always trying to find a way to make things possible. Even the most complicated things can happen in the end. I believe that you should always try to make a change every time you get a chance.
How do you balance all of that? Do you have any time to sleep?
I like when there is a lot going on. It makes it fun for me, and its important for me to keep passionate and to keep trying things out. If things are too static I get bored. I recognize from myself that sometimes, in the process of being creative, a lot of things are happening by mistake or you're going through the wrong door. You have an experience from something that was actually not planned and that leads to something else. In this industry its important to stay curious, not being afraid of challenge things a little bit.


Your fashion shows actually blend all of that. How difficult is the production of such a show?
There is always a lot of logistics that needs to go up in the so it's a big puzzle. We produce in Denmark, Portugal, Bulgaria, Romania, Italy, France and China. The time frame is always fixed according to the different phases in a production; development of theme and colorcard, design and pattern making, selection of the different fabrics, the graphics and on top of that we need to create an installation witch fits the collection and theme. Sometimes the two things are closely connected and happen simultaneously. The good ideas on the other hand are not easy to control, you can not really force them in a time schedule. That is why sometimes things can happen in the very last moment or a whole installation is being changed just a few weeks before a show.
Your design is quite different from anything we can see on the runways. Where do you find the inspiration?
Inspiration comes from anywhere. Shape wise we work a lot with patterns in our studio, using the old fashion way by hand and we take our time to experiment and play with the shapes and different types of fabric. Colorways can be inspired by an old picture, a wooden children's game or a simply a feeling or a certain vibe. Also I'm often inspired by Asian culture, looking at traditional and ceremonial outfits and industrial workwear. I like looking into social patterns, cultural groups in society or in the smaller environments around me, things that happen by coincidence or by mistake, weird or funny situations. I like to pair contrasting universes, look at strange combinations and transitions that are perhaps unlike.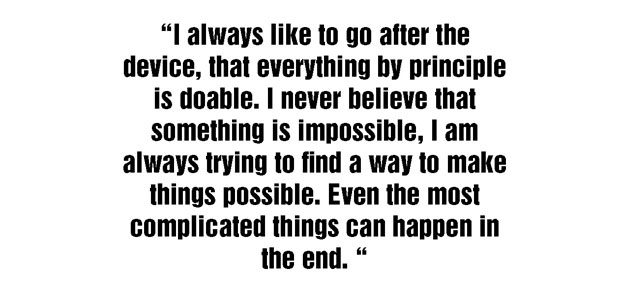 Tell me more about your Spring 2019 collection. How did the wind inspire you?
One can't see the wind but how it shapes and changes things on its way forward. We measure the force of wind by visual clues from land and the sea. Wind can shape landforms and things, like dust, can travel thousands of miles. Wind powers the voyages of sailing ships across the oceans and provides a power source for mechanical work, electricity and recreation. The collection reflects the theme in various ways; the silhouettes are inspired by the movement of garments that are caught by the wind. And of cause color ways and graphics are inspired by the whole universe of wind, there is a lot of interesting terms and words to play around with. Wind is natural phenomena that everyone knows, it's very straightforward and easy to understand. Then I'm always trying to get in some humor or twisting the theme in a funny or surprising way.
So, foamy waves, soap bubbles, playful paper planes, boomerangs, parachutes, aerodynamics, but why bad breath? How did you find the inspiration in those words?
I like to work with stuff that has some humor and perhaps also things that people don't connect directly to the fashion world. Words that are challenging or even a bit misplaced. Hopefully it makes people smile a bit.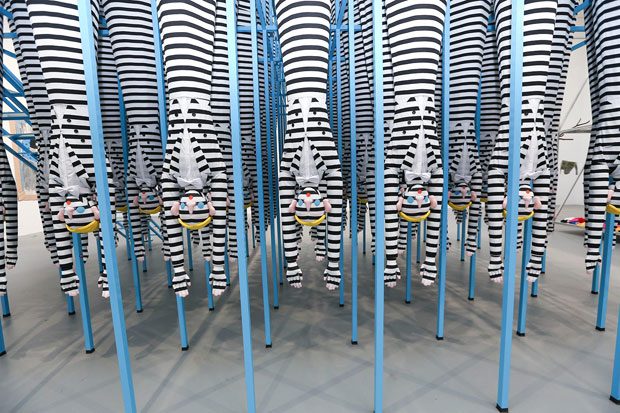 Your latest exhibition at The Powerlong Museum in Shanghai combines fashion textile, music and gravity experimentation. Can you tell me more about it?
The idea is the picture of a full symphony orchestra hanging upside down. They have lost gravity and are hanging with the instruments in their hands; it's the only thing that keeps them to the ground. The orchestra is an extremely disciplined structure, and super complex in the way all individual persons and instruments have to work together to create flow and harmony in the music. That is why it was also fascinating for me to make this slightly distorted situation. Since I work with fashion, I often drag textile and techniques from the fashion industry into my installations. The members of the orchestra is sewn in textile and stuffed, creating these weird dolls with real instruments in their hands.
Another inspiration comes from fish funnels and fish farms pathways, which I find fascinating, with their conic shapes. The cone shape creates a dynamic sense of suction power, dragging the musicians from the ground. The visitors can interact by walking around under the structure, to take a closer look around the hanging musicians, or take a walk on top of the bridges to see the hollow fennel landscape from above.
Do you have some upcoming music projects?
I often play the Danish band Hess is more, it is an ongoing thing. Recently I played with them the Copenhagen Jazz Festival.

Since you are into all things art, could you recommend to our readers some new music, movies, exhibition?
If you have the chance you should go and see the work of Hiroshi Sambuichi. He recently had an exhibition in The Cistern in Copenhagen, which was really fascinating. Sambuichi is working with what he calls the moving materials of a place; the moving of the wind, water and light. He is working with a special attention to the natural movements of a certain place, extremely site specific art installations, which are super beautiful and moving.
You also help young creatives through your PIG (Practical Intelligent Genius) Foundation.
It is supported by donations given in exchange for my personal contribution to educational programs and cultural activities. The Foundation is driven by a desire to give back and nurture creative talent.

What was the idea behind it?
I have been doing a lot of talks around the world, participating in juries at schools and so on, and I decided that I wanted to start donating the fees for those activities to help foster some of the amazing creativity out there.
What's next for you?
Participating in the Copenhagen Fashion Week, we are already working on the next collection and costumes for Phantom Limb Company for the piece Falling Out shown at the BAM Brooklyn in New York. I am also going to the London Design Festival at the V&A, where I am a part of a Group Exhibition Japan Retur, at A Petersen  with part of our installation from the 21st Century Museum of Contemporary Art in Japan.
Keep up with Henrik Vibskov on his official web page henrikvibskov.com
Get your copy of DSCENE ISSUE 10.