From her award-winning Broadway beginnings to her haunting film debut in last year's smash Hereditary, Milly Shapiro has distinguished herself among a daring new generation of actors. At the age of sixteen, she is already no newcomer, but certainly still one to watch. DSCENE gives you a taste of what's in store from the bright young star with our exclusive photo shoot and chat with Milly herself.
GET YOUR COPY IN PRINT $26.60 AND DIGITAL 4.90
Marko Jovanov talked with Milly about movies, awards, fashion, New York and future goals. Read our exclusive interview + discover more of the cover story captured by Emily Soto below: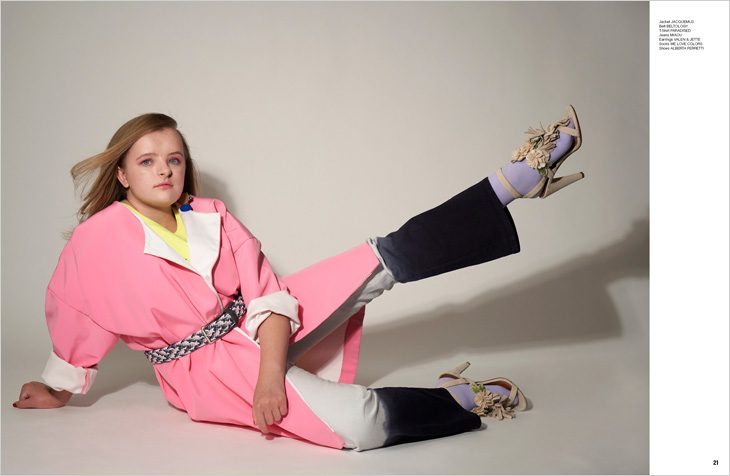 Congratulations on your one woman show at the Green Room in NYC! Can you tell us about that? Are you excited to be back on stage?
I am always excited to be back on stage! It's the place I feel most at home. I decided to do a one woman show because I love to challenge myself by trying something new and thought it would be fun. So, I sat down and picked my songs, wrote my story and practiced a lot, and I really enjoyed the experience. I always like creating new things. It was my very first time doing a solo cabaret and performing some of my original music for an audience. It was terrifying and thrilling all at once!
You've won a Tony for your performance in Matilda on Broadway and received multiple nominations for various other awards in theater, music and film. How important is this kind of recognition to you and how has it impacted your work and success in the industry?
For me, seeing the audience's reaction is more important than the awards. When people come up to me and tell me about how my part impacted them, it really makes me happy to know that I can give people these emotional and thought-provoking experiences.
You started out very young. Roles in a hit Broadway show and a major feature film are both very serious and responsible jobs. Which aspects of the job do you find the most challenging and which do you enjoy the most?
I think what I find most challenging is the fact that you go in never quite knowing what to expect. And this can be hard because you always want to do your best. You can't always prepare for every variable. But I think that it is also one of the things that I most enjoy about it. Because it is so unpredictable, it makes it more fun. If you always knew what was going to happen, life would get pretty boring!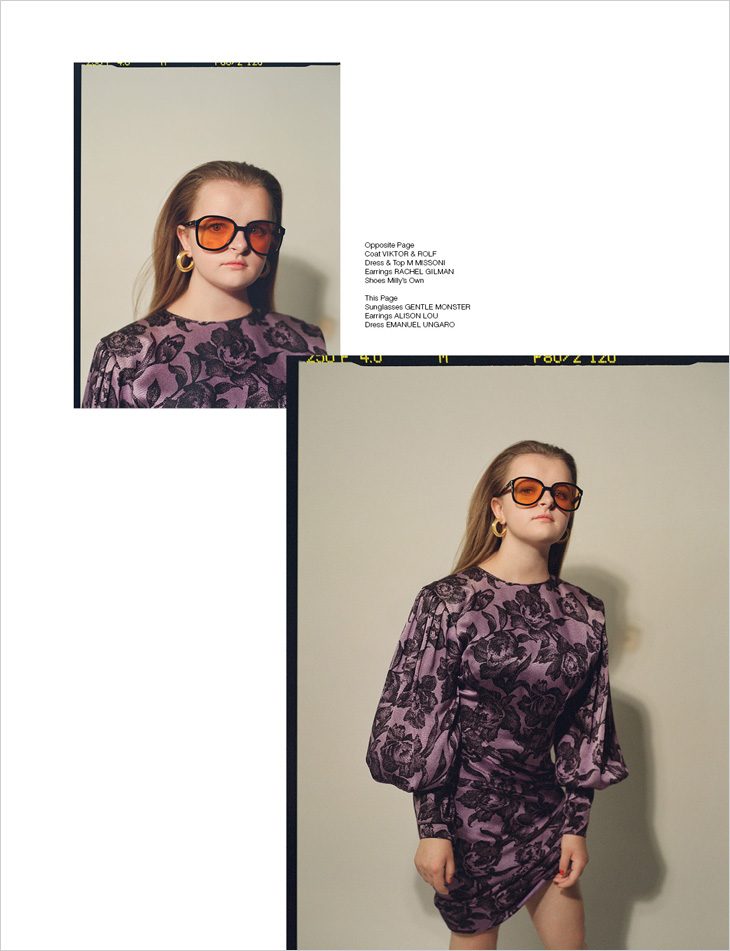 Most performers say they've always known that's what they wanted to be. Case in point, you started very early. Has it turned out to be all you dreamed it would? How have your perceptions and expectations of it changed as you've grown?
It's definitely turned out more grand than I thought it would be. I didn't think I would have a job until I was at least 25, so I was pleasantly very wrong in that aspect. I think as I've gotten older, I have realized the impact the arts can have on people. It can change their life and make them feel all sorts of different emotions that can help them get through different situations. For me, the arts have always made me feel less alone. I think when I first started in the industry my expectation was that once I got one job, I could get thousands. Turns out, it's not like that. And I think I've come to terms with that now and learned that it's not always a bad thing.
Between Matilda and Hereditary, you've shown impressive range and skill. The two characters are polar opposites on the surface, but they do have traces of a common thread in their isolation. Has your work on stage informed your role in the film and which process did you enjoy more?
My work on stage informed my work in the film. I don't think I would have approached the character in the same way had I not had that experience. Both mediums had their wonderful moments and both had their challenges, so it's really hard to compare. I kind of keep them in two separate places in my mind.
Who are the artists that have influenced your work the most? Do you have a dream role (theater or film)?
The artists that have influenced my work the most are Lucille Ball, Emma Watson, Daniel Radcliffe, and Andrew Garfield. These actors inspired me because they really moved me with certain performances. As for a dream role, I'm never quite sure because I have the hardest time picturing myself as different characters which is kind of funny because that's my job. I always like creating new characters that I haven't seen before or heard of.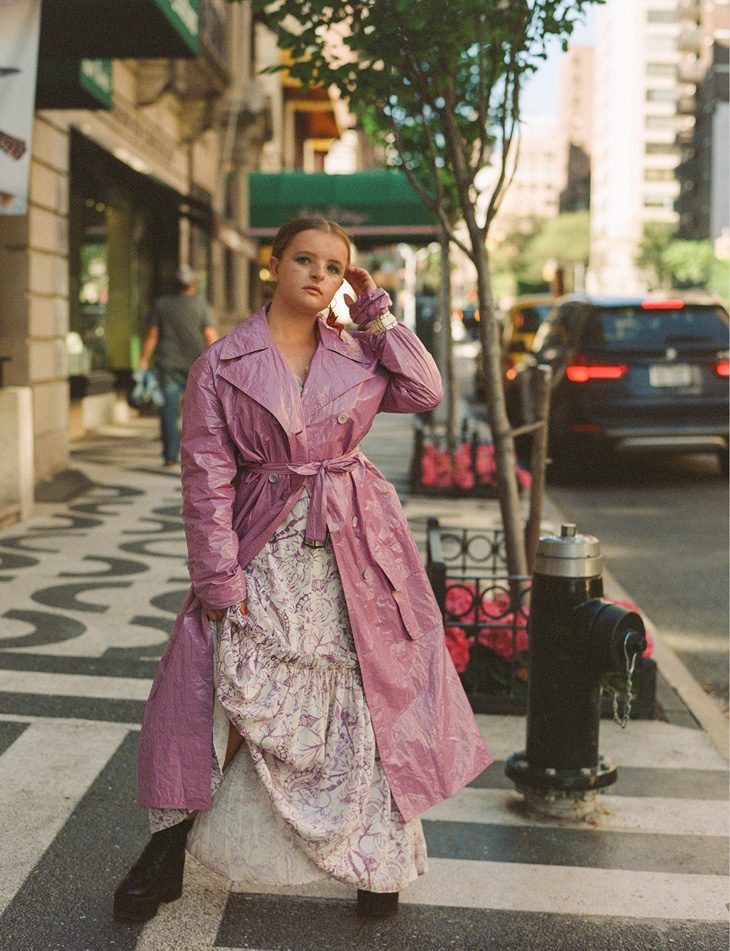 Do you feel Hereditary has set a high bar and how selective are you about what you're going to take on next? Can you tell us about any upcoming projects you are excited for?
I think Hereditary in a way has set a pretty high bar because it was such an amazing film that I was lucky to be a part of. And while I am selective about my work, I am usually more focused on the character and if I would like to play them. For me, that is always the most important thing. The biggest deciding factor is, if you can take the character out of the story and have nothing change, they tend to be not as interesting to me. As for upcoming projects… I do have a few, but I cannot talk about them yet. Be on the lookout – they are pretty cool!
Your shoot with DScene produced some gorgeous, fun images. Are you interested in fashion at all and do you have any designers whose work you particularly enjoy?
I've always loved fashion. I think my love of fashion started watching early 2000s Barbie movies. My mom would travel a lot for work and I would go with her when she went shopping and pick out all of her outfits. After a while, all the store associates knew me and would ask what I would choose. As I've gotten older, I've gotten fairly interested in alternative fashion and Harajuku fashion. My favorite designers at the moment are Hester Sunshine – who is on this season of Project Runway, as well as the designers at Angelic Pretty and Sebastian Masuda – he created the brand 6% Doki Doki. I really love Kate Spade and Betsy Johnson. I love the unique things that they produce and how their designs celebrate being different. I also love the retro influences for Kate Spade and Betsy Johnson. If I wasn't an actor, I would definitely want to be a designer. Fashion is my passion.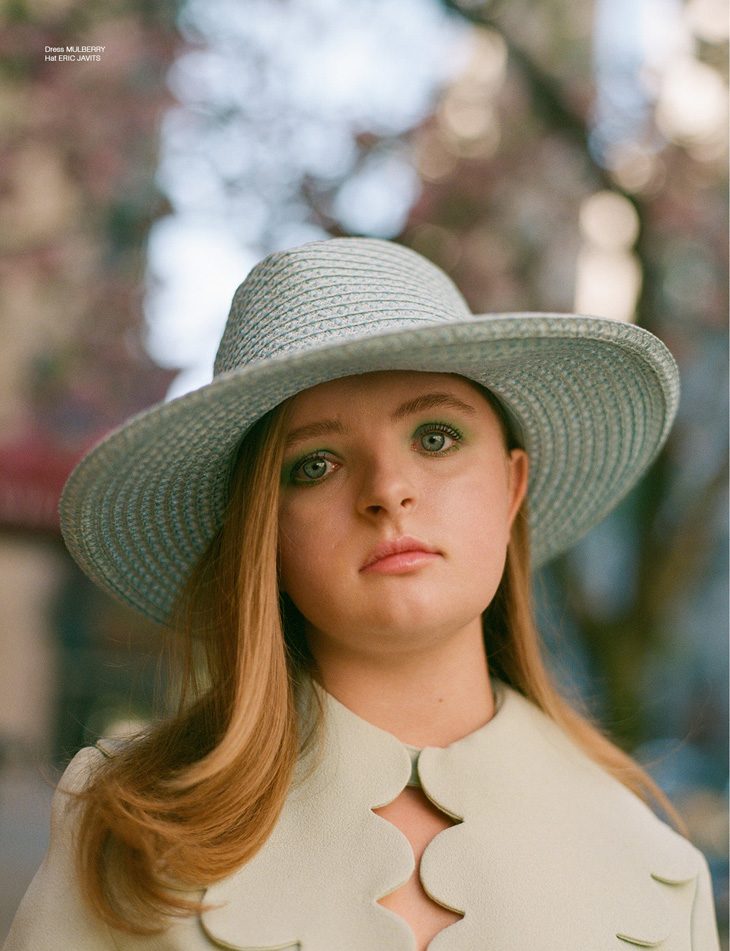 You seem very at home in NYC. Do you consider yourself a New Yorker and what does that mean to you? What is your most treasured memory from the city and your favorite spot?
I do consider myself an adopted New Yorker, as I'm not originally from here but I feel like most people that do feel at home here are from other places. It truly is a melting pot! I feel like a New Yorker is someone who tries to achieve their dreams and they are always on the go. I think my most treasured memory from the city is when I went to ComiCon. I got to meet so many different people who were into so many different things. I felt like I could connect with them because we had so many shared interests and it was such a New York moment. My favorite place in New York is probably Alice's Tea Cup. I love the mismatched decor and general vibe of the place and, of course, the tea.
What is the next big goal you have set for yourself?
The next big goal that I have set for myself is to work on the things that I am passionate about besides acting. I don't want to put myself in a box and I want to try other things. I want to try writing, designing, songwriting, and so much more. I am always wanting to try new things and I want to let myself do that.
Interview by Marko Jovanov – @homo.wan.kenobi
Keep up with Milly on Instagram @millyshapiro
Photographer EMILY SOTO www.emilysoto.com
Stylist RACHEL GILMAN – rachelgilman.com
Talent MILLY SHAPIRO
Makeup Artist AYAMI NISHIMURA
Hair Stylist EVANIE FRAUSTO
Manicurist YURI OSUKA
Production AREA 1202
Fashion Assistant JUAN ZENON
Special thank you Albright Fashion Library
GET YOUR COPY IN PRINT $26.60 AND DIGITAL 4.90