For Spring Summer 2020, Karl Lagerfeld takes his inspiration from Bauhaus style. Therefore the collection is returning to the classics in shapes, silhouettes and colours. This time period, that was one of his favourite ones, is celebrating its 100th anniversary. Thus, the whole collection can be understood as an ode to celebrate this era and artistic movement. While Bauhaus originally had a preference for architecture, the school expanded their interests in fine art, industrial design, textiles, theater, science and culture. But now let us have a closer look at the features that are significant for this line:
Urban Cycle
This capsule takes its inspiration from road cycling and the gear worn by athletes. The creations of this collection, that are seamless and high- function, can be worn as workout clothes. They can, of course, be also mixed and matched into city- chic outfits. The accessoires are the perfect addition for anyone living an active lifestyle, they contain a triangular purse and a flat backpack. Moreover a weekender made of silver nylon, a pink nylon bumpbag plus a phone holder are stylish yet practical, with just the right amount of each. Interesting fact: the designs are produced with the same technique that is used to create performance athletic wear.
Square + Blue
Patterns and typography, that were an important feature of Bauhaus style, are transformed into KARL LAGERFELD logos. Strong cuts and distinct shoulders play a central role. Key pieces include a parka, that is provided with a Bauhaus- inspired graphic on its back, plus a mac coat with a Bauhaus- pattern on its bottom part. Graphic elements are repeatedly used in many pieces of this collection.
Circle + Red
If you have a closer look at these creations, you will recognize the circle element in various details. What stays in mind are some statement pieces, such as a color block skirt with a significant KARL logo. Then a bouclé houndstooth blazer is introduced that can be bought in red, yellow and blue. Additionally, a silk blouse and trousers with photo- printed bouclé patterns play a central role. The black colour palette is eased by red and khaki hues. Apart of that, colour blocking must not be missing in this line. There are also two double- breasted blazers, that are made of Italian satin crepe, that contain the "kameo" print of Karl Lagerfeld's profile. For both of them, matching trousers are available.
Triangle + Yellow
The vibrant silk dresses and skirts in A- lines take their inspiration from the triangular influence. The colour choice is a very summery, refreshing one that contains of yellow, white and metallic silver. A tailored blazer appears in a lightweight and airy aesthetics. The triacetant fabric on its front, combined with silk georgette on its back, contributes to that approach. Primary colours and shapes are vividly mixed and matched. In addition to that, graphics radiate Bauhaus flair to KARL LAGERFELD logos.
Accessories
The accessories round off the typical KARL LAGERFELD looks. Bauhaus- inspired bags include a zipped pouch, a shoulder pouch, plus a wristlet. The favourite K/ Signature range features two new additions. The K/ Slash contains a top- handle bag, a clutch with a removable strap or a crossbody style. The statement K/ Seven contains two new silhouettes. The K/ Icon Range introduces three new styles: a shoulderbag, a backpack and a large top handle bag.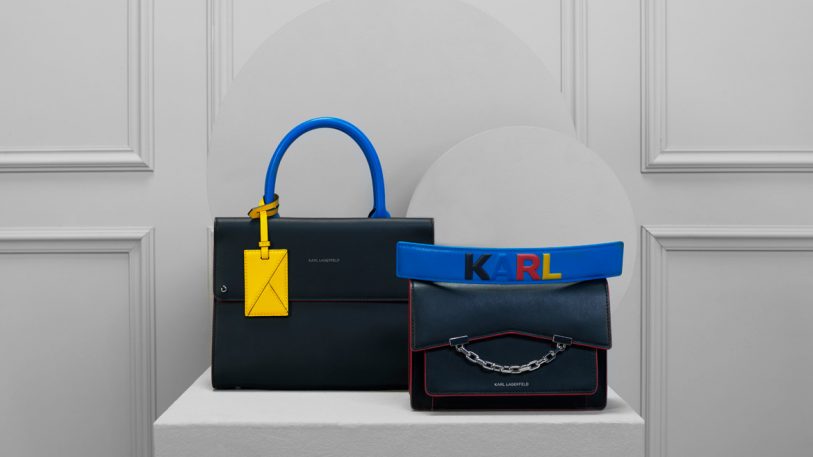 Photographer: © Mick De Lint / Courtesy of © Karl Lagerfeld
Review by Sussan Zeck for D'SCENE Magazine