Discover DIOR HOMME's Fall Winter 2020.21 collection that celebrates brand's timeless elegance and pays tribute to the legendary British stylist Judy Blame, presented on Friday, January 17th, during the recently finished Paris Fashion Week.
Continue for more images and review by Fashion Director Katarina Djoric:
As told by Dior's global PR team the latest collection by Mr Kim Jones at Dior is a mix of past, present, and couture. Dior Men's Fall winter 2020.21 collection presented in Paris during the Paris Fashion Week if moved only a few days could as well take part in couture shows enfolding this week. While runways are certainly predicting a luxurious twist for menswear, Mr Kim Jones brings the true sentiment of couture to the pieces sent down the slick Parisian runway.
Jones while bringing his own signature masterfully adds key menswear moments from Dior archives. With a mix of haute couture the new collection is also a tribute to Judy Blame. The message behind the collection serves as a true catalyst to kick-start the final farewell to athleisure. Even the slightest hint of the dominating sportswear influence was banished to make space for Dior Men's unique flare for tailoring. While present, sport accessories in the collection are only used to emphasise the slick yet architectural lines of the garments.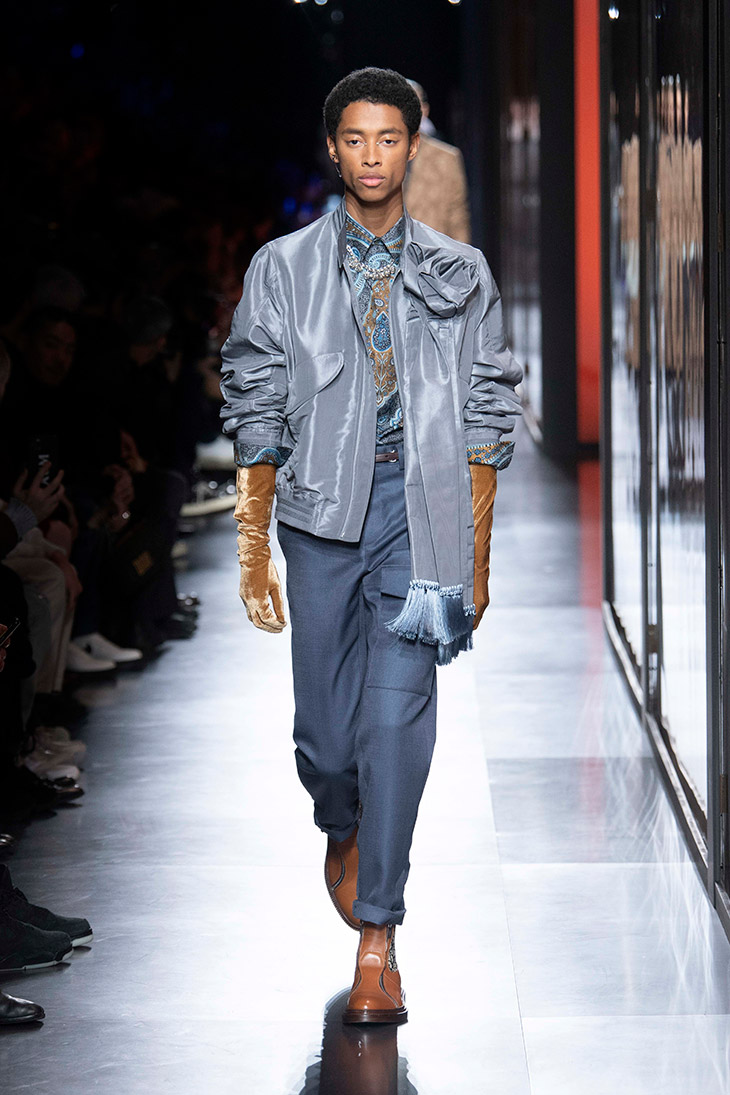 The true accessory of the season becomes the safety pin piercing through the iconic Dior Logo. The safety pin itself is set to remind us of Judy Blame's punk attitude.
There were great suits, and lots of them reminding us of Dior's inspiring heritage with their timeless silhouettes. The duality on offer here in Fall 2020.21 by Kim Jones oscillated between impeccably cut and finished tailoring that suggested in its precise, and opulent forms, a grown up who is no stranger to fine tailoring. Men clad in these runway looks are certainly not out of place on the streets of a particularly luxurious zip code. Adding up to the ritzy flare are the opera-like gloves complementing each of the looks.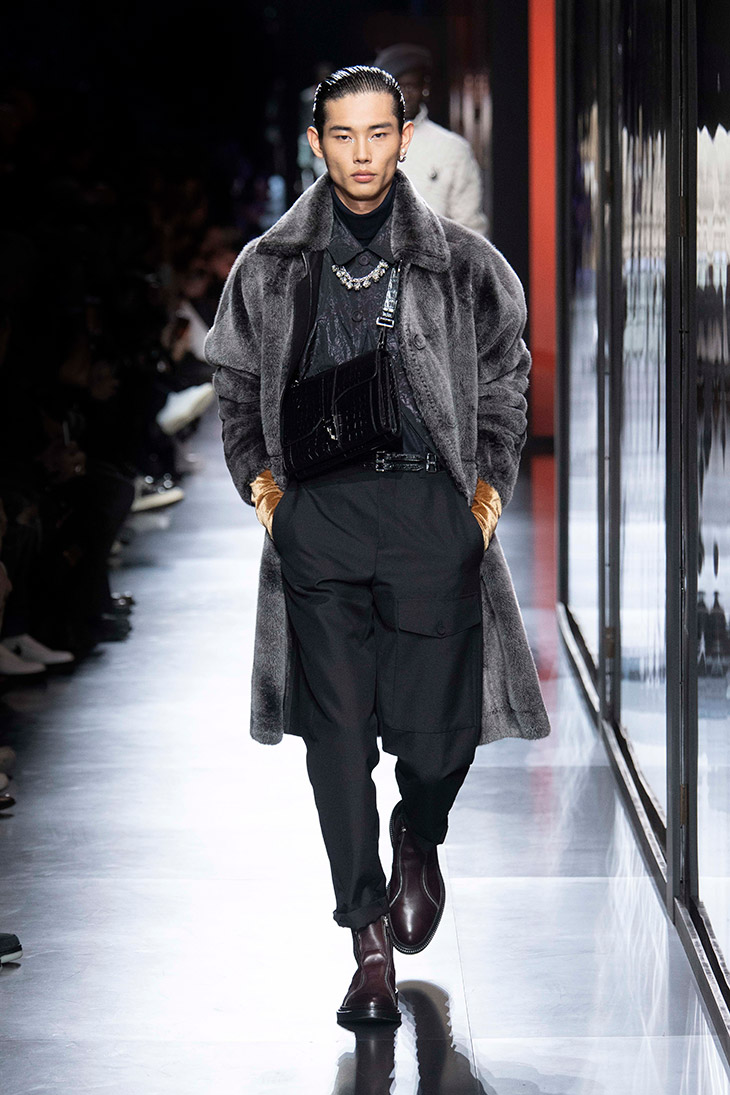 Kim Jones' show was a true curtain raiser of Paris Fashion Week with a slew of celebrities from iconic A-listers such as Kate Moss and the Beckhams to fashion's newly found muses such as Miss Fame and Detox (stars of Ru Paul's Drag Race) taking the front row spotlight. With Milan and London fashion week sadly in their twilight hours, thanks to runway events such as Dior and Louis Vuitton the city of lights is clearly a massive menswear draw season after season.
All in all, this collection mixed together in a way that both conveyed Kim Jones' trend shaping appeal and suggested a shifting in the winter winds of fashion industry's thinking. As of the next fall and winter a more elegant silhouette is certainly coming our way.
Scroll down for more of the collection: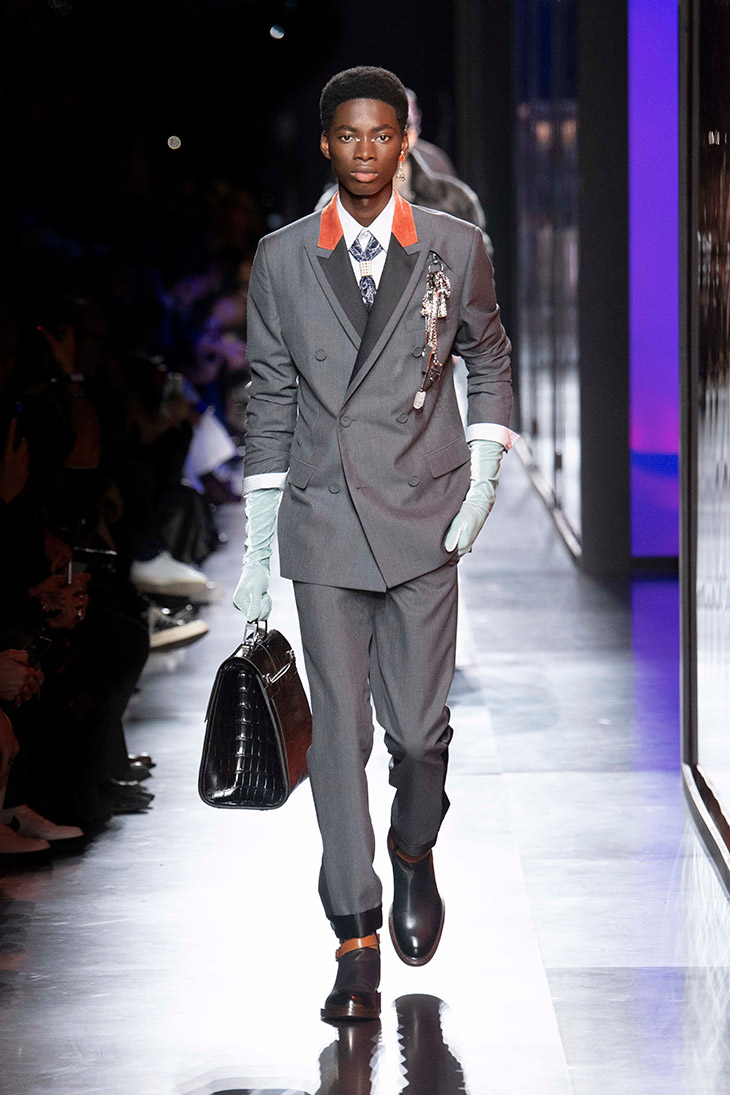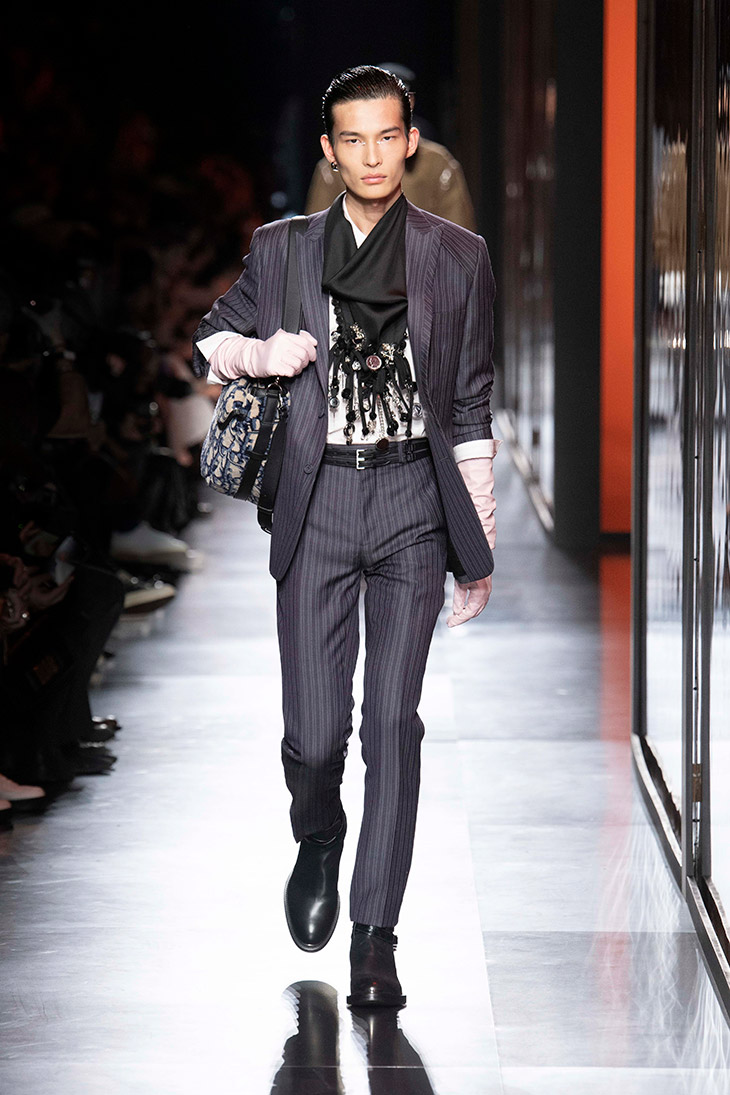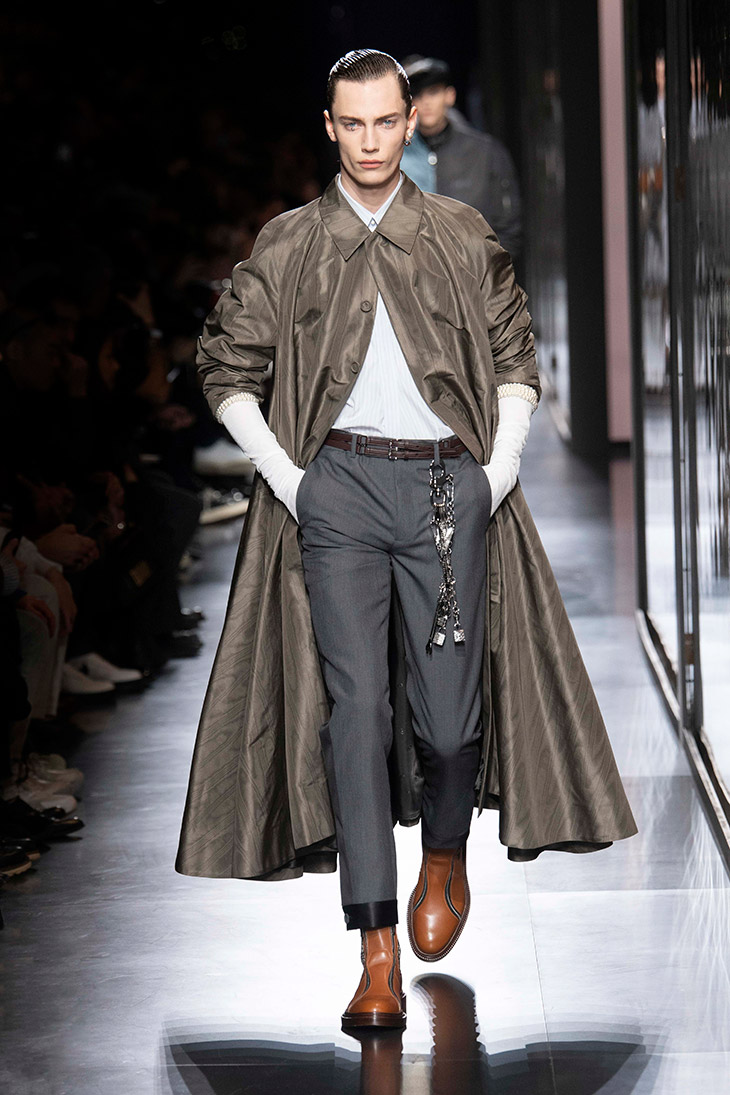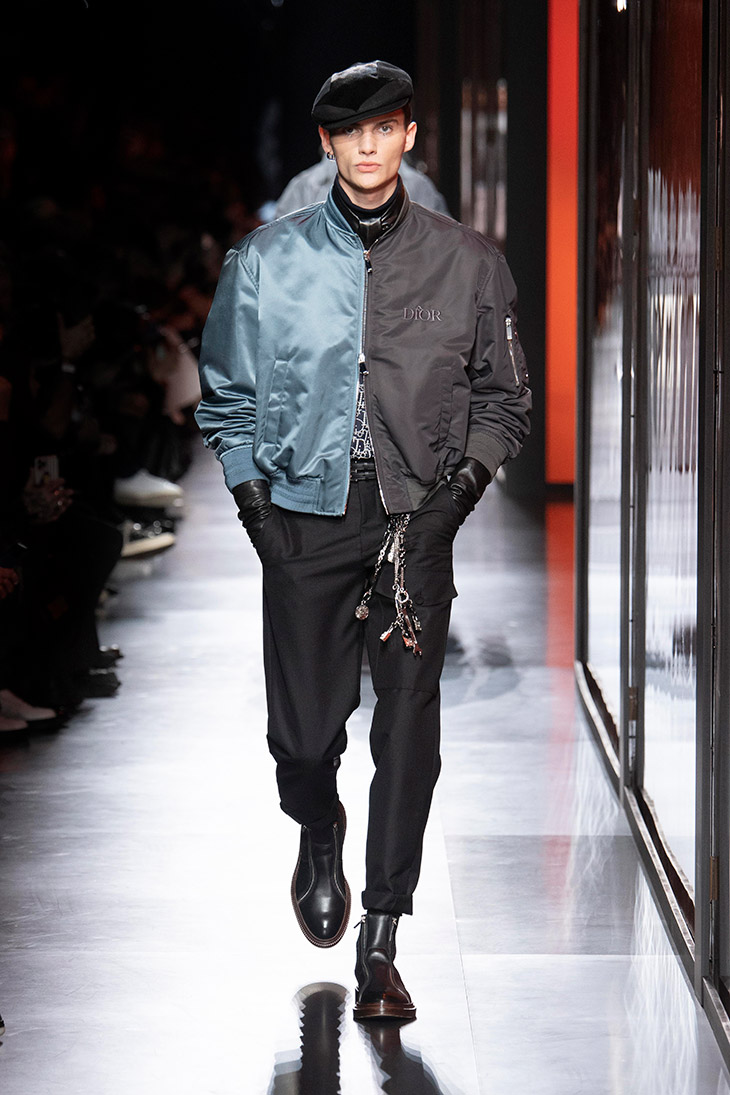 House codes, like reminiscences of haute couture, are embodied in the moiré effects of silk, embroideries, and the arabesque motifs and paisley patterns that make Dior's heritage so rich. Opera gloves complete each look and buttons covered in fabric – like those on the iconic Bar jacket – appear alongside a panorama of memories: shades of gray and blue, plays on volume, and pleats and draping that reference flou and tailoring techniques.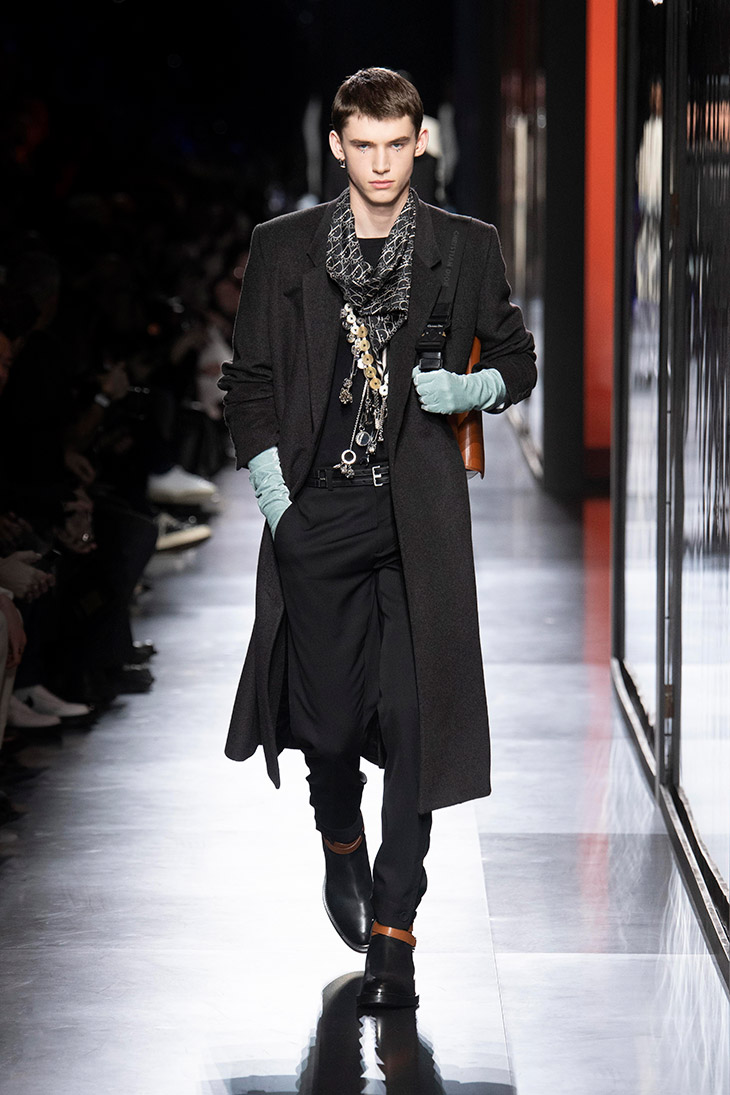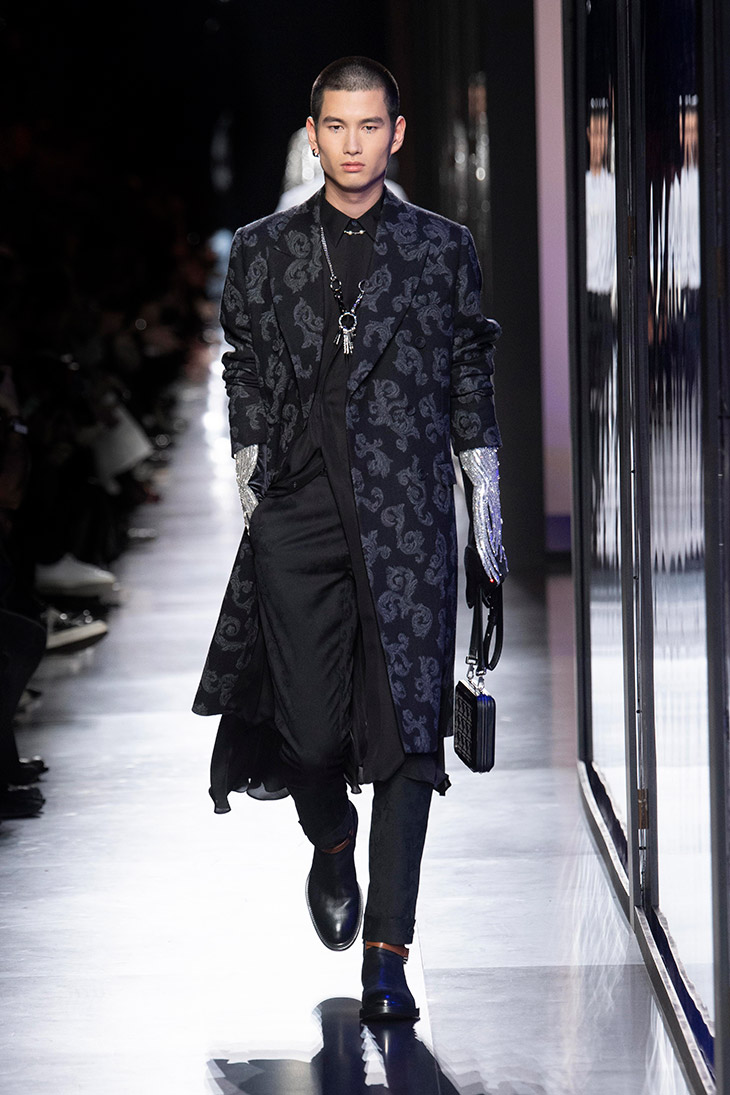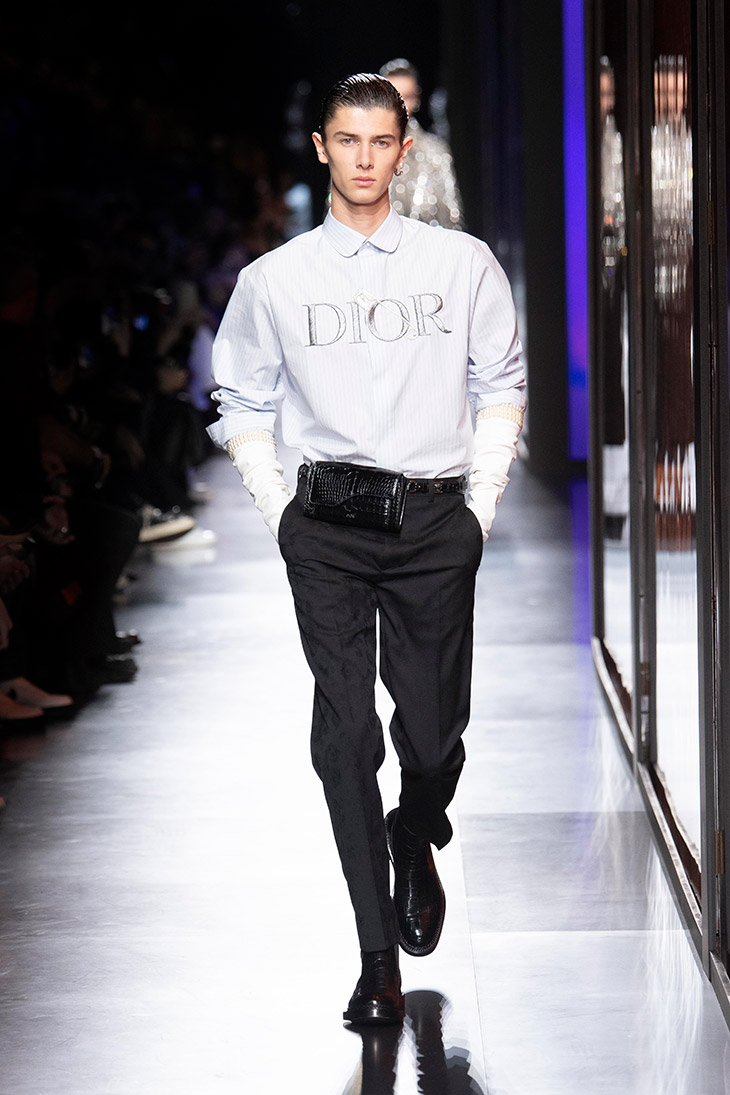 Accessories evoke the mid-20th century, a turning point in fashion history. Shoes have a classic allure, reflecting the exceptional leather craftsmanship that represents another aspect of Dior's heritage. The Saddle is revisited in new, ever more fluid forms as the Soft Saddle; bags recall graphic briefcases and camera bags. Crafted in polished calfskin, they come in a discreet palette of black, camel-vicuña and navy blue, and feature the signature Dior Oblique motif enhanced with beading or in a handmade tapestry version."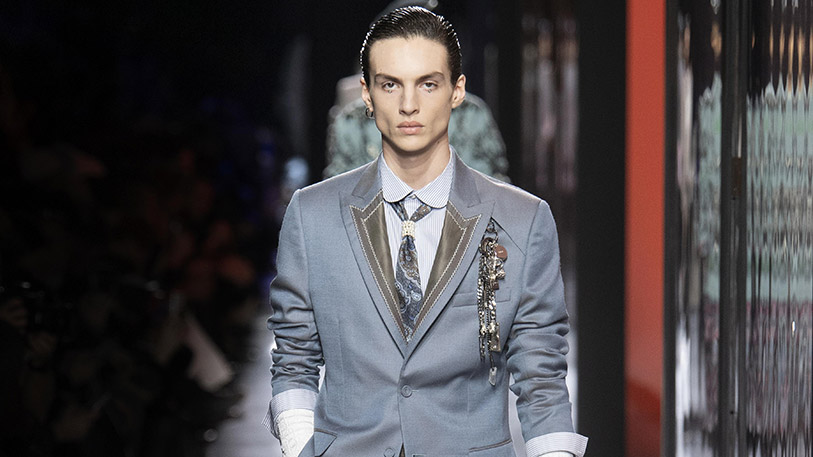 Production & Direction Villa Eugénie
Music Honey Dijon
Styling Melanie Ward
Casting Shelley Durkan
Make-Up Peter Philips For Dior
Hair Guido Palau
Hats Stephen Jones
Costume Jewelry Yoon Ahn, Matthew Williams
Video Tender Night
A special thanks to Trust Judy Blame
A warm thanks to the ateliers and the suppliers of the house
COURTESY OF © DIOR