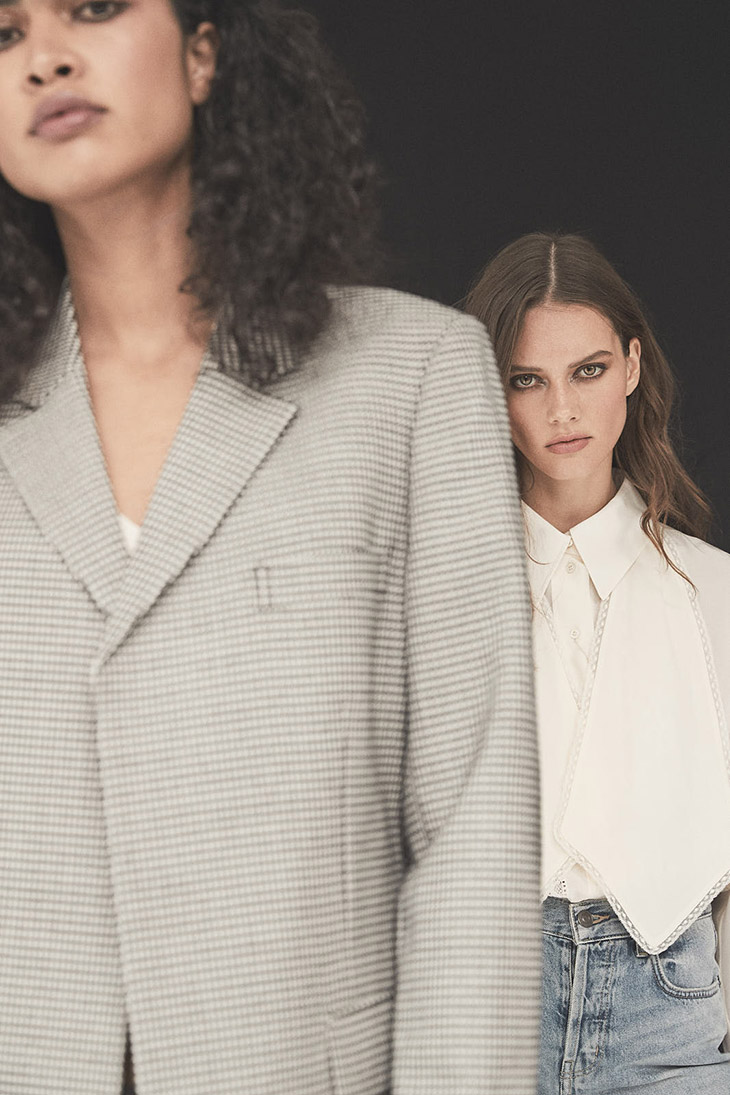 The key to building an environmentally conscious wardrobe lies in investing in classic pieces that are made to last and that will stay in fashion for years to come. The kinds of pieces that will go with almost anything in your wardrobe, and compliment every trendy new piece you buy.
RELATED: SHOPPING
Our Fashion Director Katarina Djoric shares the wardrobe essentials she believes everyone needs. From good pair of jeans to a statement bag, Katarina's top five are filled with the timeless staples you'll be able to wear for years to come.
We earn a commission when you follow the link to make a purchase. Click here to learn more about how we make money.
See top 5 wardrobe staples selected by our Fashion Director below:
1. A GOOD PAIR OF JEANS
Every woman should have a good pair of comfortable denim. I suggest the relaxed silhouettes and straight cuts as they look great both with heels or flats. Add a t-shirt, jacket and sandals to produce a directional off-duty look.
Feel comfy in Versace's stretch skinny jeans, or make a statement in Gucci's My body my choice straight leg denim. The one thing is sure, you will look effortlessly cool in these staple pieces that you will wear season after season.
STYLING TIP: Tuck your straight leg jeans into a pair of boots to exaggerate the baggy silhouette.
2. A STATEMENT BLAZER
A good statement blazer is the best way to level up your everyday look. You can style it with slouchy boots or a simple pair of jeans for an outfit that works everywhere from the office to the party. You can also wear your blazer as a lightweight jacket for spring and fall.
From menswear-inspired tailoring, to bright colors, I selected my favorite blazers from the latest collections from the likes of Tibi, Givenchy, Off-White, Maison Margiela, Frame and Valentino.
STYLING TIP: Wear your blazer with a printed top and the matching shorts for optimum impact or style it with a roll-neck top for a 1970s-inspired take on suiting.
3. WHITE SHIRT
No wardrobe is complete without the classic white shirt. One of the most versatile pieces you can own, this wardrobe staple can be styled down for day, up for night, and a million of diferent ways in between.
When planning a fire outfit, white shirt is great starting point. All you need is a little creativity and some good accessories. From wearing it with a suit to layering over a swimwear or even a cycling shorts, there are so many different ways to style it.
STYLING TIP: Style the oversized shirt over the crop top and and pair it with high waisted trousers – you can't go unnoticed.
4. TIMELESS TRENCH
A true classic, the trench coat has an intriguing history spanning two world wars, yet it remains a key item for stylish woman of today. Thanks to its ageless, seasonless and genderless track record, a good trench coat should last for life.
Thanks to its sleek silhouette and lightweight fabric, trench is a perfect accompaniment to everything from tailored suiting to slip dresses and hoodies,
STYLING TIP: Combine complementing shades – tones of ivory, caramel and blush, that will blend beautifully with a traditional tan trench. Don't forget to add some texture: chunky knits, leather pants and accessories.
5. STATEMENT BAG
The handbag is a reliable fashion accessory to complete any look, as it adds its own personality to any outfit.  A good bag can be an investment, it can tie together an outfit and make you stand out from a crowd.
From totes to mini handbags, I selected my top 6 bags from the latest collections from the likes of Saint Laurent, Maison Margiela, Jacquemus, Loewe, Prada and Off-White. They all come in different shapes and sizes so choose a bag that best suits your needs.
STYLING TIP: Neutral colours like black, navy or beige are always a safe choice, but bright, colourful bag will kick your outfit up a couple notches