Maria Grazia Chiuri has selected the Piazza del Duomo in Lecce for the location of the audience-free presentation of the Dior Cruise 2021 collection. Over 2000 years old, this historical city, with its elaborately carved Baroque facades in pale limestone, is one of the most beautiful in Puglia, the region that inspired the collection.
Spanning fashion, traditional craftsmanship and committed contemporary art, a spellbinding scenography was illuminated by the mesmerizing glimmer of Luminarie, fanciful traditional light installations reinterpreted here by talian visual artist Marinella Senatore, in collaboration with the ateliers of Fratelli Parisi.
The House of Fratelli Parisi was born from the skilled hands of a craftsman Mr. Sabino Parisi in 1876, and since then they are illuminating the local streets and palaces for the feast of patron saints and other celebrations.
Faithful to the tradition of the Luminarie, their creations are part of the city's charm, creating the moments of togetherness and sharing.
Luminarie were an expression of images depicting monuments, portals, arches of different kind and styles. They are a continuation of a tradition since the eighteenth century of arches with glass oil that lit the joyful streets and squares during the religious and civil rites.
Artists, carpenters and electricians bring together their talents to produce the wooden and metal structures covered in bulbs. They do everything themselves: from inventing the shapes to building the wooden frames, to placing the bulbs of different intensity and power, to assembling and disassembling a decoration.
After four generations Sabino Parisi's descendants are still intent on seeking the perfection of lights and colors, which unfortunately they'II never reach because light and illuminations are like the waves, always moving.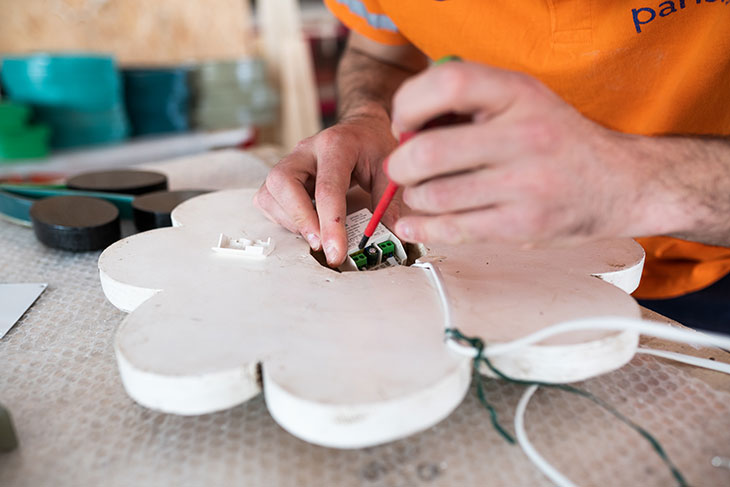 In these uncertain times, Dior brings together artisans and artists, making them the soul and inspiration of the collection.
These designers and "light stylists" dream up virtuoso shapes and graphics, creating  striking effects of movement. Transposed onto the collection's looks through delicate prints and embroideries, these motifs pay homage to the beauty and power of this fascinating region's traditions.