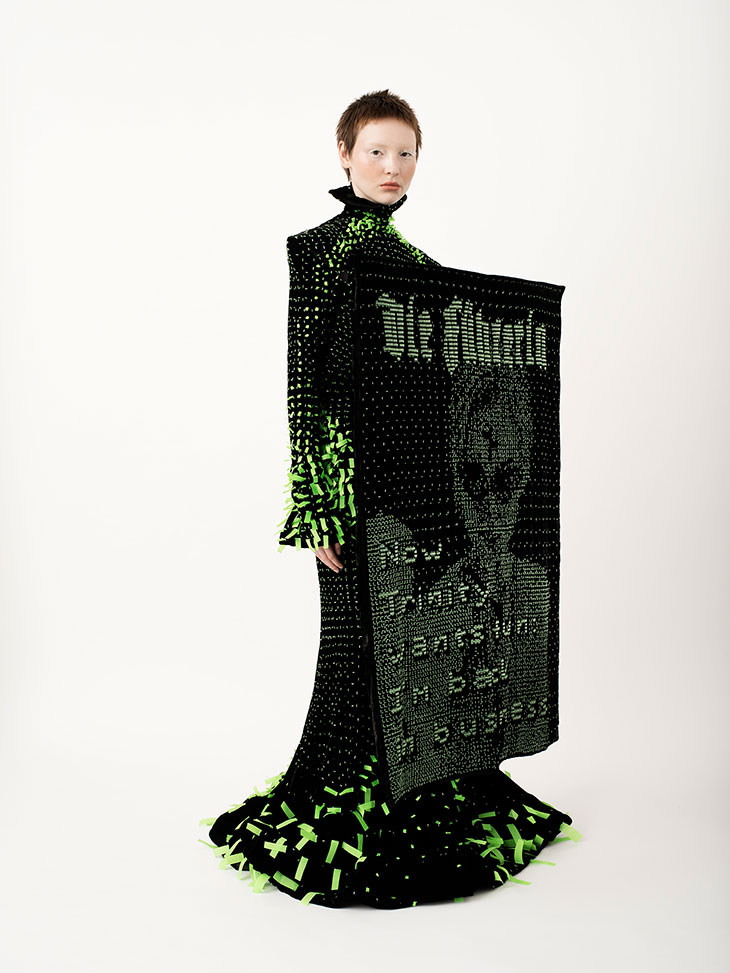 Austrian fashion designer Flora Miranda sits down with our fashion director Katarina Djoric to talk about her new collection Time To Tech Up, designing and producing the collection during the pandemic, a new digital format and plans for the future.
Read the interview after the jump: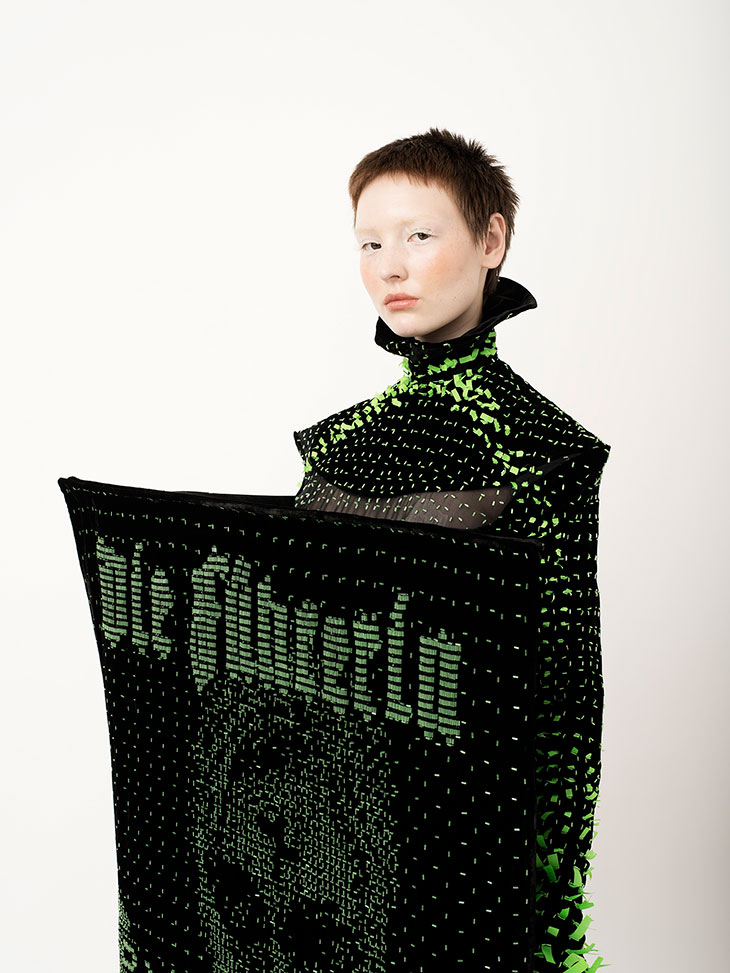 Let's start with your new collection, is there a message you want to relay?
The dress is an observation of power. I have been thinking and reading a lot about power in the past year. I created the 'Fake News' artworks since October 2019: These newspaper covers tell us about the latest executive news. Women make the headlines, with click bait slogans taken from programming language. Giving an image of a near future, where women are entangled with technology and are in power positions because of that.
Look at the world. It has been clear before, and with the pandemic it became crystal clear: Technology companies own it. I have been looking at statistics about the future of work, where it shows that we all have to tech up – if women want to break the glass ceiling and if men want to keep their jobs.
I want to 'make nerd cool'.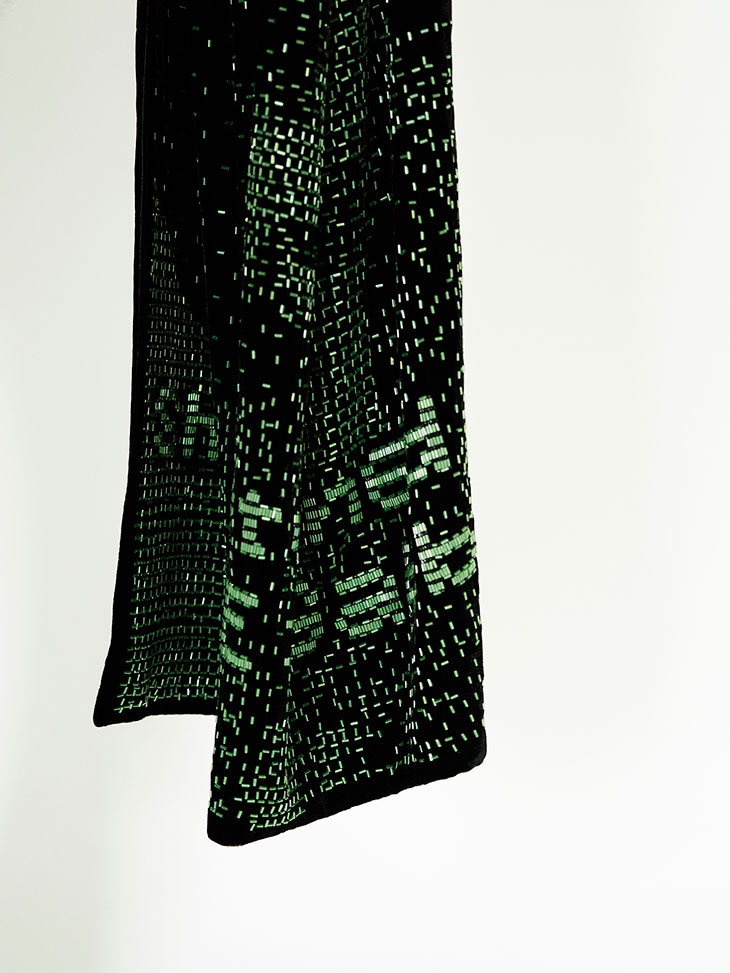 The collection explores the place of women in our ever-changing world. Could you tell me more about it?
I am a woman, and I have been interested in leadership for a long time. In all my jobs I attentively observed the dynamics that come from different leaders. Having my own company confronts me with so many more questions about this topic. What are my values? When am I acting and communicating in such a way that my visions are supported by others? Of course the answers will differ from person to person, but also it is proven that women need to develop a different formula than men. Such as fine tuning things like being nice versus kind, being a tyrant versus a visionary.
Simultaneous to the positive impact a leader can make, there is the constant danger to abuse power, control, dictate, force people into something.
Because – there comes a great responsibility with the power that a leader has, and I think above all it is about how we work with people, and what kind of actions we set. Simultaneous to the positive impact a leader can make, there is the constant danger to abuse power, control, dictate, force people into something. Where are these limits? And I see how we all tend to be suspicious if a certain person or company becomes very powerful. When a lack of transparency is a sign for power abuse.
If we want technology to thrive, to have a positive impact and to be welcomed by people, I think it is so important to clear out the values our society today asks for.
I think diversity is one of these values. A #thefutureisfemale mindset across gender, race and age, where kindness and truthfulness rule.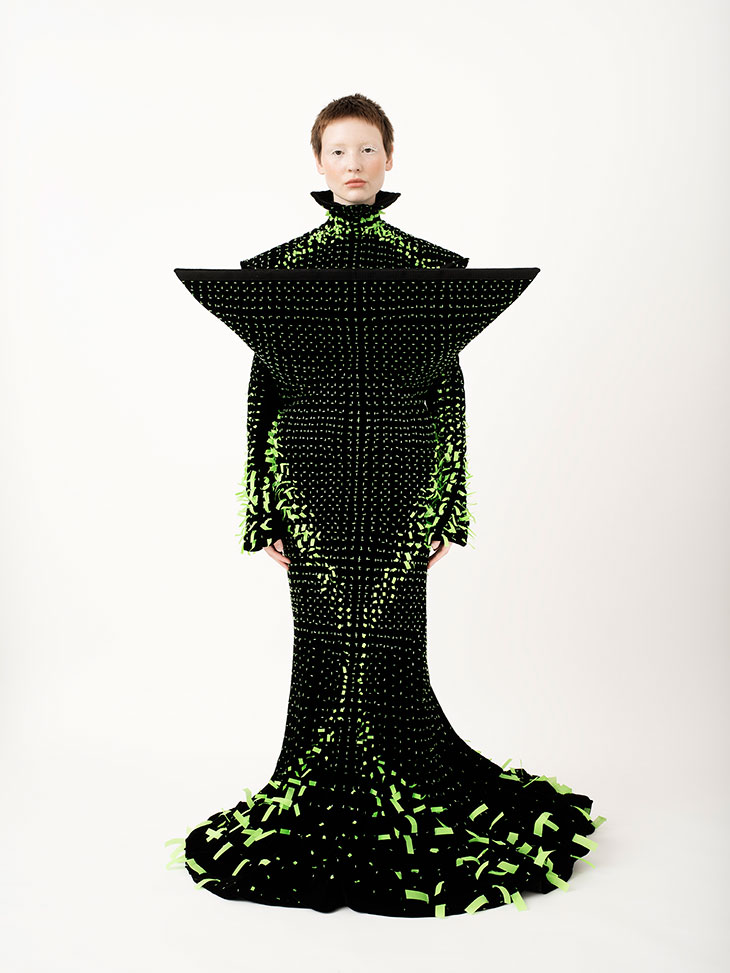 Let's talk about the new digital format. How did you feel about showcasing your collection online?
The pandemic confronts each of us to think digital now. This confrontation alone must have an impact on the attitude and knowledge of our society – I find that really exciting!
Until now, it has been a conscious decision for me to hold fashion shows. I believe that especially in a digitally driven time, the live show is essential. Like a music concert, this physical experience where mistakes can happen as much as magical moments. A fashion movie – like a music clip – serve a different purpose, maybe? I am not sure. Shows are somewhat more intense to handle, more stressful. A movie gives us more control over the final outcome, though. I could say, fashion shows are more personal, we can talk to the audience – that is possible online too, though… as you can see, I am still wondering. I am curious about VR experiences, I'd be excited to work in such format. An interactive form of presentation, where – like in a live show – the audience can be more actively involved.
I will just go with the flow and create in the formats that make sense in a certain moment. If in one year I think a live show still does my work the highest favour, that is what I will do.
What I experienced in various online formats so far thought is that we have to all learn how to do the online experience on a higher quality level. We are obviously all on a learning curve. I am not more clever about this than you are, I will just go with the flow and create in the formats that make sense in a certain moment. If in one year I think a live show still does my work the highest favour, that is what I will do. If I get the opportunity to create VR shows I will grab that chance.
The pandemic forced us to completely change our lifestyles. Do you feel that this has forced us to reconnect to our inner selves?
I hope that we are always connected to ourselves. Personally, I was in the studio alone for more than a month. My attention was not triggered as much by the outside as usual, so I definitely paid more attention to my 'inner self'. Creativity is the number one product of my brain and will take up any freed up space! All the hours that I usually spend on checking train connections were now filled with new ideas. I was drawing and singing more than usual. And I quite like being alone, doing one thing at a time, being just with my thoughts. However, I also quickly noticed that being in exchange with other people gives me just the right amount of sanity and balance of dream and action. Together we are strong and make things happen. Alone, we are stuck in a self absorbed dream world.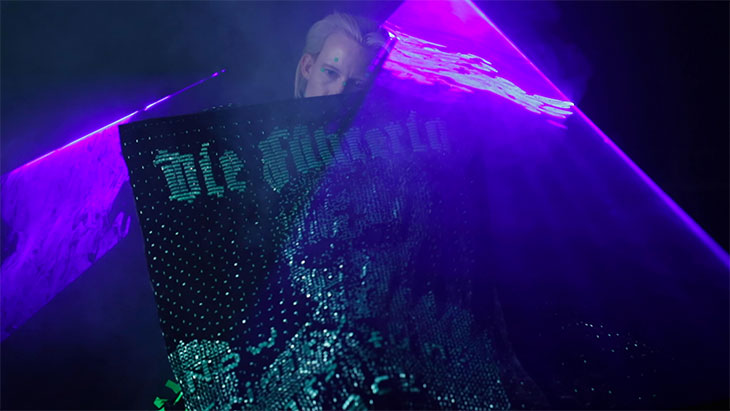 Could you describe your design and production process during the pandemic?
The decision to create the 'Time To Tech Up' dress was made when the news came out that the Couture week will happen online. As I said before, I created the designs for the newspaper panels already in 2019, and now integrated them into the design of this dress.
From the beginning of creating the layouts, I had in mind that the visual system will be released from glass beads. So the system of these layouts is proportionally made exactly to that scale. Each green shape has the size of a glass bead in the vector drawing.
These beads are hand embroidered on black velvet with mathematical precision. The green/black pattern looks like a 80s computer screen, in ASCII code aesthetics. Just because of the graphical pattern and color choice, one might think that these tiny elements are emitting light.
To give it an elegant appeal, I designed a typical couture gown with a mermaid silhouette accordingly. The panels are attached on the front, onto a sculptural shape that flows with the overall proportion. Like this, the text on the panels is readable, and the fabric moves elegantly, like a veil, when the wearer turns and walks.
We are dazzled by something so traditionally beautiful while being infused 'nerd aesthetics'. I aimed for that contradiction.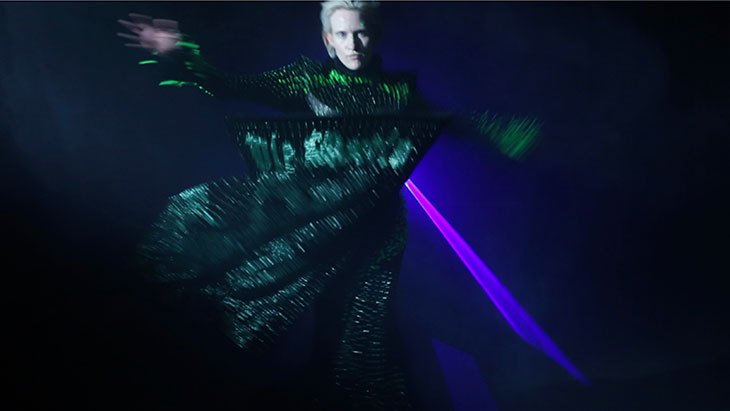 Tell us about the collection's materials and the craftsmen you work with.
I have built the dress in a very classical manner, starting from a corsage upon which I built the sculptural shape from thermoplastic. The dress is overall tailored from black silk velvet and manually embroidered with green glass beads, following the computed system.
The last 3 weeks of the dress making I did have help from two interns who were then again able to be in the studio in Antwerp, to assist with the embroidery of the dress. And the 'fake news' panels themselves I let being embroidered in India. This was the first time that I work with a company out of Europe, and they did wonderful work. Together, we spent 650 hours of handwork on this dress, filling in the systematic buildup with the green glass beads.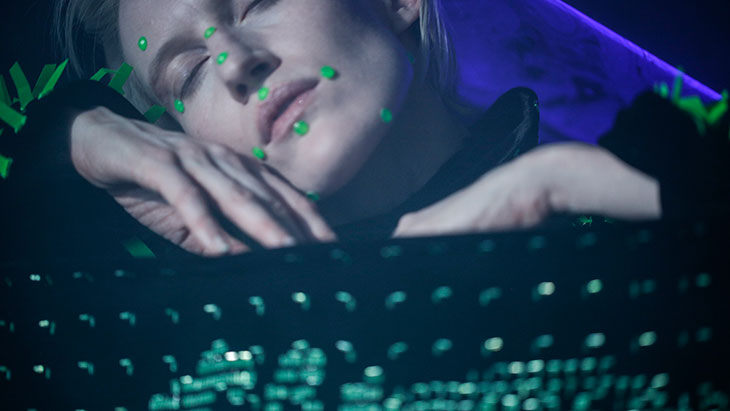 Lastly, what are your plans for after this Covid-19 pandemic.
There are a few long term projects, such as the development of an AI design system, the establishment of the "IT Pieces" (itpieces.floramiranda.com) line as well as many creative explorations that must be done. My overall interests will not turn 180° because of the global crisis. I will simply find different ways and applications to release these projects.
Keep up with Flora Miranda on Instagram – @floramirandaofficial