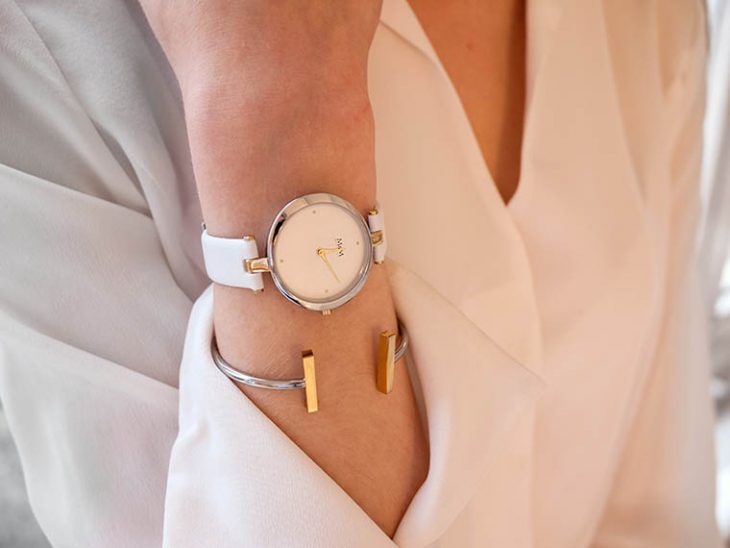 Without even having to explain it, we all have a clear idea of what it means to look expensive. It involves dressing in luxury brands and curating an aesthetic that screams polished, sophisticated, and one-of-a-kind. These days, it also means infusing a little bit of flash and originality into your appearance. Think: Billie Eilish, Lupita Nyong'O, or Zoë Kravitz. Luckily, it doesn't take a whole new wardrobe to pull together a luxe look. A few statement pieces are all you need to design a vibe that pops.
Right on Time: A Luxury Watch –Nothing says high-end glam quite like women's luxury watches. The timepiece you wear should provide a glimpse into the kind of dresser you are. For a symbol of classic, sophisticated luxury, you might consider a diamond-studded Rolex Lady-Datejust. If you consider yourself more of a modern style-lover with minimal regard for the stuffy world of old Swiss watchmaking, you can't go wrong with a freshly bedazzled Hublot.
Branded Bonanza: A High-End Belt – The Gucci belt is one of those long-held symbols of high style that will probably fall in and out of fashion for the rest of time. Rocked by all the best-dressed celebs—including Kendall Jenner, Kourtney Kardashian, Vanessa Hudgens, Mary J. Blige, and Chrissy Teigen—this is one iconic accessory that will make even the most basic and tossed-together outfits look expensive and polished. The interlocking G belt should be considered an investment, though, since it'll set you back around $500 brand-new. Other high-end belts to consider include the famous buckle-branded styles by YSL, Louis Vuitton, and Burberry.

Image from DESIGN SCENE MAGAZINE INTERVIEW with MAJA SALAMON – See the full story here
Long and Luxurious: Floor-Length Jackets – What is it about a floor-length jacket or sweater that just screams fancy-glam? Pick out a gorgeous duster in a super-luxe fabric—cashmere, silk, alpaca wool!—for an exceptionally opulent look that's also as comfy and chic as it gets. This look will make you want to pour a martini and float around your living room, and we don't blame you.
Outfit Makers: Designer Shoes – Designer shoes are similar to luxury watches in that they are instantly recognizable among fellow collectors or enthusiasts. This means people often know that they're expensive, exclusive, or otherwise highly coveted, even from just a quick glance. Some examples of iconic designer shoes include the famously red-soled Christian Louboutin pumps and the iconic ultra-pointy Jimmy Choos with a sky-high spike heel.
Bling Bling: A Big Rock – Diamonds are the O.G. indicator of money, and we don't see them going out of style anytime soon. Whether you rock a massive solitaire on your finger or prefer to bedazzle your sunglasses, watches, and bracelets with a little multifaceted sparkle, as long as you're dripping in diamonds, you're going to look expensive.
Soft and Sweet: A Silk Scarf –This is where your vintage sensibilities should come into play, because you can often find secondhand silk scarves at estate sales, thrift stores, and even antique shops. Look for gorgeous, elaborate patterns or iconic designer styles—the Versace Baroque Print and Burberry tartan come to mind—and find fun ways to incorporate them into your look. Sport your scarves around the neck, tied to your bag, or around your shoulders as a wrap.
Tailor-Made: A Pair of Custom Pants – Tailor-made pants aren't just for the guys! Ladies can create an über-polished style with a pair of perfectly tailored pants. This makes a huge impact with the popular ankle-length jeans and slacks we see all over the place these days. If possible, have all your pairs hemmed to your exact size so everything you wear looks effortlessly neat, even if it was just thrown together. By the same token, nothing looks as expensive as bespoke formalwear and workwear, so always make sure your dresses and skirts are properly altered to your body. You'll definitely look runway-ready!
Travel Chic: Designer Luggage – Designer luggage is one of the most classic ways to add a level of luxury to your jet-setting style, but it won't come cheap! A complete set of the world-famous Louis Vuitton patterned luxury will run you $10,000+, but it may be worth it if your goal is to look as expensive as possible with no corners cut. For an equally as luxurious option at a fraction of the cost, check out Rimowa luggage, known for their super-chic, futuristic designs featuring top-to-bottom grooves. You can get a set of Rimowa suitcases for around $5,000—a steal compared to the bank-breaking cases by LV!
Made in the Shade: Chic Sunglasses – Which sunglasses you choose should depend on the kind of aesthetic you aim to achieve. Are you into the mid-century glam of Palm Springs or the edgy look of 70s rockers? For the former, show off some large acetate frames with tinted lenses. For the latter, you can't go wrong with a pair of designer aviators.
Rainy-Day Chic: A Designer Umbrella – One of our favourite ways to emulate luxury is to look to high-end designers for everyday items, such as phone cases, keychains, dog collars, and especially umbrellas. From the $850 Burberry umbrella featuring an ostrich-skin-wrapped handle to luxury Italian maker Il Marchesato's silk and Swarovski crystal-adorned umbrella, you'd be surprised to discover how truly over-the-top some designer umbrellas can get. Gorgeous? Yes. Functional? We're not so sure. Whether you take them out in the rain and risk ruining them is totally up to you!
It's All About How You Wear It
At the end of the day, it doesn't matter if your most impactful statement pieces cost you $10 or $10,000—if they make you feel amazing and add that super-luxe feel to your ensemble, they're doing their job! Sometimes you want to find a vintage chain or a piece that complements your personality perfectly. Your most-complimented, most-expensive items aren't always the ones that make you feel your best, either. So just make sure what you throw on helps play to your radiance and boosts your self-esteem. The added confidence makes even the most mundane items look fabulous (and expensive)!