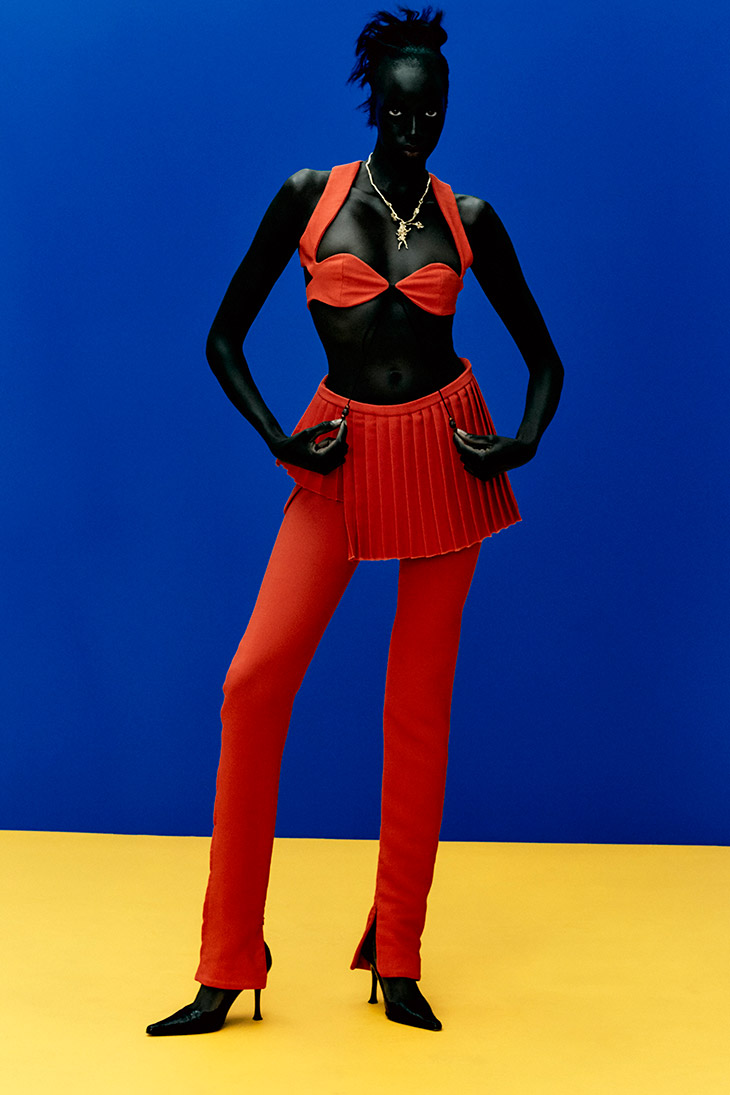 Fashion East celebrates their 20th anniversary since the first multi-designer talent showcase. Fashion brands MAXIMILIAN, GOOMHEO, NENSI DOJAKA, and SAUL NASH presented their Spring Summer 2021 collections as part of Fashion East project at the recently finished London Fashion Week.
Looking back over twenty years of helping London's best designers is wild! I'm incredibly grateful I've been able to do what I love doing best. I wouldn't change a thing. It is an honour to get to work with and present these four fabulous talents this season. I am in awe of their visions, creativity, optimism and the resilience they have shown throughout these difficult circumstances. – Lulu Kennedy, Founder
MAXIMILIAN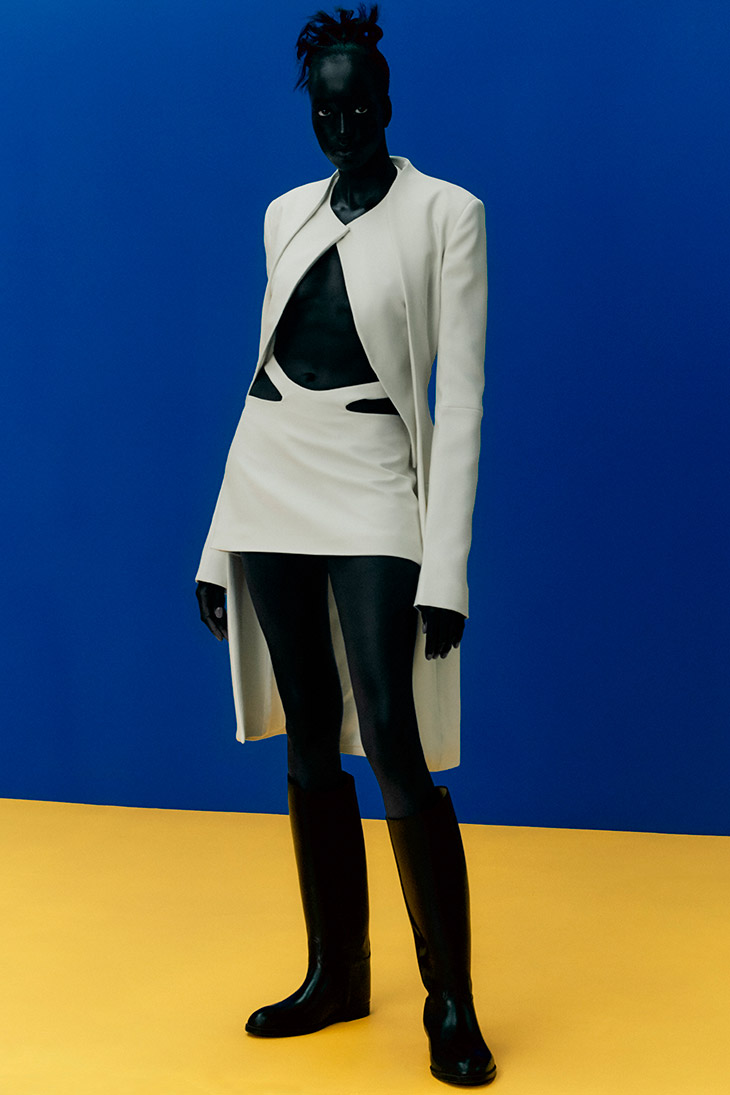 "At the core of the collection appears a reclamation of Black elegance expressed through gently oversized tuxedo tailoring, executed in fluid viscose and bonded crepe to reflect Trinidadian ease, and carefully constructed eveningwear made for movement. 'For a long time, Black people haven't been in charge of their own narrative, and I wanted to see them in a different, regal light,' explains Maximilian.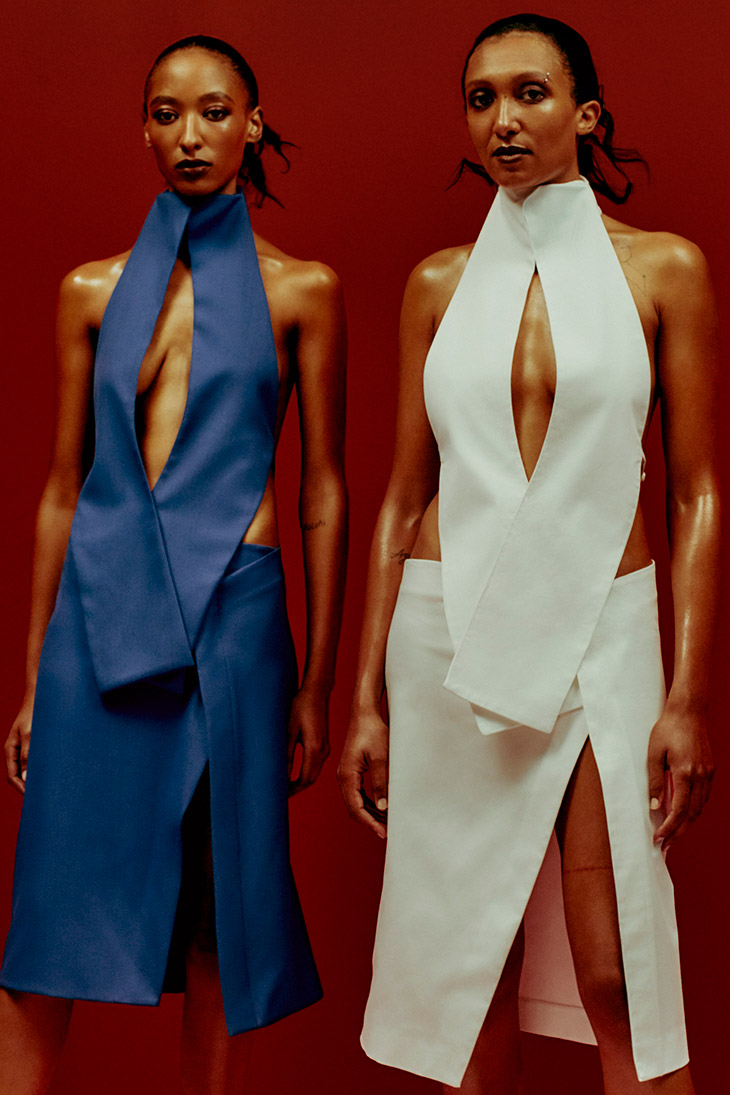 It is that sentiment definitively reflected within the collaboration with photographer Rafael Pavarotti and stylist Ibrahim Kamara, which presents Maximilian's distinct perspective on modern Black identity: one rooted in history but directing its own future." – Words by Olivia Singer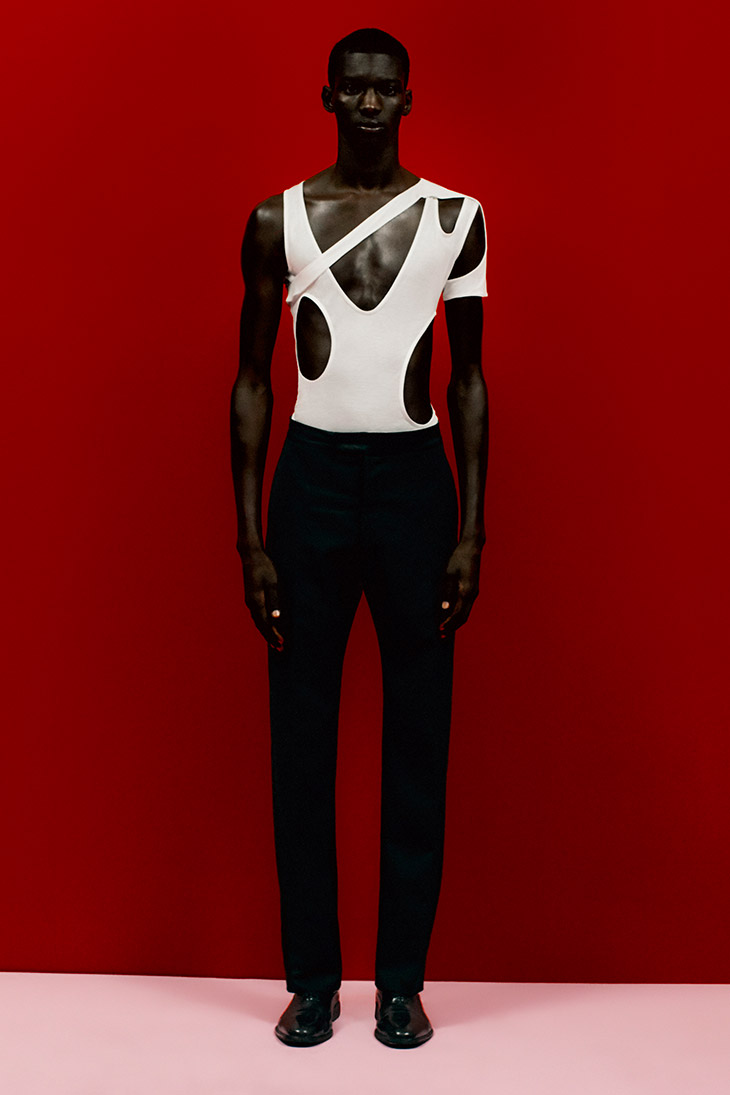 GOOMHEO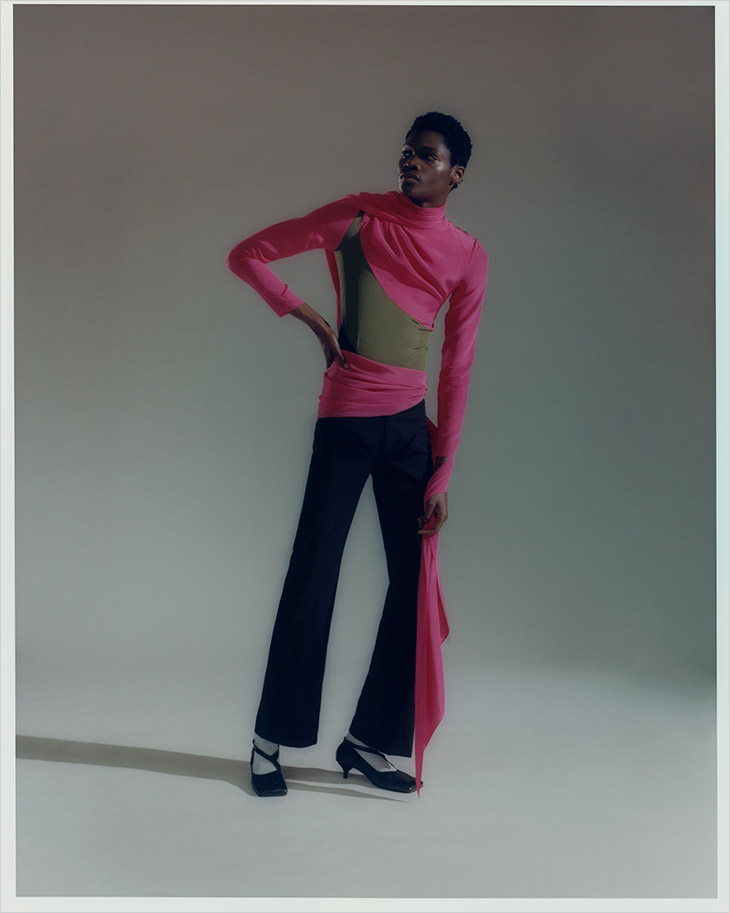 "It's all part of a careful game of hide-and-seek that the GOOMHEO guy wants to play this season — revealing and concealing his body as he likes, teasing the viewer's gaze. Slashes decorate a funnel neck top and trousers in coarse grey denim, while strips of upcycled sports jerseys are zipped together to create new patchwork textiles, referencing a technique that the designer first developed in her MA collection. Curtains of fringe, too, work to obscure your view.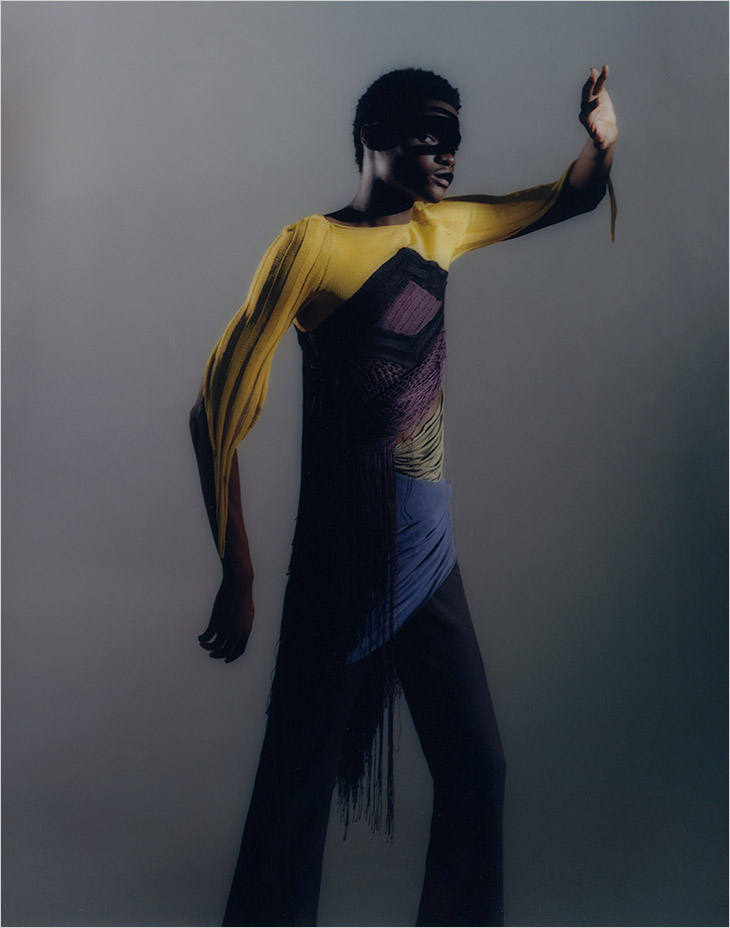 It's a collection that explores what it means to be watched, and how we respond to becoming the objects of an other's attention. This is perhaps most obviously pointed out by the eye motifs seen throughout, in murky prints or artfully scribbled embroideries. They're a reminder that, wherever you are, whatever you do, GOOM is watching you." – Words by Mahoro Seward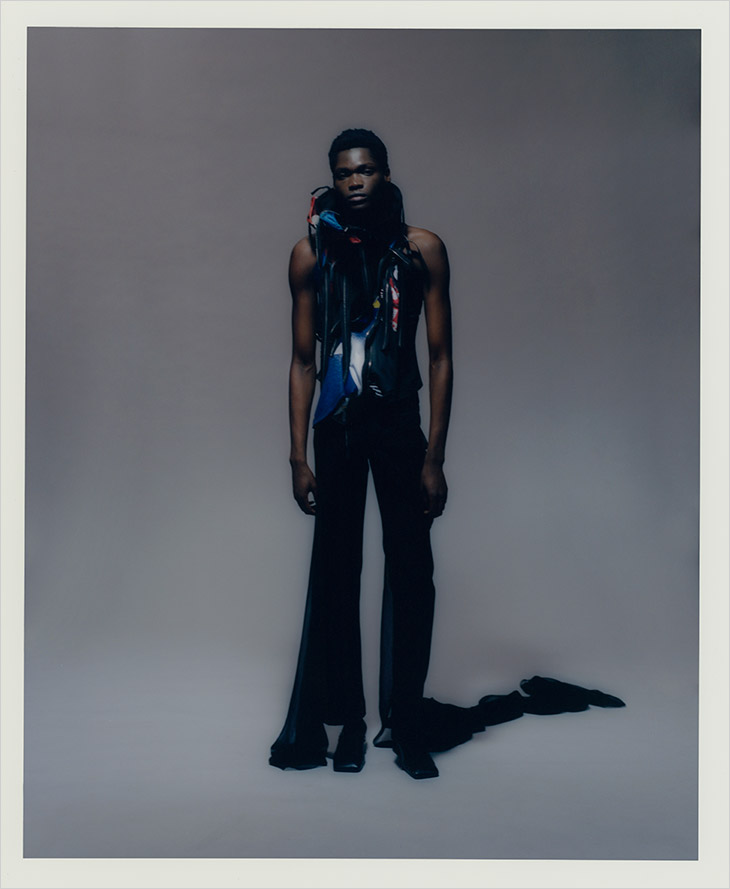 NENSI DOJAKA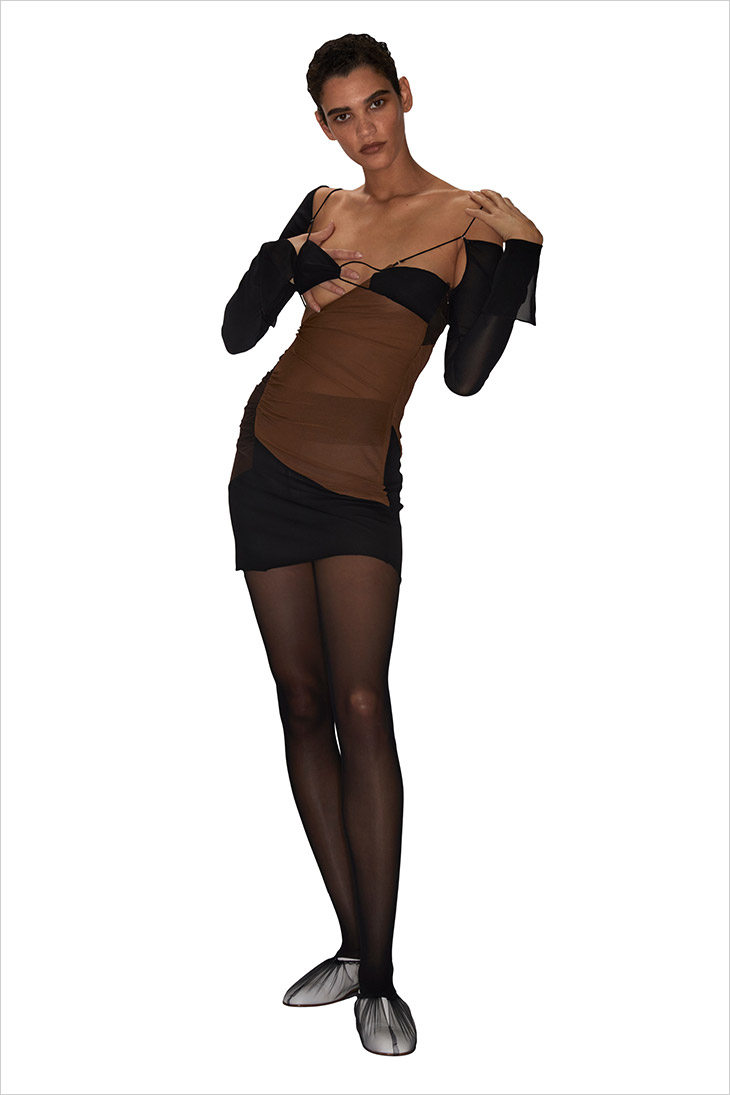 "Dance, the female body and abstract interplays of shapes and shades influence Nensi Dojaka's SS21 collection that is being showcased as part of the Fashion East digital presentation. 'The lightness of movement I witnessed in a Sylvie Guillem ballet at Sadler's Wells came to mind. During lockdown from the peace of my studio, I also had the opportunity to explore the art of draping,' says Dojaka.
Her dexterous hands and artistic eye work on intricately detailed minimalist pieces that frame, highlight and provide a sensual, protective 'web' for the female body. 'My natural design process is all about draping and the silhouette and mostly in black – the non colour has both a strength and a vulnerability that I really love. For me, it's about stripping back to the power of the design, the fabric and the woman wearing the clothes,' says Dojaka." – Words by Harriet Quick
SAUL NASH
"Saul Nash is proud to present Flipside, his spring/summer 21 collection and his third as part of Fashion East. This season, Saul evolves his design signature further, one that is founded in movement, function and transformation. This sense of liberation offers an escape from our circumstances, a chance to reveal our "flipside". 'I wanted the pieces to open up and move, with this image in my head of men spinning in space. After lockdown I took a trip to the coast, which gave me a feeling of escapism. It made me think about transformation, about shape-shifting through what we wear,' says Saul Nash.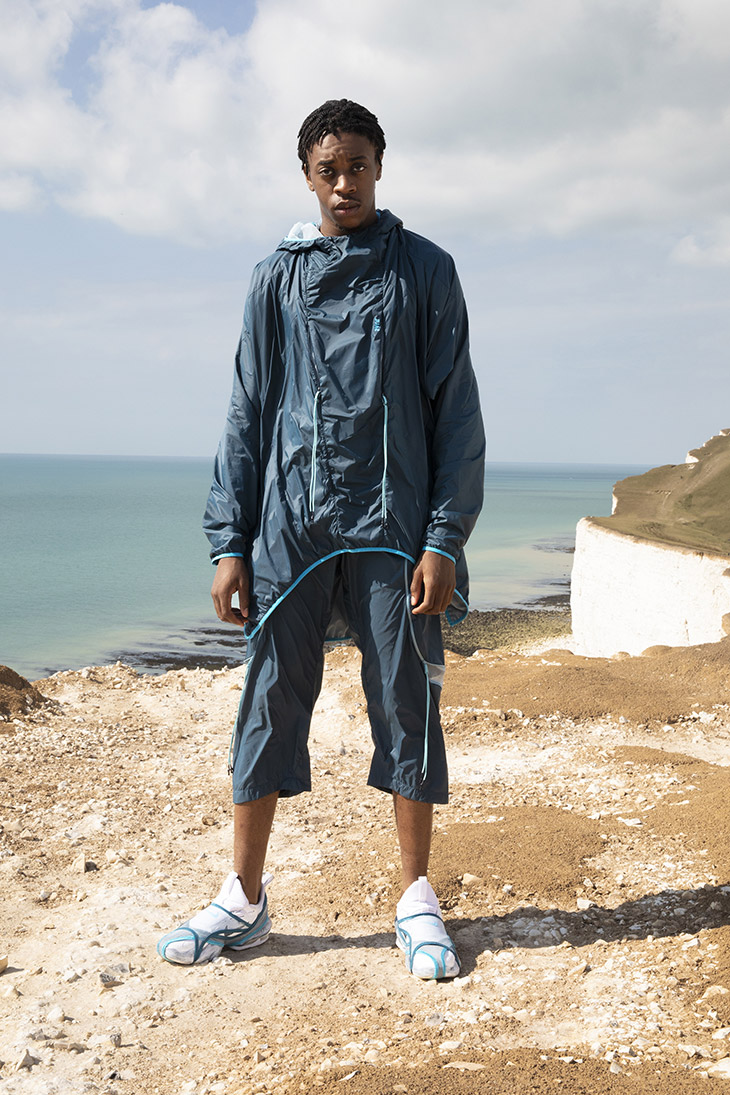 Saul's starting point is always movement and function. Here, he was inspired by the billowing fabric of 1890's dance pioneer Loie Fuller, as well as the costumes of the Sufi whirling dervishes. It led him to think how seemingly generic garments could be transformed, encouraging a sense of release." – Words by Charlie Porter