Discover LI-NING's Spring Summer 2021 The Art of Movement collection that finds new ways, through construction and fabric manipulation, to  adjust clothes for a full spectrum of human movement, presented as part of Paris Fashion Week, with a video directed by Lu Yang. The collection features four chapters, each representing one of the classical, elemental energies: earth, fire, water, and air, and it explores the link between design and kinetic energy.
At Li-Ning, we have found that our most progressive collections are born when we strip our practices and passions to their most essential. As an athlete and the creator of an athletics company, there is nothing as foundational to my, and our, work as movement. This season, we posited elemental questions about the body and kinetics, the answers to which led us in creating a collection that encompasses the human form in every stage of movement—while enabling, empowering, and maximizing each. I am proud of my team for the way they have translated this philosophical exercise into dynamic clothing and footwear for a new year. – Li-Ning
"Li-Ning presents apparel that frees the form and pushes it to its ultimate potential—creating loose silhouettes through techniques of knitting, gathering, puckering, pleating, and knotting. Implementing many progressive textiles, these feats of tailoring accommodate the body in achieving its fullest range of motion.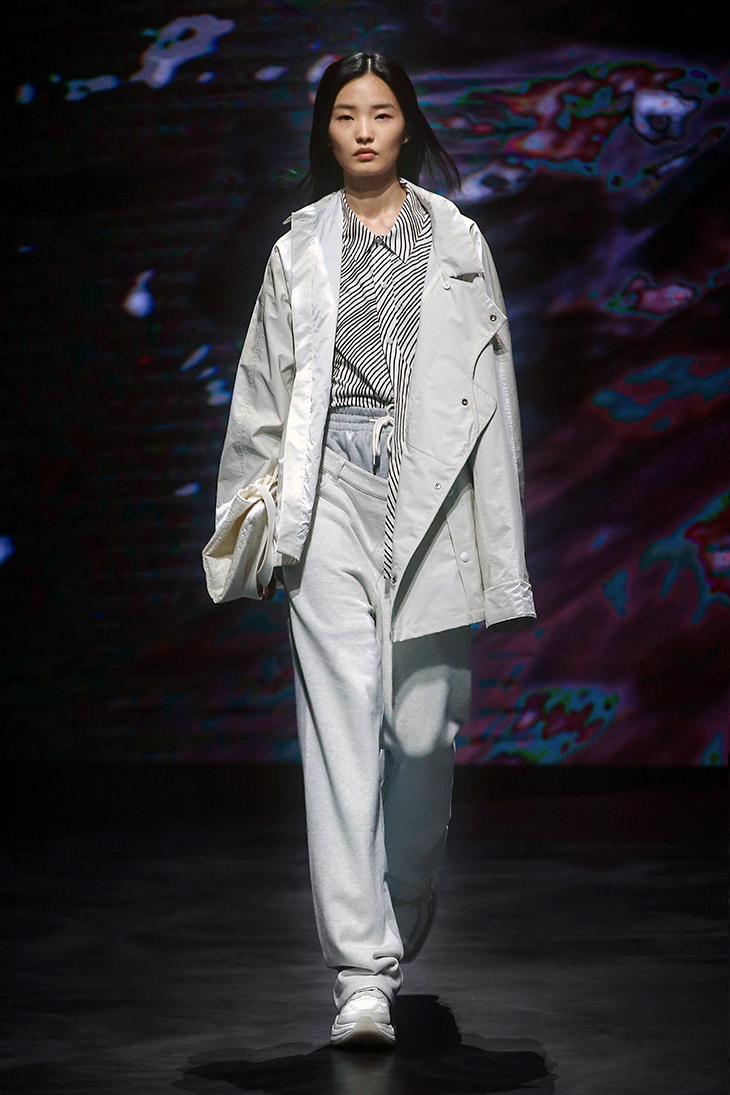 In the film, Li-Ning-clad models demonstrate the collection's wide range of motion as they stride a stark black box, upon which Yang's immersive digital animations are projected in full scale. This artwork features Yang's recently unveiled non-binary, nonhuman cyber character DOKU, a project developed in partnership with Spiral / Wacoal Art Center. In the piece, DOKU embarks on a journey transcending our common sense of space, time, and dimension. Liberated from these constraints, DOKU sheds the limitations imposed upon them by mere three-dimensional perception, resulting in new frontiers of motion and energy exploration."