Dior Men Fall 2021 season outing merges love for innovation, the sartorial and fashion itself within the latest collection.
The new collection celebrates the classical menswear lines with Jones' every inspiring urge to innovate the same. This time the Artistic Director and his team collaborate with artist Kenny Scharf. In what turns into a tradition the famed french maison is working on inviting some of the most sought after contemporary artist to collaborate with. Scharf's work is recognized for its eye-catching drawings bouncing with inspiration from the world of sci-fi to pop culture.
Dior team shares:  "In the dior ateliers, kenny scharf's works were translated into prints and embroideries, with archival pieces appearing alongside a series of new commissions created specifically for the fall 2021 dior men's collection: drawings denoting the animal characters comprising the Chinese zodiac. The hallmark of the house of dior – tailoring – is the foundation, underscoring a heightened mood of dressing up. the tailleur oblique, tailored coats and slender single-breasted jackets are eased around the body, relaxed, and belted at the waist in homage to the bar jacket. An evolution of the new look revolution and of this fundamental dior icon. inspiration is drawn from china: a source of influence on the designs of Christian Dior himself, and a hub of creativity and craft for centuries. emphasizing the global nature of artistry, traditional Chinese techniques and materials are translated into the idiom of a french couture house."
When it comes to jewelry Yoon Ahn mixes in jade and lapis, now completely encapsulating what Dior Men jewelry stands for. The forty-five look collection was presented as a part of an entirely digital experience (no audience), the animation and runway video are serving to bring us closer the artisti conversation between Kenny Scharf and Kim Jones. To work on the runway styling Jones and Dior team up once again with the famed fashion stylist Melanie Ward.
Discover all the looks from the collection in our gallery: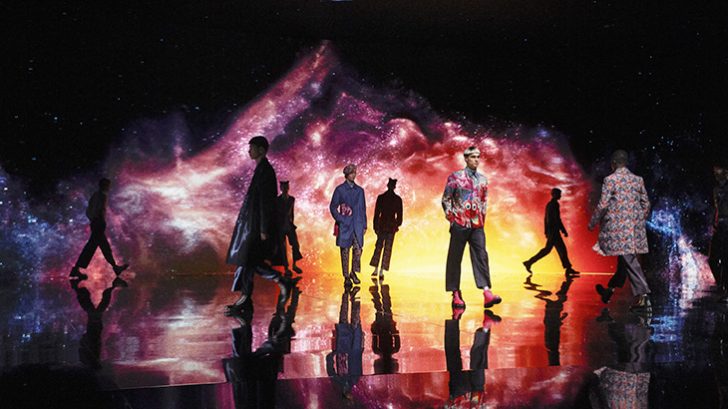 Production & Direction Villa Eugénie Thomas Vanz
Music Honey Dijon Deee-Lite – "Pussycat Meow" And "What Is Love?" (Dior Remix)
Styling Melanie Ward
Casting Shelley Durkan
Make-Up Peter Philips For Dior
Hair Guido Palau Chapeaux
Hats Stephen Jones
Costume Jewelry Yoon Ahn and Matthew Williams
A special thanks to Kenny Scharf