Who doesn't wish to have a drawing room that spells luxury? High-end furniture, extravagant décor, lush carpets, and colossal chandeliers — all these design and décor elements glaze a space with grandeur and add a touch of sophistication to your interiors.
If you are looking forward to transforming your basic drawing room into a palatial space, here are some handy tips.
Read more after the jump:
Install large scale art
Large scale art pieces can be the focal point of any room. Plus, they always act as great conversation starters.
Instead of cluttering your drawing room with sundry small artworks, invest in large scale art. You don't need to drill a hole in your pocket to get an exotic piece of art for one of your drawing room walls. All you need to do is to look in the right places to get one.
Explore the thrift stores and flea markets to find large paintings at quite affordable prices. You can also try visiting estate sales to find marvelous art pieces at steal rates.
Put your antique collection to display
Showcase your love for antiques in your drawing room to give it an opulent look. If you have a fetish for everything vintage and own an enviable collection, flaunt it.
Antiques infuse a dose of richness to any space. Every piece tells a story. No contemporary art piece can recreate the charm that these relics possess.
Whether a family heirloom or a beautiful objet d'art picked from your travel, display them in your drawing room to intrigue your guests in interesting conversations around them.
Use beautiful lights
Lighting plays a major role in transforming any space. It adds depth and creates a beautiful ambiance. Moreover, when tastefully done, lighting adds a touch of glamour and refinement to the room.
Apart from ambient lights, invest in other lights too. Enhance the look of your artwork with focus lightings. One infallible way to make your drawing room look lavish is by adding dimmer switches. They make your space look warm and cozy.
Use metallic items
Metallics are synonymous with opulence and richness. A few pieces of metallic décor items in your drawing room will make a big difference.
Think of metallic tones like gold, silver, and brass. These jeweled tones will give an instant lift to your drawing room making it look very expensive.
Look for vintage silver decorative items, gold figurines, brass lamps, metallic pedestal tables, etc, to achieve a fancy yet elegant look.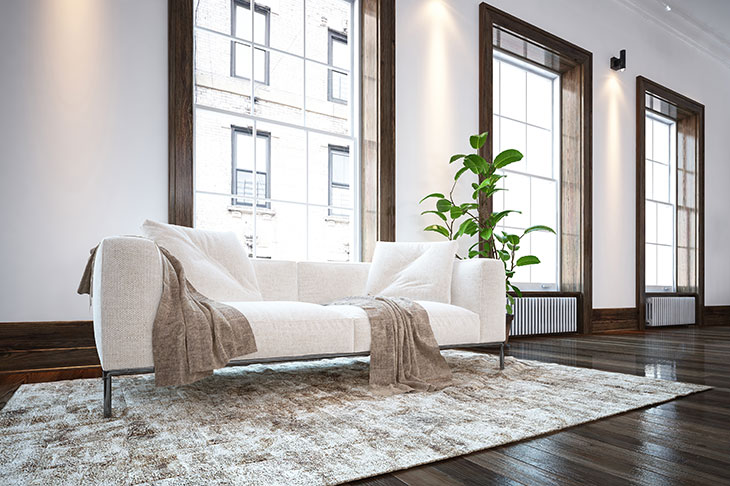 Add a large rug
Instead of a small rug, spread out a large rug to make your drawing room look spacious, and of course, expensive and classy.
Look for beautiful textures that go with the décor and add value to your drawing room. Opt for lavish woolen carpets or vintage rugs to up the luxe quotient of the space. If you are on a budget, invest in jute rugs that are gorgeous, durable, and less expensive, yet classy.
Buy Italian furniture
A sure-shot way of making your drawing room look elegant and classy is bringing Italian furniture home. Every piece of Italian furniture is crafted with a concept. Right from the design to upholstery, everything about high-end Italian furniture speaks exuberance in abundance.
Even if you don't want to spend on expensive décor, one or two pieces of Italian furniture in your drawing room will be enough to create an impact.
The bottom line
Who says modish and classy drawing rooms have to be expensive? Making a simple room look distinguished depends on your taste and creativity. With these easy tips, you can make your space look like a million bucks without over-splurging.
So, use these ideas and make your drawing room the talk of the town.