Who needs that many plastic avocados and why? Vuk Cuk's solo exhibition We have LA at home is buoyantly humorous piece that offers brilliant artistic commentary on the daily madness of mass consumption, offering a perfect ratio of funny to sad.
The exhibition title refers to an Internet meme – Me: Mom, can we go to L.A.? Mom: We have L.A. at home. Amid the current situation where it is nearly impossible to travel, the exhibition focuses on the idea of being somewhere else and exploring new horizons. It started as series of new works made after his travel plans were cancelled due to the global pandemics, a situation many of us experienced this year.
Read our exclusive interview with VUK CUK.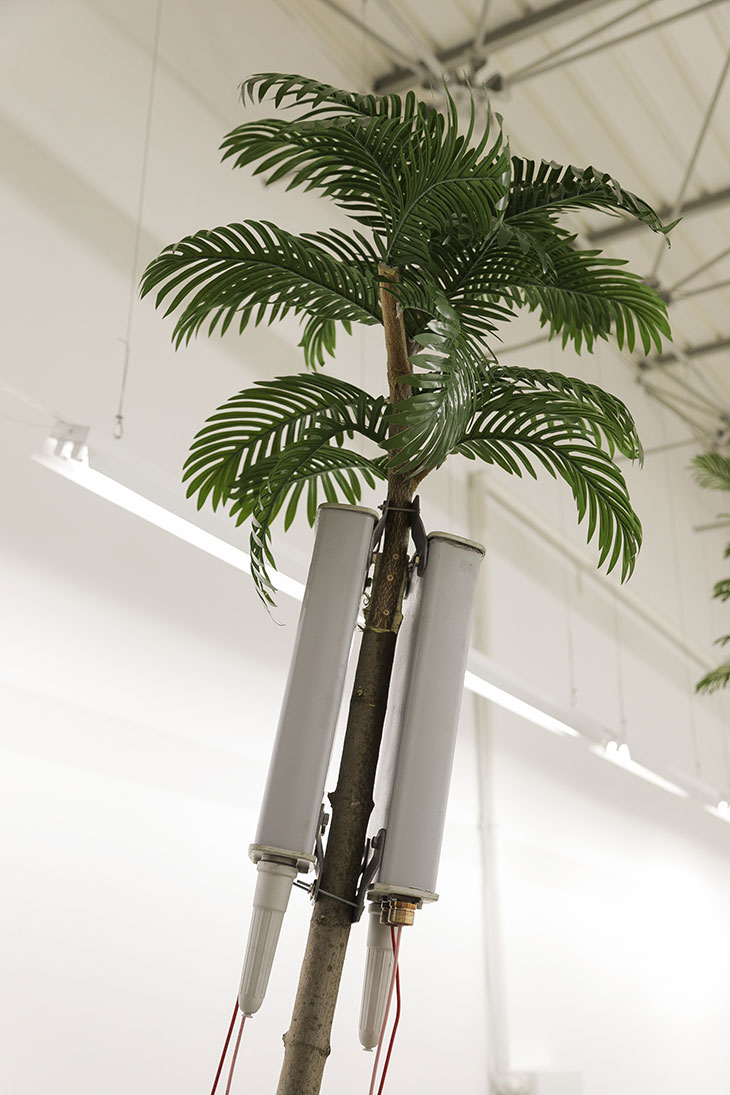 I truly think we are currently living in the baroque of late capitalism and consumerism, and that things need to change in the direction of creating a fair and more tolerant world based on equality.
– Vuk Cuk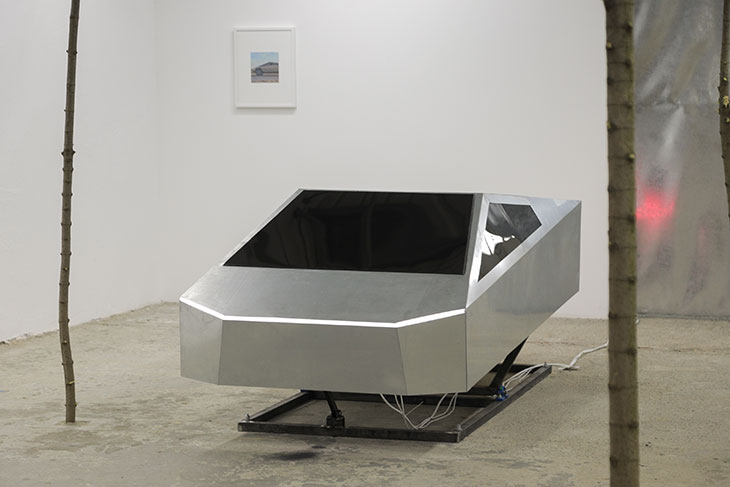 The installation embodies the idea of an endless holiday as a type of luxury. As you enter the gallery first you encounter the dramatic sunsets and triumphant blue skies made in a diamond painting technique. Resembling of needlepoint, the paintings that require a lot of time to complete, are made during the first lockdowns last spring.
Walking furtherer through the exhibition, you will come across the sandy beach, that reminds of Santa Monica after the storm. First things that caches the eye are buried Shell sign, "I love holidays" towel, and a few plastic avocados. The calm sound of waves is interrupted with the strange noise produced by a robotic skunk and fox that move through the sand.
View this post on Instagram
Next to the beach is the Rodeo Drive surrounded by palm trees – everyone's first thought of Los Angeles. Palms, having rarely grown anywhere in Western territories, became a symbol of something exciting, tropical, oriental, and therefore something a wealthy person could afford. – it is said in a press release.
The replica of Tesla Cybertruck sways up and down, breaking through the artificial palm trees, facing the misspelled Hollywood sign. A status symbol, the truck opens up the question of luxury once again, while the sign remind us of the global problem of hyper-production.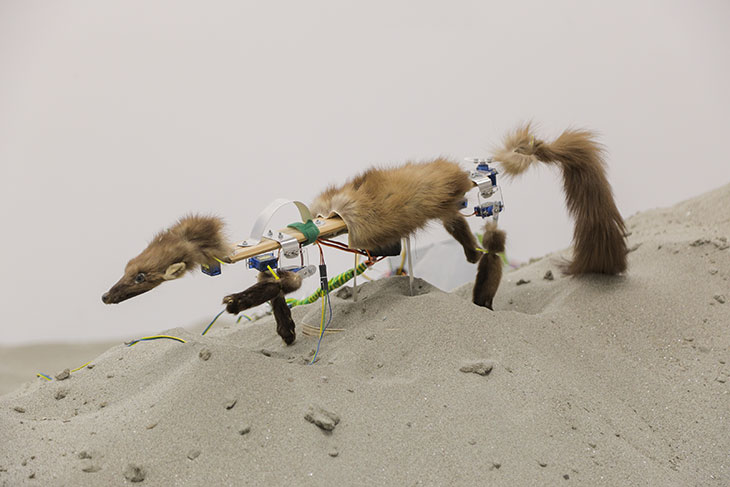 In a way, the exhibition is a mini auto-parody of status that is wearable, that is Instagrammable, bought and sold, but somehow, rarely lived. The Los Angeles that Ćuk made 'at home' speaks of many things that the original speaks of, too. The glitches found in the Hollywodd sign, the deconstructed animals and scattered objects are all residue of hyper-production, but they present the discrepancies between two cities as well, for example, Los Angeles / Belgrade. In pictures and in reality, in concept and in experience, things seem to have very different qualities. Whereas the L.A. from our imagination is still a place for dreams and prosperity, most Americans living in California dread civil war on a daily basis now. Belgrade is, unfortunately, familiar with the latter, both as a thing of imagination and of reality. – writes the curator Natalija Paunic.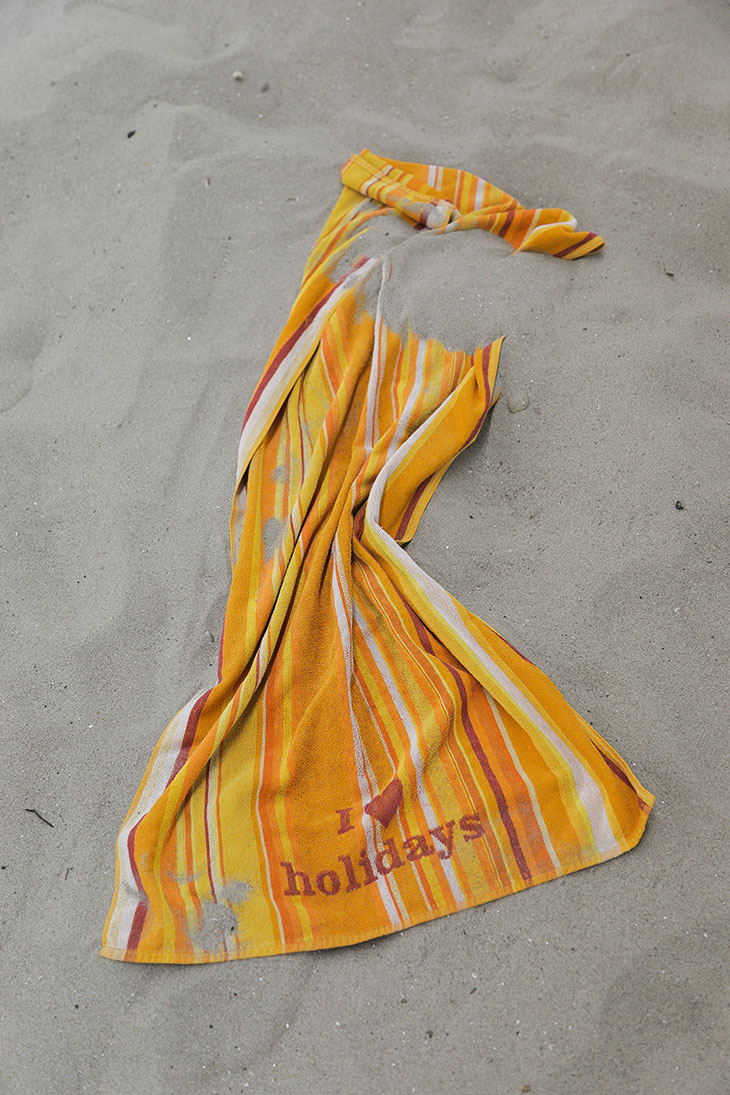 Combining fragments from both natural and constructed ecosystems, Cuk creates hauntingly familiar realms in which beach, street, cars, and artificial animals and plants coalesce. Gleaning objects from both physical and digital world, he assembles them into complex multimedia installation that prompt microscopic observation while evoking a macroscopic perspective on the infinite.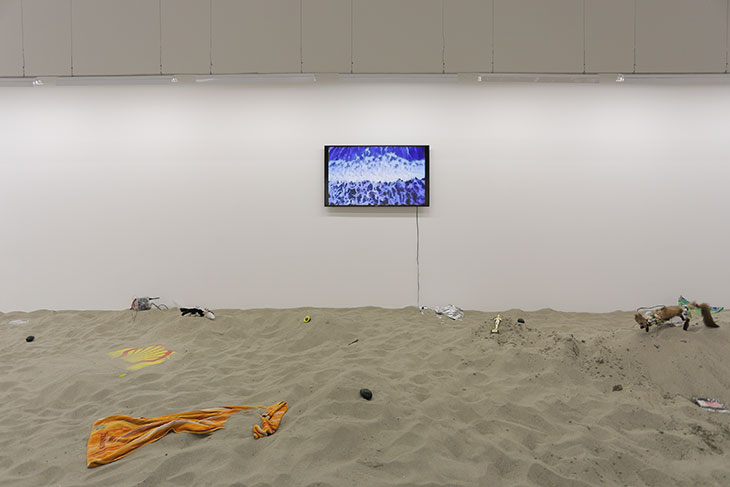 Vuk Ćuk (1987) is a visual artist based in Belgrade, Serbia. He is interested in how capitalist logic, trends and technology shape both the human and natural world, examining new ways of living in the contemporary society. He works across various media, such as sculpture (kinetic and static), installations, drawing, digital art and painting. His work was shown at Sequence Art Festival, Marshall House in Reykjavik, Iceland (2019), 57th Belgrade Biennale curated by Gunnar and Danielle Kvaran, Belgrade, Serbia (2018), China Art Museum in Shanghai (2017), Sugarcube Festival in New York (2016) and Taiyuan Scultpure Symposium, Taiyuan, China (2016). His new body of work will also be part of the next Belgrade Biennale in 2021, curated by CURA's Ilaria Marotta and Andrea Baccin. Ćuk has had solo shows in Belgrade with gallery ZVONO several times and in Ljubljana with Ravnikar gallery (2019), as well as at the Serbian Cultural Centre in Paris (2018). He teaches at Belgrade's University of Art (Faculty of Applied Arts) and is a recipient of MAK Museum Vienna's Recognition Award, Vladimir Velisekovic fund award, Taiyuan Sculpture Symposium award. In 2019, he assisted the artist Dorde Ozbolt with developing his solo show for the Serbian pavilion at the Venice Biennale.
We have LA at home is on view at Eugster Gallery Belgrade from 24 December 2020 to 13 March 2021.
Keep up with Vuk Cuk on www.vukcuk.com.