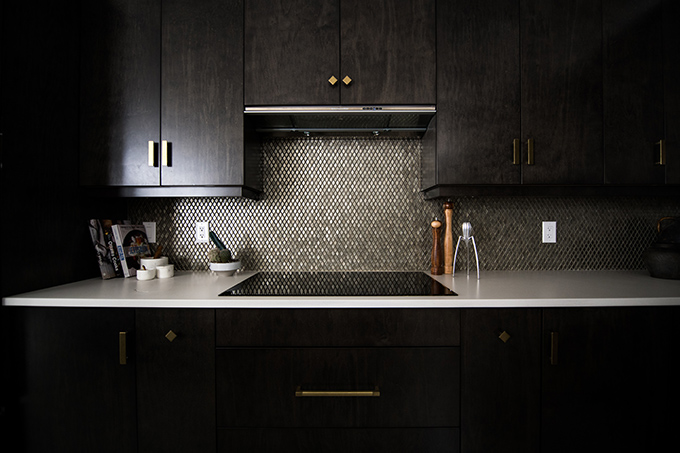 White kitchen cabinets have ruled over the kitchen world for decades before people decided that nah, we need something more moodier. Since the past few years colorful kitchens have been making a big splash across the globe and black has been named one of the favourites.
From backsplashes to cabinets there are multiple ways to work those dark inky shades into your cooking space and make it serene. BUT going all black can be teeny bit risky. Luckily kitchen remodelers recommend these ideas to make your black kitchen stand out no matter what your decorating style is.
Discover some tips from DSCENE editors put together in conversation with interior designers:
1. Golds And Yellows
a. Lights
As the saying goes let there be light, let there be life. The three types of lights that you need for your kitchen are ambient, task and accent. Ambient will be the main source of light in your kitchen. We would recommend the pendant lights with a gold painted decorative cage around them. Not only are they pretty but they get the job done.
Task lighting is used in areas that require more focus. If you want to flaunt your black tiled backsplash or illuminate your cabinetry, these are the lights to go with. For a warmer look try gold task lights instead of white. Accent is the cherry on top, now you could either use paint or lights to do this. Toe kick lights or recess to light up your open shelves.
b. Paint
Heating a neutral black kitchen with an attractive yellow accent is always a good idea. A yellow island can brighten up your black kitchen not only will it feel cozy but also give it an attractive warm ambiance. Adding pops of colors to your kitchen always brightens up the best areas of black while balancing the black in the back. If you know how to play with color, you can go retro doing a minimalistic red on the lights, the cabinet door knobs and a red coffee machine.
c. Faucets
Speaking of splash of color, a gold brushed faucet paired up with a pitch black kitchen and a grey island will be a killer. Faucets are usually overlooked as a necessity item for your kitchen but we can make this necessity add aesthetics to your kitchen.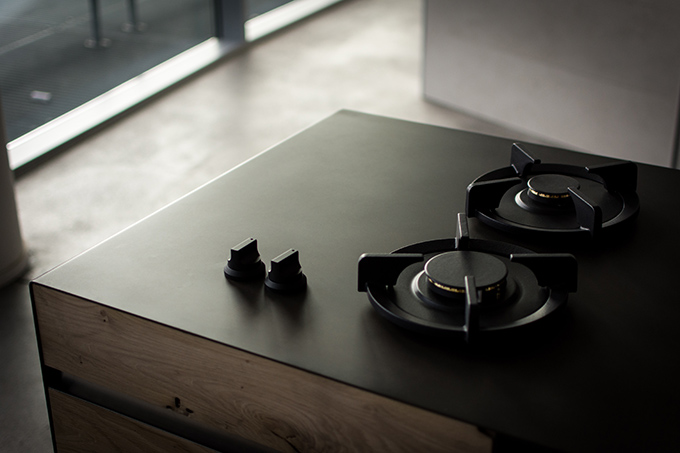 2. Black Marble Backsplash
If you are planning to go all black, just pitch black and nothing else.To make the kitchen really stand out, we recommend adding some marble herringbone backsplash. This will not only lend pattern to the all black but will also compliment add both modern and classic style to your crisp and clean kitchen cabinets. Pair up two or three polyhedron golden pendant lights over the kitchen island and it's ready for a photoshoot of its own.
3. Rugs And Dinner Tables
Having your dinner table right in the middle of your kitchen can feel like a burden when you don't know how to pair it up with your black kitchen. Most people would move the table and replace it with an island. But we believe in the european dramatic housing styles. A colorful rug on the floor, adding a stylish and chic dining table and a dramatic coat of teal or orange on one of the walls will uplift the hues and mood.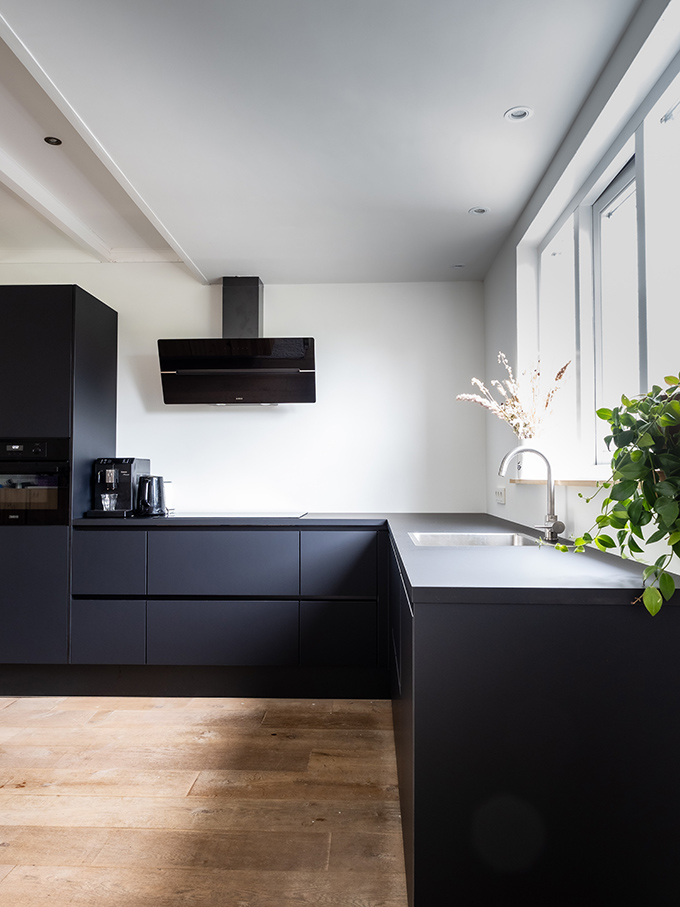 4. Kitchen With A View
If you are a fan of black but the dark and gloomy look is not your mood and there are already enough lights? A 3 foot tall simple window overlooking the yard from your kitchen sink will do the trick. It will not only dictate the placement of your black cabinets and appliances but also get you the necessary light during the day. A single ventilation point will also keep them black cabinets clean from dust and all. Not to forget all the dishes that will get done too.
5. Display Cabinets
Our grandma's hands me down or travel collectibles silverware, we have a deep affection for them and a deeper drive to show them off. Another clever idea for a black kitchen are display cabinets. Without the need to add more lights or pops of color display cabinets lighten up a dark kitchen. This is especially recommended for small kitchens. As this will not only help you subtly flaunt your pretty tableware and decorative objects but also make the kitchen feel more open and spacious. Display cabinets give you the freedom to show off your keepsake elegantly and fearlessly.
Last but not the least, dip your toes into grey and silver. We know how rewarding and dreamy it is to add your style to your kitchen. With all the tips above and Pinterest in your pocket, the moody and warm personality of your kitchen is just a few tweaks away.