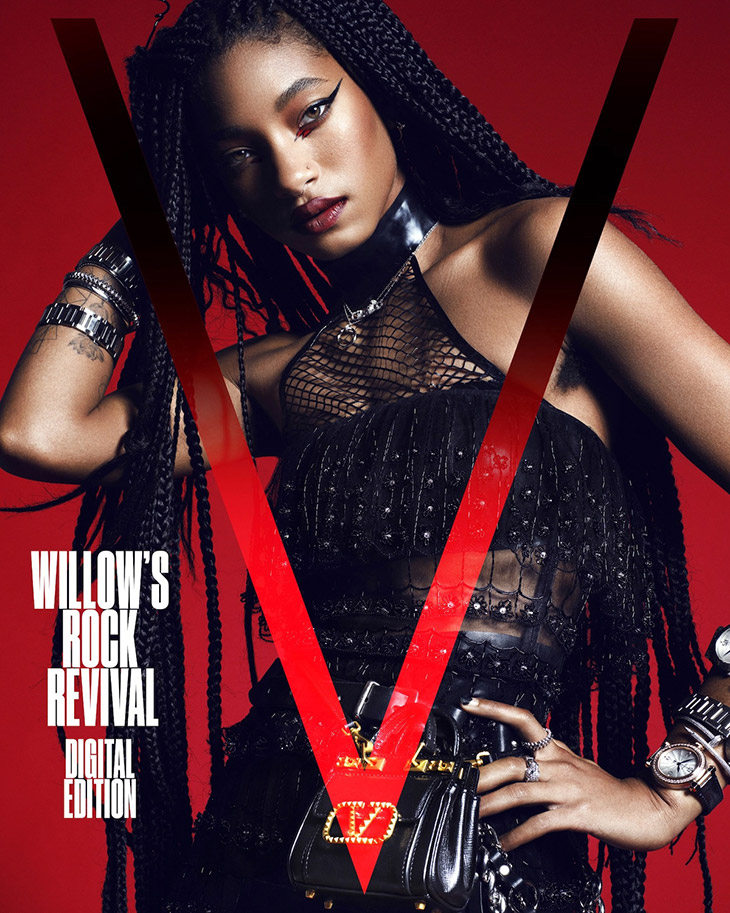 Musician and actress Willow Smith takes the cover of V Magazine's digital edition lensed by fashion photography duo Domen & Van De Velde. In charge of styling was Nicola Formichetti, with production from Joeri Rouffa, and on-set production by Paul Turner. Beauty is work of hair stylist Vernon Francois, and makeup artist Raoul Alejandre.
But being a Black woman in the metal crowd is very, very different on top of the pressures that the music industry puts on you. Now, it's like an added pressure of the metal culture, the metal world, and just rock in general. I used to get bullied in school for listening to Paramore and My Chemical Romance. – Willow Smith
For the cover Willow is wearing dress from Valentino Roman Palazzo Collection, top underneath and belts stylist's own, Valentino Garavani Rockstud Alcove bag, and Cartier timepieces and jewelry.
I am going to be having a lot more features on this album. On my previous albums, I was in the studio by myself a lot. It was a very insular process for this album. I wanted to open myself up a little bit more and not just be so anti-social in the studio. I'm so excited that I'm going to be having a song on the album with Avril Lavigne. She is so iconic. From [ages] 13 to 16, she was my idol. It's really nice to be able to have a quintessential pop-punk record with the pop-punk queen. – Willow Smith
Photography © Domen & Van De Velde for V Magazine, discover more at vmagazine.com